Feature
Corning Optical Communications: Future-Ready Headquarters
November 18, 2022 | Realcomm Staff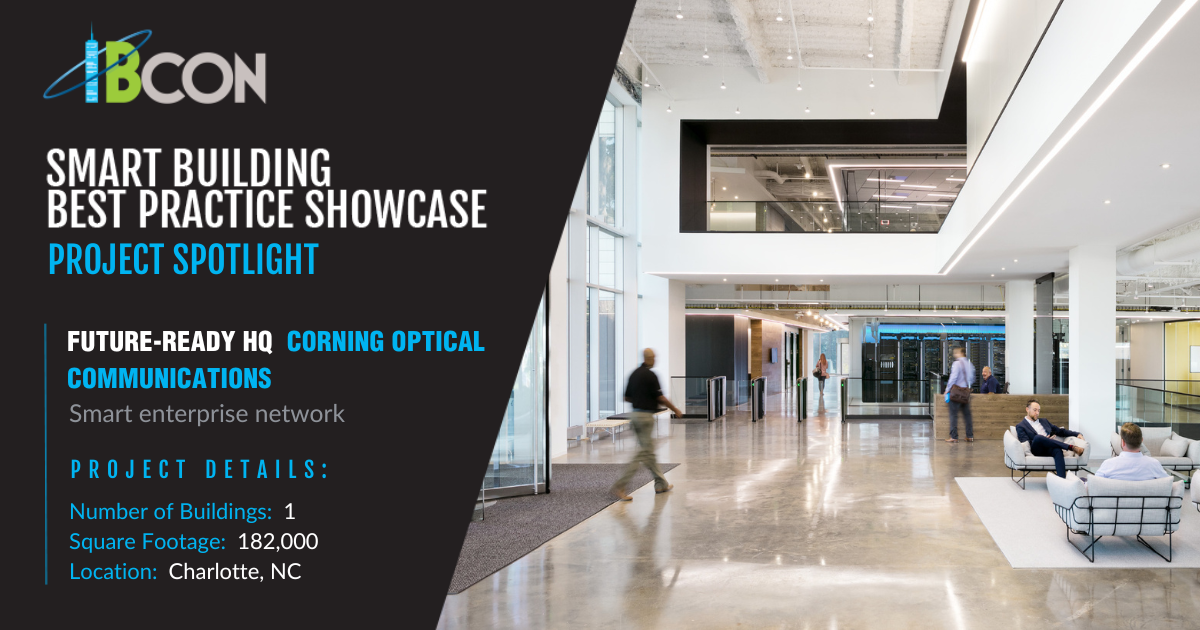 The IBcon Smart Building Best Practice Showcase is an annual event held at the Realcomm | IBcon conference where real estate leaders present their most innovative, technology driven commercial and corporate real estate projects. These projects demonstrate leading-edge technologies and vision for intelligent and adaptive design that is transforming the next generation of IT-enabled real estate. The Weekly News Briefing will feature a unique Showcase project each week.
In smart buildings today, reliable connectivity is considered the Fourth Utility.
For a smart building running multiple applications, having the right network in place is essential. Corning's Optical Communications HQ uses an all-fiber network architecture to deliver the bandwidth needed to support the data demands needed for new technology. This site offers a world-class, efficient and productive working environment with seamless wireless connectivity, monitoring tools, IoT and safety systems. The Telecommunications Industry Association and UL recently launched SPIRE, an assessment and rating program that evaluates building intelligence based on six key criteria: life and property safety, health and well-being, power and energy, cybersecurity, sustainability and connectivity. Corning's HQ served as a pilot for SPIRE, and the building met or exceeded all the criteria for smart buildings.
This Week's Sponsor
Yardi® develops and supports industry-leading investment and property management software for all types and sizes of real estate companies. Established in 1984, Yardi is based in Santa Barbara, Calif., and serves clients worldwide. For more information on how Yardi is Energized for Tomorrow, visit yardi.com.
Read Next