News
MultiGreen is Reinventing the Local Technology Approach for Attainable, Sustainable Multifamily Housing
May 27, 2021 | Randy Norton, Founder, Chairman of the Board, MultiGreen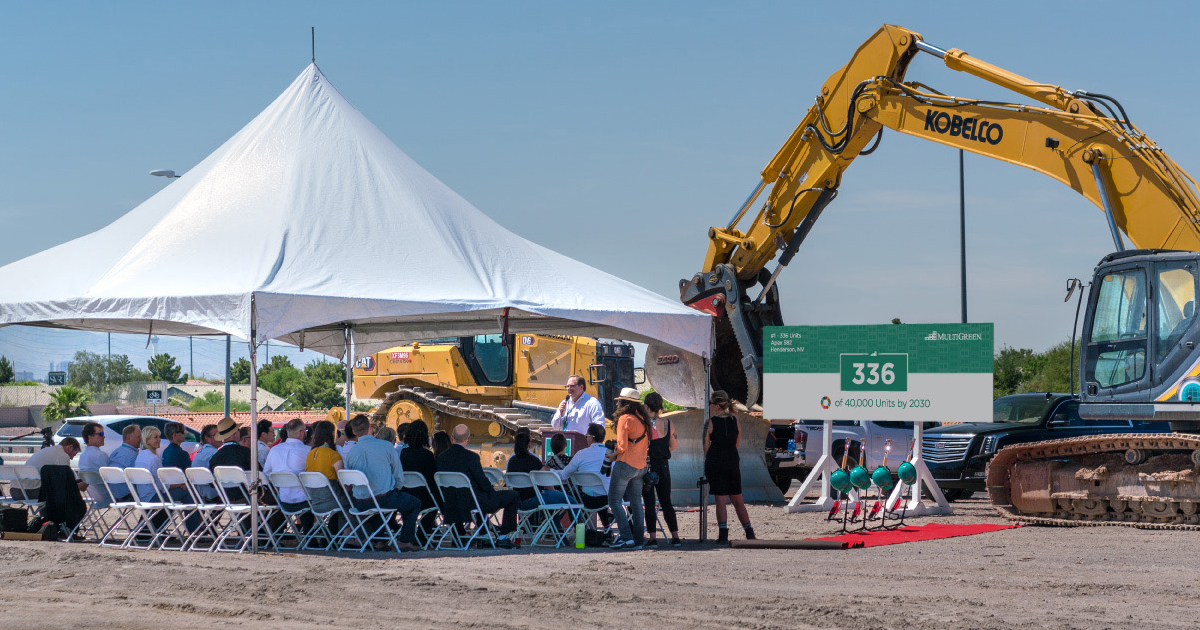 In March, the world was introduced to MultiGreen's bold and ambitious plan to construct 40,000 multifamily Workforce Plus™ homes by 2030.  We defined Workforce Plus™ as "attainable, sustainable and tech-enabled" homes, constructed with materials that will provide digital amenities and a living standard that is possible today and future-proofed for tomorrow. We framed out an approach called the MulitiGreen Way 1.0 (Phase 1) that uses BIM, digital twin, and a scalable accounting service platform that will all be part of the Fourth Industrial Revolution, which can be summarized as the "digitization of everything."
Technology infrastructure
With those elements of the plan laid out, we are now moving into the local technology aspects of the plan, which adds the onsite digital infrastructure for these 40,000 plus units. We consider this digital infrastructure a design, construction, and operational necessity, no different than the three main utility infrastructures for gas, water, and electricity. The approach to The Fourth Utility® infrastructure is purposeful and defined by strategic goals, cultural awareness of an industry that is change-resistant, and the financial opportunities that occur when the same entity owns the real property and digital infrastructure interest. Our cross-collaborative team is designing, installing, and managing all property technology infrastructure as a coordinated, essential aspect of surviving and thriving in the Fourth Industrial Revolution and creating a true "technology-enabled" property. The infrastructure will include a property-wide enterprise-grade network that will be a neutral backbone for all devices, sensors, content, and services that will be scalable, flexible, and secure.
Addressing technology as part of a real estate projects DNA is logical and increasingly seen in other real estate use-types such as office, mixed-use, healthcare, and elsewhere; multifamily has a long history of deferring nearly all onsite technology infrastructure to the various service providers such as the telephone and cable companies. For years, this seemed like a good idea to receive "free" wiring, but we all know there is no such thing as a "free" lunch, and we now know there is no such thing as "free" wiring. This is because all that "free" wiring has a price, including a lifetime easement and a loss of ownership control of the occupant's choices for digital services such as the Internet and content. In addition, with the old way, the owners and managers of the properties had no further financial advantages for either profit or occupant value. This approach is the dawn of a new era that rejects the higher long-term cost structure, risks, and inflexibility of the past.
Roadmap
MutlitiGreen has engaged Intelligent Buildings, LLC to create the local technology approach, which is part of MultiGreen's Owner Program Requirements (OPRs) for all properties. This will allow Multigreen to concentrate on its core business, brand, and value creation for the residents with a consistent and highly scalable approach.
The digital infrastructure is designed to evolve – and there will be multiple solution provider options for – each of the various elements, allowing for leapfrog advancements during scheduled refresh periods. The roadmap also incorporates an annual certification for solution providers to ensure standards for open protocols, convergence, connectivity neutrality, normalized data, cybersecurity, and user data privacy.
Managing risks
The recent Colonial Pipeline incident heightened the importance of managing the risks associated with non-traditional IT systems, whether its operational technology for a pipeline or operational technology for HVAC, access control, and automated blinds. The OPR incorporates the most advanced vendor risk management policy for all contractors and staff for business continuity and disaster recovery, including system backups, software revision management, remote access management, and user credential management.
This will all ultimately provide residents with the most comprehensive range of flexibility, experience, and value, as Multigreen constantly adapts to new requirements and opportunities for delivering its Workforce Plus™ housing solution in all three development styles: (i) Garden Style Type V Construction; (ii) Podium Style Type IV Construction; and (iii) Mid- to High-Rise Style Type I Construction.
Reinventing the future
The infrastructure will accommodate and control all types of connectivity onsite, including operational technologies such as access controls, lighting, video, building automation, metering, elevators, irrigation, parking, and more, as well as curb to couch Internet access and entertainment.
Multigreen is leading the industry by applying the property-level utility mindset we have all known for gas, water, and electricity to digitization and data. This is a sea change in the way multifamily has been done for decades yet, a necessary change to achieve attainable, sustainable, and tech-enabled multifamily housing responsible for the circular economy.
This Week's Sponsor
Angus Systems is a leading provider of customer driven mobile and cloud-based work order and operations management solutions for commercial real estate. Our software supports over 2.6 billion square feet across North America in buildings from 20,000 to portfolios of more than 100 million square feet. Visit www.angus-systems.com to learn how we help our clients shine.
Read Next