Partner Content
5 Stages to Pave the Way to Truly Autonomous Buildings
April 22, 2021 | William Ruh, CEO, Digital Lendlease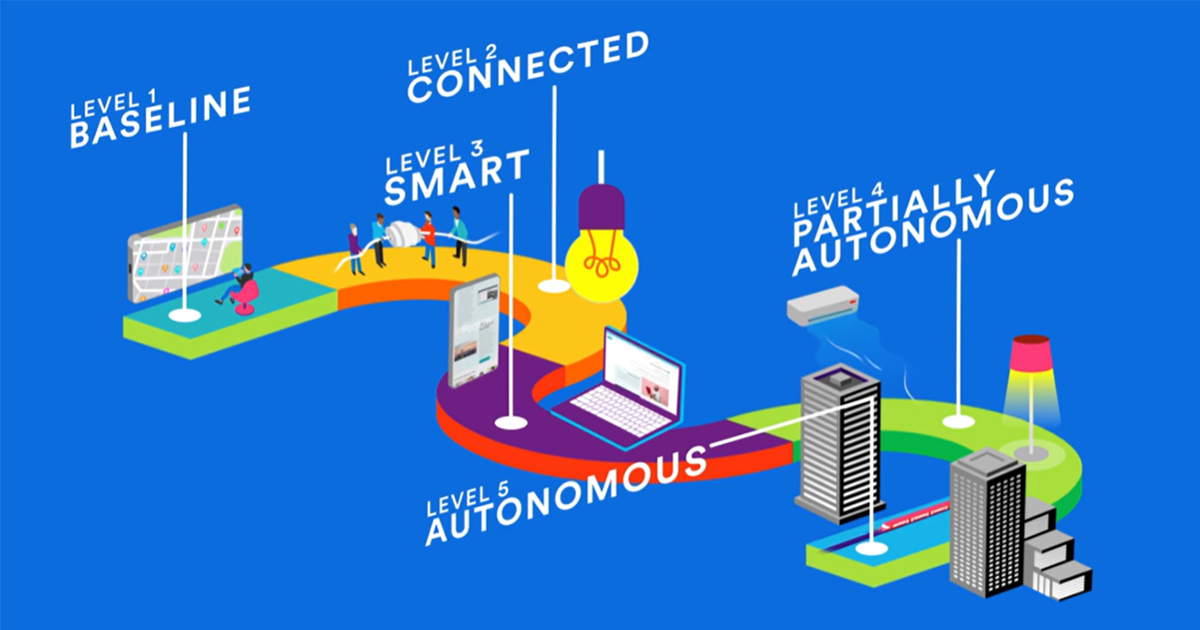 Smart meeting rooms. Smart grids. Smart buildings. Technology adoption presents incredible opportunities for improving our world. However, these innovations alone don't deliver the outcomes that matter most to people.
In our 60 years of creating places at Lendlease, we've learned that people want places that are a destination and foster a vibrant community to organically grow and thrive. Places where buildings do no harm to the environment but provide optimal comfort and superior air quality – enabling people to be the best version of themselves.
So how do we get to those important outcomes for people?
At Lendlease, we recognise that the physical environment is only one aspect of a great place. Digital technology and data provide significant opportunities to enhance what we create and how we create it. We have a vision for a world which is sustainable and designed for the wellness and connectivity of people and believe that autonomous buildings will enable us to achieve those important human outcomes.
What are autonomous buildings?
They are buildings which adapt to the interdependencies of the built world
They continuously learn and respond to the needs of people and the environment
They are able to auto-tune to dynamic indoor and outdoor conditions
They are flexible and empower everyone to work effectively and collaboratively
They provide insights and clarity that hasn't been possible in the past
How can we benchmark progress toward the creation of truly 'autonomous' buildings and cities?
To benchmark our progress to 'autonomous' buildings and cities, we can take learnings from the automotive industry. Since 2014, the automotive industry has followed the 6-step taxonomy developed by the Society of Automotive Engineers to measure progress towards the creation of 'autonomous' vehicles.
It's become clear the property industry also needs a reference point by which to outline 'autonomous' buildings and cities. The overall promise of 'autonomous' is for buildings and cities to automatically adapt to the world at large – be it changing preferences and behaviour of people using the spaces, changes in the environment, changes in regulations mandated at a city or country level. With cloud and artificial intelligence, the property industry will move from a reactive state to a predictive industry which responds dynamically to changes in the built world.
For buildings to move towards this reality – where buildings automatically adapt its behaviour to the preferences of each occupant and stakeholder, there are five foundational steps:
Baseline – where diagnostic assessments on data, processes, people and outcomes are conducted
Connected – where all data, sensors, processes and outcomes are identified and 'connected'
Smart – where 'smart technology' is incorporated across the building or precinct to improve performance of systems such as HVAC, utilities, lifts and connectivity
Partially autonomous – where some building facilities are operating without human intervention
Autonomous – where the entire building or precinct anticipates and adapts on its own to all the changes
The Pathway to Autonomous Buildings (1min 20s):
Where does the industry sit on the autonomous buildings roadmap?
The property industry is already on the road to 'autonomous' buildings – and currently travelling through the five stages of it. Lendlease, for example, has buildings and precincts across levels one, two and three – with new developments and a plan to reach partial autonomy (level four) over the coming years. The Milan Innovation District (MIND) urban regeneration project in Italy will be a prime example of this.
Housed on the former Expo 2015 site in Milan, MIND will become a major new region for science, technology and innovation – setting new standards by taking a human approach to building and design. Lendlease Digital, in particular, plays a pivotal role in projects such as MIND by leveraging the best available technology in the emerging spaces of data, machine learning, IoT and Digital Twins. Its emphasis on digitalisation and the power of data-driven insights through Lendlease Podium is helping to change the way we design, build and operate.
By combining these technologies with expert domain knowledge, it's possible for the technology to understand, with context, how to learn and predict the behaviour of people within buildings and precincts. This enables us to move closer towards the creation of truly 'autonomous' buildings.
By clearly articulating the five levels to autonomous buildings, we aim to propel the industry forward, creating an opportunity to benchmark and achieve better outcomes for the world.
To learn more, read the special report: Discover The 5 Stages Of 'Autonomous' - And Why They Matter
This Week's Sponsor
With a long-standing legacy of innovation and industry knowledge, Lendlease Digital is transforming how and what we build through Lendlease Podium – the property lifecycle platform. From design automation to property insights and asset services, Lendlease Podium is designed to simplify the complex interdependencies in the built world. It gives you the insights and clarity you need to achieve important outcomes, like safety and sustainability.
Read Next