Feature
Intel Smart Building Design Achieves IT and OT Readiness for a Data-Centric Future
October 15, 2020 | Robert Colby, Principal Engineer, IT Infrastructure, Intel
Tamara Friedman, Global Smart Building Program Manager, Intel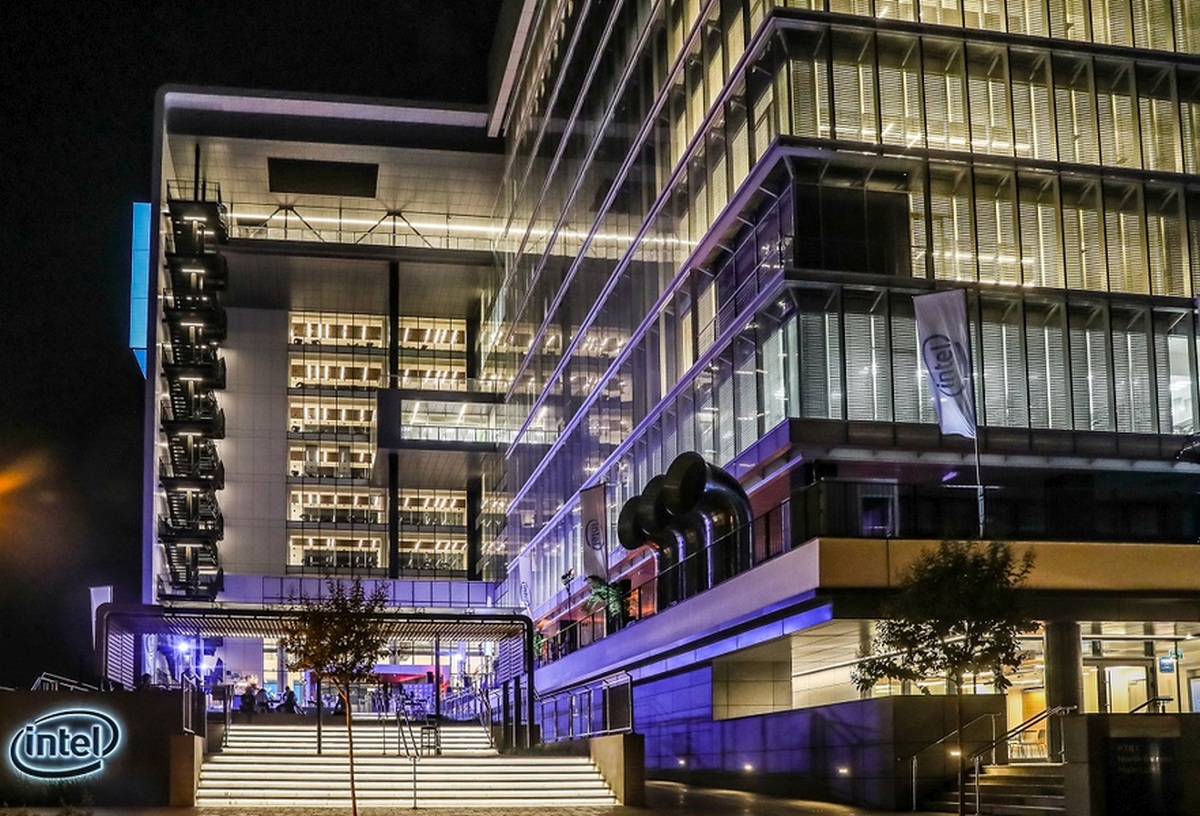 For decades, enterprises have included smart technologies in their buildings to gain operational efficiencies, save maintenance costs, and make their offices more user-friendly. While these companies may have experienced incremental gains from individual measures like smart temperature controls, the main value of these systems comes from integrating them into a single platform. But lack of standardization means that disparate technologies from multiple vendors may not be compatible and integrating multiple smart technologies into a single connected building can introduce logistical and operational complications.
Intel IT and Intel Corporate Services joined forces to create a new design and development center in Petach Tikva, Israel. Taking an enterprise approach, we focused on user experience (UX) before selecting technology solutions. We used a design-build-operate vendor to manage the project from design to delivery and operation, integrating disparate smart building systems and acting as a single source for vendor contact. This blueprint is now an asset in and of itself, and Intel and the vendor are using it to replicate and build additional smart buildings (and even a smart village) in collaboration with other industry-leading companies. The model integrates a variety of Intel products including Internet of Things (IoT) and security controls.
The business challenge
In 2018, Intel had approximately 3,000 employees scattered in eight buildings across five campuses in Petach Tikva, Israel. The company wanted to centralize operations into a single design and development center and create an extremely operationally efficient structure with the most innovative, data-centric technologies. In the initial development stages, our focus was investing in a cohesive digital experience as part of the building design. Agile methodologies - including design thinking, an agile-based process that examines problems in human-centric ways to identify and meet the needs of end users - were selected to define a priority list of use cases that dictated the technology selection. Intel is a data-centric company, so it was imperative that this new building utilize sophisticated data collection and analysis capabilities. Collected data will help develop new machine learning use cases to generate autonomous building management using artificial intelligence (AI).
While we had a clear vision of the capabilities, there were several hurdles. In a building of this size and technological scope, upfront capital expenses (CapEx) are high, and sustaining costs can be formidable. With no clear smart building metrics or ROI guidelines to measure employee experience improvements, new efficiencies and direct cost savings were difficult to prove. If not managed correctly, the IoT licensing footprint can be enormous and the technical overhead of managing multipliers can be daunting.
The smart building industry lacks standards and integrating multiple technologies is challenging. Different programming languages and protocols for different building management systems (BMS), multiple services and capabilities, multiple suppliers and different security maturity levels all contribute to an almost impossibly complex environment. The IT infrastructure and security design had to meet the needs of both operational technology (OT) and IT. Availability and reliability were important aspects, as was integrating a complex mix of vendors whose level of information security standards varied widely. A close collaboration between OT and IT was required because equipment such as sensors and programmable logic controllers (PLCs) cannot be scanned or patched like traditional IT equipment (such as servers and PCs) - but they still run compute workloads and need to be secured against attack.
When we started PTK1 development, no single solution provider existed. There was no one entity capable of designing and building a complete end-to-end smart building, and no supplier could integrate all the smart building capabilities. We studied the entire enterprise holistically to determine how the solutions would function together in PTK1 and meet our goals, instead of choosing vertical solutions for lighting, temperature control, and other functions.
The PTK1 solution
PTK1 reflects Intel's IT/OT readiness for our data-centric future. We used our deep knowledge in smart operations with the vision of using building-generated data and AI to create a smart space - one that can manage its own efficiency and operations and provide users with a seamless experience. The combination of IT and OT produced a building that will still be considered cutting-edge in five years.
By taking a holistic enterprise approach, we were able to integrate a wide variety of smart capabilities, and then scale the model to multiple buildings. We also integrated tenant systems with the building systems, such as smart parking, smart lockers, smart lighting (with daylight harvesting and color tuning) and digital touch signs throughout the building for wayfinding, dining options, commute information and more.
Our IT architecture decisions and selections focused on standardization to lower cost while mitigating information security and privacy concerns. The greater the numbers of devices in use, the higher the vulnerability. PTK1 uses more than 14,000 sensors that generate more than 50 terabytes of data per day. In the future, we will use AI to adjust systems based on different parameters. With so many devices in use, the building could be vulnerable to attack without the right IT architecture.
The System of Systems
At the heart of our smart building solution architecture is our System of Systems (SoS), which includes the following:
Integration broker, which consolidates various systems with APIs
Data console, where all the data is stored and processed
Interfaces, which include dashboards that provide a single pane of glass to manage all systems, along with applications, digital signage, wayfinding, etc.
The SoS facilitates experiences and capabilities that could not be achieved by the individual sub-systems working in silos. It provides a common IoT platform that uses IoT gateways to connect all the various systems (Figure 1 below). We created a network segmentation model to increase the flexibility and to support different technology needs while focusing on Intel policy and security measures.
These technologies (and many more) are used in the building:
14,000 sensors monitor lighting, temperature and occupancy (compared with 7,000 sensors in a traditional building)
Some 500 displays and tablets are available throughout the building and meeting rooms
50 3D cameras are located in the lobby
Cables run the distance of 1,900 kilometers
The amount of daily information is 50 to 100 terabytes
The SoS includes 970 APIs and 60,000 input fields
Energy efficiency is 40% higher than that of a normal office building
Water systems consume 75% less water than an ordinary building
100% of the building's power will be provided by renewable sources
95% of the construction debris was recycled throughout construction
Today, the building hosts 50 different groups charged with developing advanced computing, communication, AI and cyber technologies. At Intel, we continue to provide the tools and technologies today's workforce needs to do their jobs well, increasing both job satisfaction and productivity. We created a pleasant, convenient and efficient environment so employees enjoy coming to work, and it's easy for users to collaborate and develop innovative ideas. PTK1 is a state-of-the-art workplace that will attract the best talent today, and in the future.
Read the white paper Smart Buildings at Scale for more information.
PTK1 will be one of 15 of the world's most innovative smart building projects featured at the Realcomm | IBcon Smart Building Best Practice Showcase on October 27. Representatives from each project will share their knowledge and smart building journey during interactive virtual conversations. Register for the first global RE tech hybrid event today!
This Week's Sponsor
Yardi® develops and supports industry-leading investment and property management software for all types and sizes of real estate companies. Established in 1984, Yardi is based in Santa Barbara, Calif., and serves clients worldwide. For more information on how Yardi is Energized for Tomorrow, visit www.yardi.com.
Read Next