ADVISORY NEWSLETTERS

Vol. 10 No. 23 – 6/17/2010
Realcomm's Proud to Announce The 2010 Digie Award Winners!!
Realcomm Staff
Each year, Realcomm presents the most innovative real estate companies, individuals, and solution providers with the prestigious Digie Award. This award is designed to recognize the most forward-thinking leaders in commercial real estate who are making the greatest impact through the use of technology and automation. Realcomm is proud to announce the 2010 Digie Award winners: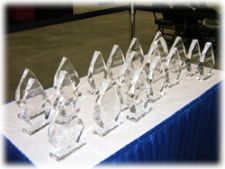 BEST USE OF AUTOMATION

Best Use of Automation - Developer
Childress Klein

Delivered one of the best examples of a 'smart connected' office building in the US
Innovative automation and integration of building systems in the Duke Energy Center
Coupled automation with 'best property management practices' to reach unprecedented levels of operating efficiency and tenant satisfaction
Best Use of Automation - Property Management
Related
Continues to rethink the use of automation in traditional property operations and management
Has demonstrated leadership and a willingness to share ideas, concepts and projects with the industry
Strategic use of automation strategies throughout the organization
This year, because of the overwhelming number of significant developments in the Best Use of Automation - Owner category, we've selected three winners:
Best Use of Automation - Owner
Boston Properties
Owner and executive team vision in driving organizational alignment around key sustainability and automation projects
Commited to the pursuit of 'green' in the built environment going far beyond normal LEED parameters
Clearly one, if not the leader, in vision and innovation in the commercial real estate industry
Best Use of Automation - Owner
GSA/PBS
Visionary leadership by executive team with respect to development of intelligent building and energy management initiatives
Demonstrated willingness to share ideas, concepts and best practices with the industry
Taken definitive steps in organizational realignment in order to fast track automation projects
Best Use of Automation - Owner
Granite Properties
Innovative exploitation of SharePoint across multiple business units
"PlanetGranite" electronic suggestion box and 'Insight' corporate reporting portal
Highly effective use of small IT staff to deliver extensive business value
Best Use of Automation - Corporate Real Estate
Panduit
World headquarters incorporating Unified Physical Infrastructure
Made investment in research and development a part of the corporate culture
Continued commitment to defining best practices in automation for ICT, building and energy systems
Best Use of Automation - Facility Management
Pacific Controls
First turnkey managed service for remote facility monitoring and management
Extraordinary vision coupled with unparalled level of resources invested in building out the Galaxy technology
Unprecedented commitment to innovation in the transformation of traditional facility and property management functions
Best Use of Automation – Brokerage
Cassidy Turley
Continuously reaching beyond the status quo for better operating models
Consistent investment in automated business solutions
Commitment to using technology to enhance brokerage and company operations
DIGITAL IMPACT AWARD
In every industry, there are those individuals who stand out as pioneers and leaders... those who aren't afraid to go against the grain and try new ideas, technologies and solutions. For these few, we present the prestigious
"Digital Impact Award"
for innovation in commercial and corporate real estate. Here are the 2010 winners, along with several key attributes and reasons as to why they were selected:
Stephen Spooner, Executive Chairman, OSCRE International
Viewed as leader and visionary in commercial real estate innovation internationally
Tireless commitment on behalf of OSCRE and vendor interoperability
Has continually worked to develop relationships to enable adoption of automation strategies
Wayne Pryor,Sr. VP and CTO, AMB Properties
Devoted to raising the bar of industry best practices
Widely considered to be one of the foremost authorities on real estate information technology
Continues to be a willing and enthusiastic leader among industry peers
Marc Petock, VP Global Marketing and Communication, Tridium
Has consistently promoted the concept of IP based building infrastructure to global markets
Without hesitation has continued to support networking, education and collaboration among real estate industry leaders
Instrumental in helping to build and deliver one of the most successful building management system platforms ever created
Bill Hutchison, Chairman, i-Waterfront Toronto
An influential and inspirational leader in the creation of i-Waterfront Toronto
Traveled the world sharing insights and promoting the concept of Smart City development
Recognized thought leader in the design and implementation of high speed wide area broadband networks
DIGITAL REAL ESTATE
City or State
Charlotte, North Carolina
Agressive leadership in deployment of energy conservation and management initiatives
Support for innovative, energy efficient commercial real estate developments
Strategic inclusion of automation and clean technology in the cith master plan
Retail
Simon
Extraordinary efforts to better understand business process automation to better facilitate retail operations
Continues to demonstrate leadership in driving automation throughout the organization
Selflessly mentored others in the industry sharing experience and vision with others
Multifamily
Tridel
Innovative engineering of building systems in order to facilitate energy conservation and tenant comfort
Continued exploration in the development of the digital lifestyle experience for the tenant
Aggressive deployment of technology in projects as a marketing differentiator
Office
Duke Energy Center - Wells Fargo
Strategic incorporation of technology from the early design phase
One of the country's best examples of a smart, connected building
Design and implementation of an IP centric building automation system
BEST TECHNOLOGY
General
iPad
Consumer technology that could radically change business processes
The most usable iteration of the tablet design concept to date
Apple continues to master the user experience
Real Estate Transaction
LoopNet
Greatly expanded the number of records in their commercial property database
Exceptional attention to physical characteristics, transaction and market trend data in the property records
Database now searchable on the iPhone
Energy
Redwood Systems
First networked LED lighting technology for commercial buildings
Revolutionary approach to energy efficient DC powered lighting saving up to 75% of lighting costs
Redwood technology is opening the door to more sophisticated energy storage strategies for commercial buildings
Building Automation
Tridium
Niagara framework has transformed energy management resulting in significant savings across multiple building classes
Tridium technology installed in some of the largest and most sophisticated commercial and corporate implementations worldwide
Tridium Niagara EcoSystem enabling rapid development and deployment of sophisticated energy management solutions globally
CONGRATULATIONS TO THIS YEAR'S DIGIE AWARD WINNERS!
This Week's Sponsor
Tridium is the global leader in automation infrastructure technology and device-to-enterprise integration solutions. The company's NiagaraAX Framework® technology synchronizes, manages and controls major building system functions vital in a facility, such as heating, ventilating, and air conditioning (HVAC) systems, energy, lighting, security, fire, safety and more. Niagara based solutions make buildings better--ones that use less energy, have lower operating costs, are safer, contribute to sustainable environments and deliver significant ROI including:(1) financial and operational paybacks, (2) performance efficiencies/lower operational Costs, (3) reduced capital and operational expenses, (4) improved facility operations, (5) greater control, manageability and security of building operations, (6) better service delivery-anytime-anywhere Access, (7) reduced energy costs, (8) increased tenant/occupant satisfaction. More information can be found at...www.tridium.com.
UPCOMING REALCOMM WEBINARS
Understanding the Next Generation of Smart Buildings – A CASE STUDY Showcase - 1/17/2019
There are many different opinions on the definition of a smart, intelligent, connected, high-performance building. Energy conservation, operational efficiency and occupant experience are the three fundamental pillars of a smart building. While some take the path of first exploring the technology options, others find greater value in studying completed projects that have incorporated the technology. Case studies provide the opportunity to review the technology decisions as well as the organizational issues and planning processes involved in creating a next generation project. This webinar will present the most successful and notable smart building projects in the world. Project leaders will share their vision, successes and challenges!