ADVISORY NEWSLETTERS

Vol. 17 No. 48 – 11/29/2017
Art McCann, CIO of Highwoods Discusses Their Smart Digital Transformation Journey
Tina Danielsen, Sr. Writer, Realcomm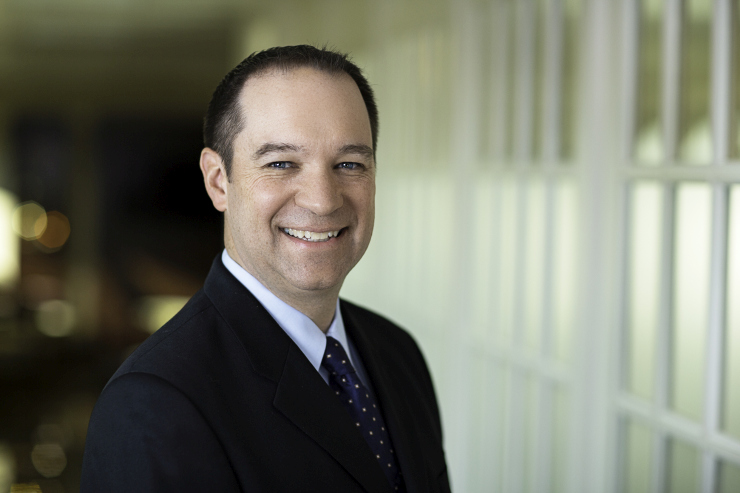 Art McCann is CIO of Highwoods Properties, a fully-integrated REIT specializing in the development, acquisition, leasing and management of quality office space, primarily in BBDs (best business districts) throughout the Southeast. A 25-year business technology veteran, Art is responsible for developing Highwoods' overall information technology strategy and aligning the company's technology investments with business objectives.
Tell us about your technology journey at Highwoods Properties.
Seven to ten years ago, everybody focused on core ERP and making sure their budgeting system and work flow for leasing were in good shape. Over the last five years, significant money has been invested in the real estate technology space, with venture capital going into the different point solutions. Real estate can sometimes be a little slow to adopt; during a Realcomm session this year, I heard someone mention that software vendors move at 125 miles per hour while real estate companies' adoption of technology moves at 25 miles per hour – that comment rang true for me.

At Highwoods, we've been very busy improving our digital touchpoints with customers and trusted suppliers. There are many solutions available and it takes patience and business savvy to make the right decision and investment. A good example is the investment we made in our new work order system with Building Engines. We've been using the software to track maintenance requests in real-time. A great feature within that program allows our customers to reserve conference rooms online. We have 30 million square feet with 250 buildings across the company. Given the number of assets, there is a lot of shared conference room space. If one building doesn't have a conference center, we can make one available at another building. They also have a great visitor management system we have deployed as well as an inspections module.

We've also started collecting rent via PayLink (CDI SnapPay), our fast and secure online payment portal that improves the customer experience. I think the industry as a whole is finally getting more automated and is fully adopting the online payment model for commercial real estate.


Another customer focused touchpoint example is parking systems. We're in the process of automating parking across the portfolio to offer better customer service and maximize parking efficiency with SkiData. Often times, pulling into a parking garage is a customer's first impression of the building, and we are striving to transform that experience with our new automated service, SmartPark by Highwoods Properties. I know the retail sector is studying the parking opportunities constantly, even more than the office sector right now. It's certainly something we're keeping a very close eye on because driverless cars and other trends will change how people consume parking in the future, and we want to be sure we react appropriately.

How much of your work is partnerships and third party and how much is internal, "We're going to build this"? How do you make that decision?
It really depends. We'd just as soon not have a custom app and servers to maintain forever. The cloud certainly offers solutions, but one has to be careful. It's that old buy versus build decision. You want to pick a winner and not be tied to a solution that's going to hurt the business. Lately, we've gone more with buy over build.

Right now, there's somewhat of a functionality gap in the real estate industry: the analysis and feasibility of a development project. Highwoods currently has 10 projects and over $600 million invested in underway development. I think calculations used in the industry are fairly standard; most people use Excel. That's certainly an opportunity where we'd consider buying over building in-house. It's not super complicated; it's just a matter of a technology firm stepping up and saying this would be great for the real estate industry as a whole. We've recently looked at MRI's development feasibility and this has promise.

You mentioned parking system trends earlier. What other technology trends do you see being the most important in the next five years?
Three things come to mind. Cybersecurity is first and obvious, and there are still a lot of emerging security solutions. We certainly utilize them to protect our environment. Also, we test employees to see if they're clicking on something they shouldn't with different social engineering-type e-mail tools. Our IT group also has a network engineer whose sole focus is cybersecurity, with a focus on tasks such as ensuring that connectivity with HVAC and other building systems is secure.

Second, there are a lot of cloud applications for commercial real estate being developed, solutions for any process you can imagine. The Internet of Things (IoT) has a lot of promise, but I think that whole '125 mile per hour versus 25 miles per hour' applies here. I would love IoT sensors in our 250 buildings, but it would be excessively expensive and something we'll phase into new projects over time. There are many operational advantages as you deploy the IoT, but it needs to be done with caution, and with cybersecurity in mind.

The third trend over the next five years is information overload. When you have thousands of Internet of Things devices and other mountains of data, you're going to need something that translates the data into actionable information – to determine the operational action that needs to be taken. I'll give you an example of how we've taken the IoT and made it simpler. We have our award-winning LiveMeter program, which uses electricity meters, pulse meters, and others to monitor and track the main electrical service of the building.
It's one point in the building; one sensor is sending back the kilowatts per hour to a database, so we can look at trends. Did the building turn on too soon? Did it run too late? Is it running higher than it should be, or colder, based on the temperature outside? But it's just one point in each of our 250 buildings. We have an energy center that monitors that data all the time to make sure we're highly efficient in our consumption of electricity. It's very actionable, and it's one point – not thousands of points – in an individual building. So finding the data points that will maximize efficiency is definitely something we focus on.

What is your advice for other CIOs?
Have a prioritized plan. My team and I sit down several times a year to go over all the requests, and then routinely refine our three-year plan. The first 12 months is always really solid, and then you discuss things that are just ideas for now or possible upgrades you anticipate are coming. Then, we take that plan to executive management to build understanding and consensus. You need to also ask yourself, "What's important to the company?" Development is very important to our company; leasing is very important; asset management is very important. Having the best buildings in the best locations with the best people is most important – technology is just the glue that keeps it all together.


How effectively we can help the building process, the property management process, and enhance our customer experience, is what's going to get management excited about implementing technology. Be an evangelist of the things you consider important and beneficial for the company. I'm blessed to work with a great technology team and have an executive management team who embraces technology. They see value in having the tools that can make business better.

This Week's Sponsor
ESD is a leader in Improving Society Through the Built Environment. It creates solutions that produce economic, environmental and experiential benefits for its clients, many of whom are the biggest names in the worlds of business, technology – and beyond. The company is in the forefront of developing Intelligent Buildings. For more information, please visit www.esdglobal.com.
Realcomm News
UPCOMING REALCOMM WEBINARS
Understanding the Next Generation of Smart Buildings – A CASE STUDY Showcase - 1/17/2019
There are many different opinions on the definition of a smart, intelligent, connected, high-performance building. Energy conservation, operational efficiency and occupant experience are the three fundamental pillars of a smart building. While some take the path of first exploring the technology options, others find greater value in studying completed projects that have incorporated the technology. Case studies provide the opportunity to review the technology decisions as well as the organizational issues and planning processes involved in creating a next generation project. This webinar will present the most successful and notable smart building projects in the world. Project leaders will share their vision, successes and challenges!