ADVISORY NEWSLETTERS

Vol. 17 No. 39 – 9/28/2017
Mark Golan, VP Real Estate & Workplace Services @ Google Talks Corporate Transformation & Innovation
Staff
This Tech @ the Edge features Mark Golan of Google and his perspective on digital transformation at one of the most innovative companies in the world. He is also co-chair of this year's CoRE Tech Advisory Council. Mark is a seasoned executive with extensive experience in real estate, finance and technology. Currently in his role as VP Real Estate & Workplace Services (REWS) at Google, he oversees the organization's business partnerships, central facilities services, events & guest services, transportation, and all facets of design and construction.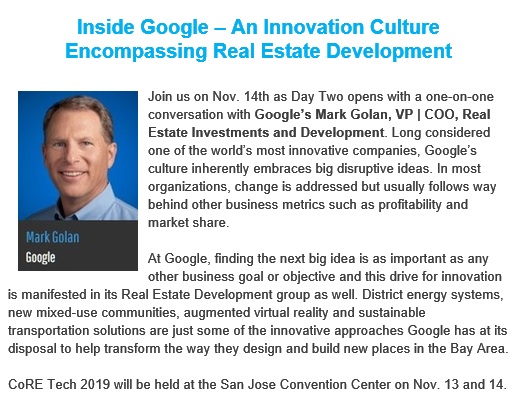 RC: What are some of the highlights within your organization in the past 12 months?
Golan: This past year has provided some landmarks in Google's history as a company. We received approval and have begun construction on our first ground-up project, Charleston East, directly adjacent to our corporate center in the city of Mountain View, California. The site will provide a critical link between adjoining Google campus properties. This is the first time Google has had the chance to design and develop a campus from the ground up and we're using the opportunity to explore sustainable building innovations and technologies. We're also implementing an adaptable design that will allow us to accommodate changes to our long-term needs quickly and efficiently. A second campus called Bay View, located at NASA Ames Research Center near Moffett Federal Airfield, has the same design DNA as Charleston East. However, it will also have a short-term employee residential component that will be built using modular units.

RC: What major technology projects were started or completed in the last year?
Golan: We can now use technology to predict and improve real estate needs. These technologies may not have emerged exclusively in the last year, but they've certainly advanced in the recent past. Google has video conferencing technology in every conference room and we've been able to use this to determine occupancy levels within the rooms. We also have broad scale deployment of sensors to drive lighting and HVAC control as well as monitoring air quality. As you can imagine, these technology improvements have required a lot of data integration on the back-end. A technology called Tango allows us to accurately map the interiors of buildings. When combined with BLE and Lidar technologies, this is making cost effective monitoring of building use and assets throughout a portfolio a real possibility for the first time.

RC: Were there any challenges or roadblocks you had to overcome?
Golan: A lack of convergence and standardization in the IoT space has made it difficult for us to accumulate data at times. It's hard to get the industry on the same page due to its size and complexity. Historically, the real estate IT industry didn't focus on security and, as a result, most IT departments segregate their networks. This makes true convergence difficult, and this is particularly true at Google. Given the amount of information we have access to, we are hyper-vigilant in ensuring the integrity of our network. This can sometimes make it difficult for us to deploy new technologies that require network connections.

Another challenge the industry as a whole faces is that many technologies we'd like to use on a more regular basis aren't cost effective yet. This is particularly true in the areas of real time utilization or people/asset tracking. Some of Google's innovations in our core product areas have tremendous promise to create breakthroughs in these domains. An example I mentioned before is Tango, which allows you to three-dimensionally map a physical environment down to the size of a marble with just the use of a smart phone. The good news is that many of these technologies are progressing very quickly and should lead to some interesting capabilities in the near future.

RC: What are three technology/automation/innovation trends you see having the most impact on the industry over the next decade?
Golan: It's difficult to overstate the importance of AI and Machine Learning - it changes everything. Arguably the most powerful technology ever produced, AI has the potential to automatically fine tune all aspects of building commissioning and settings as well as predict or even prevent equipment failures. It will also allow buildings to anticipate user needs so they can adapt without human intervention, such as changing equipment settings based on existing conditions.

Virtual and augmented reality technology will become increasingly involved in redefining what 'place' means. AR in particular will have significant impact both from an operational and user standpoint. For example, imagine a technician being able to see through ceilings or walls to inspect building elements while simultaneously receiving information about the manufacturer, maintenance and settings. From a user standpoint, imagine a conference room table where some people are actually present while others are sitting on chairs virtually and it's hard to tell the difference. This is closer to reality than people realize.

IoT will help drive changes by allowing buildings to sense their environment in a comprehensive and granular way that wasn't possible in the past. This was a missing element for the intelligent building. In fact, many forms of intelligent behavior are based on pattern recognition and this isn't possible without a rich data set.

RC: What one piece of advice would you give a corporate real estate peer regarding digital transformation and how it impacts owning, leasing and operating buildings?
Golan: Assess how your building will be able to adapt to likely changes in the future. All of the technologies and advancements mentioned above make it difficult to future proof buildings. It takes three years to build the average project and we're attempting to design and execute structures that need to remain relevant for at least 30 years. At the speed technology is moving, that is no small task.

The various phases of CRE Tech 5.0 and digital transformation will be discussed by Mark along with other thought leaders at the upcoming CoRE Tech 2017 on Nov. 14-15 in Silicon Valley.
This Week's Sponsor
WRLD is a 3D mapping technology company that provides tools to create immersive geospatial applications for connected buildings, smart cities, games and more. A range of custom, powerful solutions are built using our cloud-based platform at enterprise companies such as IBM, at small independent studios, and by virtual and augmented reality pioneers. Our 3D maps provide a digital twin of the physical world for intuitive decision-making. We have an ambitious goal to create a dynamic and intelligent representation of the entire world that anybody can use and view anywhere. Visit www.wrld3d.com.
Realcomm News
CoRE Tech 2017 | World's Top Corporate RE & Facilities Executives
Meet in Silicon Valley to Discuss Innovation!
Join the most innovative Corporate Real Estate and Facilities executives from companies such as
Google, McKesson, Time Warner, Salesforce
and many others, as they gather to discover, discuss and debate how technology, automation and innovation will impact the next generation of how we use and operate corporate facilities.
Watch this 3-minute video and learn more!
UPCOMING REALCOMM WEBINARS
FASB Compliance, Impacts to the Leasing Process, and Other Strategic Opportunities - 2/22/2018
With FASB compliance quickly approaching in January of 2019, organizations are required to get their real estate (as well as other assets) leases onto the corporate balance sheet. While this is primarily being done to more accurately report on the financial health of an organization by recognizing additional liabilities, there will be profound benefits realized when the data is collected and organized. Lease analysis, occupancy, utilization and other business metrics will all now be accessible for strategic planning. This webinar will focus on the compliance requirements, deadline realities, technology strategies and the long-term opportunities resulting from an enhanced and improved data organization platform.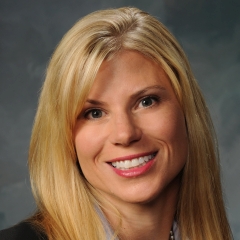 Jean Chick
Principal
Jean Chick is a Deloitte Partner in Real Estate and Location Strategy with over 21 years of experience. She is a leader in real estate technology ena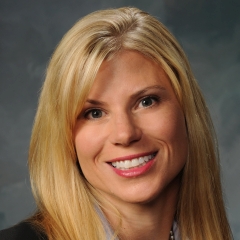 Jean Chick
Principal
Deloitte
Jean Chick is a Deloitte Partner in Real Estate and Location Strategy with over 21 years of experience. She is a leader in real estate technology enablement, portfolio optimization, advanced workplace strategy and operating model design. She has led a global corporate real estate function including all strategy, design, transaction management, facilities and program management. Jean navigates complex financial and operational issues while balancing change management to maximize return on real estate investments.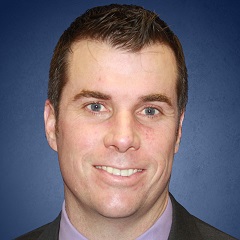 Matthew Denio
Sierra Nevada Corporation
Matthew Denio
Director, Corporate Real Estate & Facilities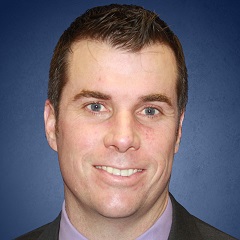 Matthew Denio
Director, Corporate Real Estate & Facilities
Sierra Nevada Corporation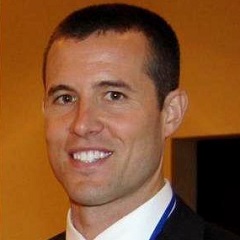 Mark McDonald
CoStar Real Estate Manager
Mark McDonald
Director of Sales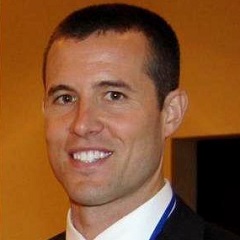 Mark McDonald
Director of Sales
CoStar Real Estate Manager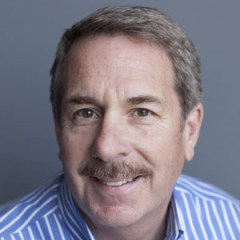 Edward Lubieniecki
RealFoundations
Edward Lubieniecki
Enterprise Managing Consultant
Edward Lubieniecki is a Managing Director of RealFoundations and leads the firm's corporate real estate practice. He has over 25 years' experience as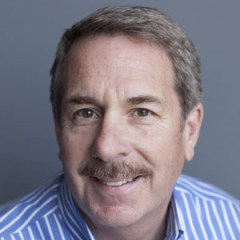 Edward Lubieniecki
Enterprise Managing Consultant
RealFoundations

Edward Lubieniecki is a Managing Director of RealFoundations and leads the firm's corporate real estate practice. He has over 25 years' experience as a real estate management consultant. His experience with global corporate and institutional clients includes an extensive variety of assignments of significant complexity.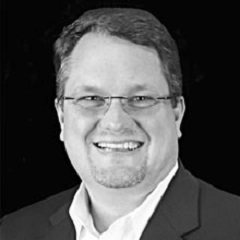 Derek Anderson
Visual Lease
Derek Anderson
Chief Operating Officer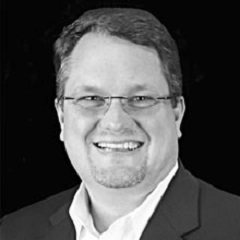 Derek Anderson
Chief Operating Officer
Visual Lease