ADVISORY NEWSLETTERS

Vol. 16 No. 39 – 9/27/2016
Intelligent Tracking & Integration: Enabling the Digital Office
Anthony Meadow, President & Revital Gilad, COO and CBDO, Bear River
Just as the industrial revolution did a century and a half ago, the digital revolution is reshaping the way we live our lives and the way we work, forcing a fundamental transformation of business. And two fundamental technology principals are working together to enable the Digital Office.
The digital revolution is moving us quickly toward a fluid state where the workplace, and just about everything in it, can 'talk' to one another, providing seamless access, shared workflow, broad visibility and laser focused analytics from any location. This new 'digital office' is where rising technology trends – from the Internet of Things to read analytics to ambient knowledge – all come to the forefront to fundamentally transform business, and our office environments.

If new networks can link data from products, company assets, and the operating environment, there is real potential to generate better information and analysis, which can greatly enhance decision making. However, the reality is that a fully 'digital office' won't materialize all at once. Many organizations have existing office hardware, software, and systems that work outside of these new paradigms. Some organizations are starting to deploy these applications in targeted areas, while more radical and demanding uses are still in the conceptual or experimental stages.

Whatever rate of adoption a business chooses, two fundamental components must be in place to enable the digital office of the future:
Intelligent Tracking: Intelligent tracking allows a dialogue between individual processes, people, transactions and assets and locations. It's designed to transform historically siloed functions into seamless coordinated actions – within the workplace or across multiple sites. Intelligent tracking follows and connects the behavior, location, and workflow of individual mission-critical items from documents and supplies to employee requests and data. Information is aggregated and easily visible, so performance can be monitored and improved every step of the way. The result is greater control, accountability, and efficiency – making the organization exponentially smarter as it uses new technologies.



Integration: Core systems that drive back, mid and front offices are often decades old, comprising everything from custom systems built to the run the financial services industry in the 1970s, to the ERP reengineering wave of the 1990s. In addition, multiple physical assets and technologies inside and outside the organization have changed at different rates, some becoming obsolete before they are integrated – other legacy systems operating in complete isolation. Today, many roads to digital innovation lead through these 'heart of the business' products and systems. For this reason, organizations are now developing strategies for re-imagining their core systems that involve re-platforming, modernizing, and revitalization; transforming the bedrock of the technology footprint to move data through the organization in whole new ways.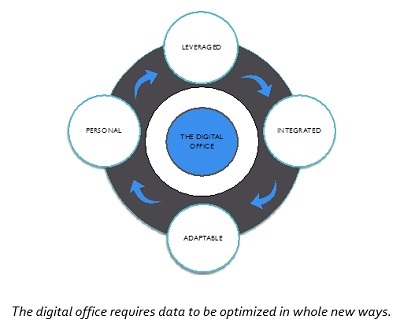 A Digital 'First Step': Transforming Mail Services
Office services – those largely overhead services like mail, supplies, inventory, printing, etc. – are constantly evolving as a result of increasing pressure to deliver good services with fewer resources and less money. For this multi-billion-dollar industry, data that is not tracked, and systems that are not integrated, can dramatically increase operational costs from duplicate and inconsistent data entry, reduced process controls, material loss, and increased labor.
One of the fundamental processes within the Office Service industry is the management of mail, and as early as 2010, Bear River saw that mail services was not well served by standalone, siloed products. We developed an integration architecture to connect mail services equipment, hardware and software seamlessly. Two primary principals drove our development:
Tracking the Chain of Custody. A key goal for mail services is to capture the record of every action performed on every item handled through the workflow, resulting in a complete chain-of-custody for each item. This large dataset provides visibility into the current state of each item as well as visibility into the office service itself. Using analytics on this dataset enables objective and accurate measurement of service levels and KPIs of complete workflows or of specific workflow phases, something that is simply not possible with a collection of standalone systems.

Integrating Systems. Mail services is peppered with disparate systems. Our integration architecture had to connect with a number of other products including mail sorters, scanning workstations, digital mail software and intelligent lockers. The architecture is implemented using modern web technologies such as Web services, JSON, and message brokers. Scalability, reliability, and security were important in the development and implementation of the architecture.
Federal Government: A Case Study
In 2010, Bear River was awarded a contract to implement a digital mail system for general correspondence for a large federal department. They began by using Bear River's intelligent tracking solution, BearTracks, for tracking the history of each mail piece, providing reports and analytics for the workflow, and providing a dashboard showing the system status. Additional systems included:
A mail sorter capable of sorting 10,000 pieces per hour

Digital mail software that supports both individuals and work groups

Scanning workstations capable of scanning the contents of each mail piece
The primary goals of the digital mail system were to deliver mail faster, maintain a total chain-of-custody for all items and measure service levels (SLA's) and performance.
The pilot program ran for one year and fully met their objectives, and the system is now being rolled out on a large scale for the people working at the headquarters campus. The digital mail service has enabled quick delivery of mail electronically to customers whether they are physically onsite or not – and delivery times for physical mail was reduced by three hours each day. Today, the integration platform allows for the continuous evolution of both workflow and new data points, growing in-step with the organization.
Conclusion
New technologies, including the Internet of Things, have truly transformative potential. At Bear River, we are presented with the opportunity to develop new and valuable systems right now, that will support and encourage the digital office of the future. Often that starts with a single business process – leveraging data from tracked processes, products and things, and encouraging interoperability by integrating that data to improve operations and gather greater insights for data driven decision making.
This Week's Sponsor
About Bear River: Bear River's flagship product, BearTracks, is a fully scalable enterprise software designed to help companies of every size track, report and manage critical office services – from mail & parcels, print & copy, supply & assets – to facilities & hospitality. Whether you have one site or hundreds, BearTracks provides real-time operational insights to help meet and exceed even the most ambitious service goals, turning everyday workplace functions into true competitive advantage. www.bearriver.com
UPCOMING REALCOMM WEBINARS
Understanding the Next Generation of Smart Buildings – A CASE STUDY Showcase - 1/17/2019
There are many different opinions on the definition of a smart, intelligent, connected, high-performance building. Energy conservation, operational efficiency and occupant experience are the three fundamental pillars of a smart building. While some take the path of first exploring the technology options, others find greater value in studying completed projects that have incorporated the technology. Case studies provide the opportunity to review the technology decisions as well as the organizational issues and planning processes involved in creating a next generation project. This webinar will present the most successful and notable smart building projects in the world. Project leaders will share their vision, successes and challenges!