ADVISORY NEWSLETTERS

Vol. 16 No. 23 – 6/7/2016
Leveraging Compliance Initiatives, How Heavily Regulated Industries Are Staying Competitive
Revital Gilad, COO & CBDO, Bear River
Many organizations today face unprecedented challenges in managing risks and complying with an increasing number of laws, regulations and internal policies in a cost-effective and competitive manner.
In the case of regulatory compliance, costs to U.S. companies are rising globally by estimated one trillion dollars annually (1). Yet, the cost of non-compliance can be the loss of an entire enterprise. This trend is particularly acute with heavily regulated industries such as Healthcare, Telecommunications, Energy, and Financial Services. The table below provides regulatory examples that impact organizations within these industries through Municipal, State and Federal enforcement.


A further challenge for companies in these industries is that they are increasingly asked to meet new regulatory mandates – it's often a race to keep pace in these ever-evolving environments. And for financial-institution executives, compliance risk has become one of the most significant ongoing concerns. Since 2009, regulatory fees have dramatically increased relative to banks' earnings and credit losses, and the scope of regulatory focus continues to expand. The figure below depicts performance of 20 U.S. and E.U. banks in period of 2009-2015, indexed to 2009 value (2). So when four of the largest banks in the United States sought business process improvement within their office services, it stands to reason that compliance was a primary driver.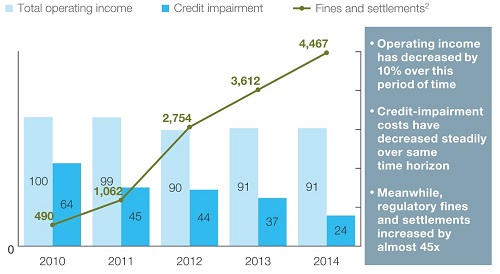 In the specific case of compliance within the Banking sector, new regulations have caused an operational cascade such that banks no longer earn as much revenue from fees and interest derived from debit or credit cards. For example, mission-critical supplies such as debit and credit cards, must be tracked across their bank-to-retail-customer lifecycle.
The silver lining to such compliance is that banks have an opportunity to apply analytics to regain lost revenue by significantly reducing processing time, increasing in house control vs. relying on third-parties within the distribution cycle, and getting rid of costs associated with traditional confirmation receipt options. It is in this capacity that providers of business office services play a pivotal role in achieving life-cycle compliance and sustaining a competitive advantage
No matter what the industry, an initiative to comply with a regulation typically begins as a single massive project, as companies race to meet regulatory deadlines. Compliance projects can consume significant resources. Worse, without a holistic view of the organization, they can become a real "forest for the trees" event. When deadlines drive decisions, a single instance of compliance of one business process can eclipse the efficiency of the whole. However, compliance is not a one-time event, and smart organizations realize that they need to make it into a repeatable process, so that they can continue to sustain compliance with that regulation at a lower cost than for the first deadline. Even smarter organizations realize that there may be opportunities to leverage the compliance initiative far beyond the mandate.
For one bank, with nearly 1,300 office locations across the US, a lack of accessible information throughout their organization was increasing risk and precluded adequate benchmarking or measuring Key Performance Indicators (KPIs). The adverse impacts moved beyond risk management, however, and actually impacted the customer and other business units, since external users were dependent on access to current and accurate information as well. There was an opportunity not only to mitigate risk, but to shore up the performance and core competencies of the bank – from retail, private banking and wealth management, to small business and commercial banking products and services.
What they required was an integrated system that enabled them to make compliance repeatable and sustainable on an ongoing basis at a lower cost. At the same time, it was important to leverage the resources committed to the initiative – if the bank could gain operational efficiencies they could reduce the impact of the total cost of compliance.
Compliance generally begins by implementing a formal business-change-management process that flags any significant operational changes. It also requires a robust tool kit for objectively measuring risk. Once workflow processes and KPI's are defined against specific Service Level Agreements (SLAs), it's critical to implement an end-to-end solution to leverage data across the organization. In most organizations, compliance requires a shift from siloed, business-unit-based coverage to a model where business-unit coverage is combined with horizontal expertise around key compliance areas.
The solution for this bank was
BearTracks
– an intelligent internal logistics and workflow solution that could be used across the organization for:
Tracking & Accountability
The bank now generates and captures life-cycle data on mission-critical office supplies like debit cards and associated mail and documentation – down to the individual item -- in order to provide the bank heightened visibility.

Reporting & Analytics
Reporting now provides the bank visibility and flexibility to group, redirect, or convert non-accountable packages to accountable. Detailed, custom reports not only prove compliance, but also provide operational insights into efficiency and business process efficiencies across the organization.

Operational Efficiency Control
Employees have an internal option for generating and shipping accountable articles, ordering supplies, and viewing statuses of relevant processes. This increases employees' control and satisfaction while reduces costs by eliminating misplaced orders from suppliers and dramatically decreasing process time.
To date, the bank has leveraged their initial compliance initiative and moved far beyond. The implementation of Bear Tracks helped the bank save time, money and resources, including:
Reduced Card Distribution Costs: $300K Saved
With the visibility and tracking achieved from Bear Tracks, the bank was able to successfully transition the distribution of blank card stock to their branches from an external specialized delivery service provider, to an already existing, internal transportation and distribution network, at no added cost to the program.

Improved SLA: Order fulfillment went from 10-12 days, to 2-3 days
By bringing the distribution process of cards in-house, they greatly improved customer satisfaction and positively impacted both Marketing and Procurement.

Improved Supply Distribution Model: $500K / Annual cost avoidance
By leveraging their existing distribution network and greater supply visibility, the bank avoided using a third-party and was able to avoid the projected cost of transitioning to an external carrier shipment.
Conclusion:
Regulatory compliance has undoubtedly affected banks in a variety of challenging ways, increasing the cost of service and sometimes making the delivery of great customer experiences more difficult. However, as the regulatory environment evolves, we see a major opportunity for the compliance function to get ahead of the curve by implementing targeted changes to its operating model and processes, and thus delivering a better quality of oversight while at the same time increasing its efficiency. Any heavily regulated industry that successfully makes this shift will enjoy a distinctive source of competitive advantage in the foreseeable future, being able to deliver better service and reduce structural cost, while lowering operational risk.
---
(1) On Risk Compliance at
www.pef3inc.com/#!risk-compliance/ch1z
.
(2) McKinsey financial analysis at
www.mckinsey.com/business-functions/risk/our-insights/a-best-practice-model-for-bank-compliance
.
This Week's Sponsor
About Bear River: Bear River's flagship product, BearTracks, is a fully scalable enterprise software designed to help companies of every size track, report and manage critical office services – from mail & parcels, print & copy, supply & assets – to facilities & hospitality. Whether you have one site or hundreds, BearTracks provides real-time operational insights to help meet and exceed even the most ambitious service goals, turning everyday workplace functions into true competitive advantage. www.bearriver.com
UPCOMING REALCOMM WEBINARS
Understanding the Next Generation of Smart Buildings – A CASE STUDY Showcase - 1/17/2019
There are many different opinions on the definition of a smart, intelligent, connected, high-performance building. Energy conservation, operational efficiency and occupant experience are the three fundamental pillars of a smart building. While some take the path of first exploring the technology options, others find greater value in studying completed projects that have incorporated the technology. Case studies provide the opportunity to review the technology decisions as well as the organizational issues and planning processes involved in creating a next generation project. This webinar will present the most successful and notable smart building projects in the world. Project leaders will share their vision, successes and challenges!