Feature
Interest in Microgrids by Real Estate Companies Part of a Wider C&I Market Trend
July 19, 2018 | Peter Asmus, Principal Research Analyst, Navigant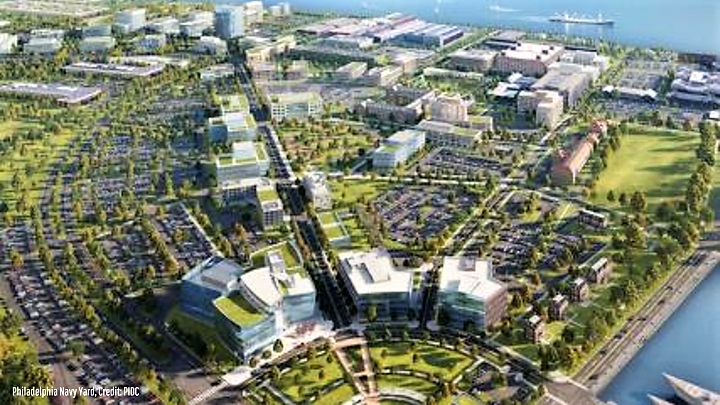 A number of reports tracking power outages in the United States have been released this year which underscore why this country continues to be the global leader on upgrading infrastructure to address power outages due to extreme weather, wildfires and threats associated with natural disasters, as well as acts of terrorism. These stark statistics also show why commercial and industrial (C&I) customers have emerged as the fastest growing microgrid market segment globally.
The advantages of microgrids – which are small islands of resilient power that can stay fully functional when the larger utility grid goes down – are now seeping into the minds of real estate developers and investors alike. These smart energy upgrades represent a way to add value to premium properties serving customers that demand top-of-the-line service in a world tilting toward a digital economy.
Eaton, a leading microgrid solutions provider, releases its annual Blackout Tracker every year. The latest version shows the U.S. sustained 3,526 blackouts in 2017 that interrupted grid delivery of power services to an aggregate population of 36.7 million. The average power outage averaged 81 minutes of downtime. While the total number of overall outages in 2017 was 9% less than in 2016, the number of people impacted by these blackouts more than doubled. This seeming dichotomy can be explained by the longer term and wider geography of major blackouts occurring last year due to extreme weather hitting Florida, Texas and Puerto Rico.
The state that features the most power outages is California, often viewed as the leader in the new digital economy epitomized by Silicon Valley. No doubt, part of this is due to sheer size. Nonetheless, the state has had the dubious honor of taking top honors for blackouts for the ninth year in a row. All 50 states were impacted by power outages, with the average cost being $100,000 per hour, but outages at data centers sometimes costing 10 or more times that amount. One of the most expensive costs incurred by a single C&I customer was Delta Airlines, which lost $50 million due to an outage at the Atlanta, Georgia airport.
Microgrids as Real Estate Assets
Net Zero Microgrid Solutions was among the first companies to look at microgrids through the perspective of a real estate owner and developer. The company helped design (in cooperation with GE, PJM and local utility PECO, among others) the microgrid at the Philadelphia Naval Yard that supports this large redevelopment project. This former military site is a unique microgrid project which invested $33 million into smart meters, communication and a control system over a 1,200 acre site representing 7.5 million square feet of occupied real estate. Approximately 150 companies are located there, employing 12,500. This smart energy campus has attracted more than $750 million in private investment leveraging $150 million in public sector dollars¹. Because this repurposed property is an unregulated energy distribution district, it does not have to seek state regulatory approval when considering the deployment of innovative solutions which otherwise face publicly regulated utilities and C&I customers operating in a more traditional regulatory environment. A similar real estate-driven approach to microgrid development is occurring at Union Point, just south of Boston, where GE will again be helping to repurpose a previous military base into a premium smart city initiative incorporating microgrids and autonomous vehicles for high value clients such as Amazon² .
Perhaps the best example of a new breed of developers responding to the real estate industry's needs – as well as those of other C&I customers not wanting to own or manage energy infrastructure – is Dynamic Energy Networks. The company is partnering with Schneider Electric, which offers a microgrid-as-a-service (MaaS) model and helped line up the Carlyle Group as its initial source of project capital, an entity plowing $500 million into new C&I microgrid projects in the U.S. Dynamic Energy Networks is currently exploring a $160 million microgrid for a large re-development project on the East Coast. Navigant Research believes various forms of MaaS will fuel the C&I microgrid market.
Beyond pure C&I plays are new microgrids being integrated into redevelopment projects that also serve residents. Case in point: a real estate redevelopment project sponsored by FivePoint Holdings at the Hunter's Point shipyard in San Francisco. GI Energy offered a unique blend of solar PV, energy storage, wastewater treatment facilities and utility-scale geothermal to win the "eco-district" project. Though there is no natural gas in the mix on this project, GI Energy sees one of its key competitive advantages is the ability to provide long-term and transparent pricing on natural gas, which Shell views as a bridging fuel to a renewable energy future. Shell Energy is also active in California's community choice aggregation movement, which is also waking up to microgrids. The Hunter's Point project, which will wrap around 10,500 new residences, represents a new trend in the commercial and industrial microgrid market: a focus on new real estate developments.
Conclusion
It is estimated that less than 5% of the real estate industry is even aware of how microgrids could boost the value of new project developments. While this may represent challenges due to lack of a track record and few successful deployments to point to, it also means this is the perfect time to explore opportunities since the market is wide open. Working with experts is a key first step. The technologies comprising microgrids – such as solar energy and advanced batteries – are coming down in cost while performance is going up. The key innovation for the real estate industry comes in the form of creative financing, the current focus of the microgrid industry embracing new energy-as-a-service business models.
---
Sources:
¹Interview with Will Agate, founder of Net Zero Microgrid Solutions, on March 2, 2018.
²http://unionpointma.com/wp-content/uploads/2017/11/1703_Union-Point_Amazon-RFP_101717_FINAL_SCREEN-FOR-PUBLIC.pdf
This Week's Sponsor
MRI Software delivers innovative applications and hosted solutions that free real estate companies to elevate their business. Our flexible technology platform and open and connected ecosystem meet the unique needs of real estate businesses, from property-level management and accounting to investment modeling and analytics for the global commercial and residential markets. For more information, please visit www.mrisoftware.com.
Read Next