Partner Content
Rising Realty Partners | One California Plaza: Smart, Connected Office Tower
November 24, 2022 | Realcomm Staff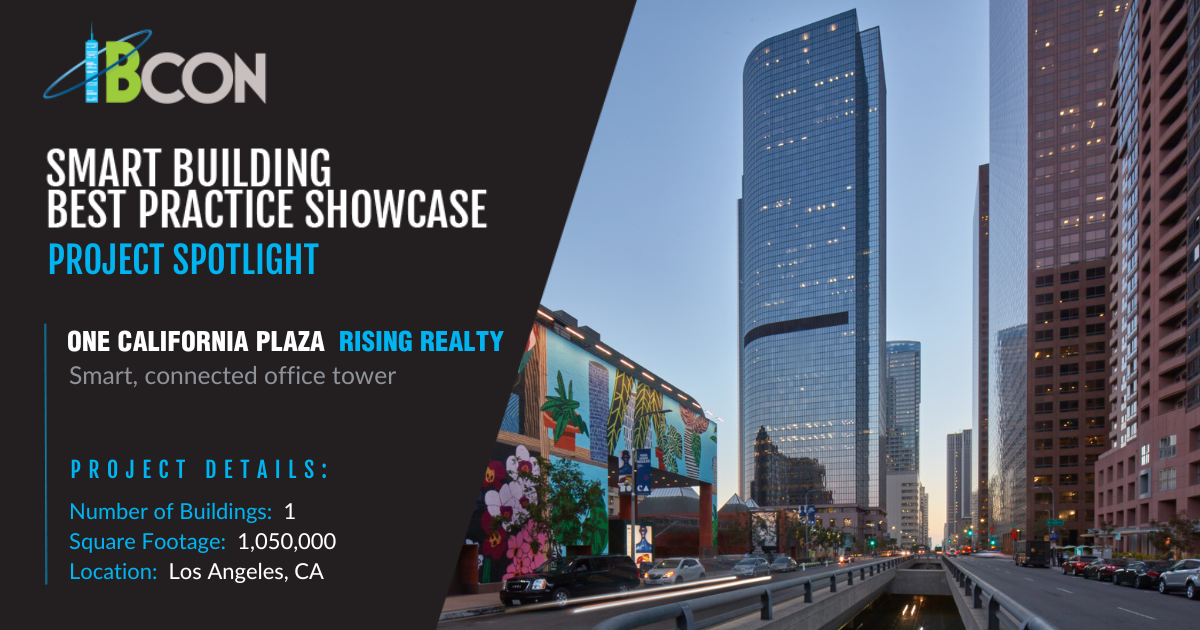 The IBcon Smart Building Best Practice Showcase is an annual event held at the Realcomm | IBcon conference where real estate leaders present their most innovative, technology driven commercial and corporate real estate projects. These projects demonstrate leading-edge technologies and vision for intelligent and adaptive design that is transforming the next generation of IT-enabled real estate. The Weekly News Briefing will feature a unique Showcase project each week.
Located in the premier downtown Los Angeles office location of Bunker Hill, One California Plaza stands
just one block away from a world-class cultural center that includes the Walt Disney Concert Hall, Broad Museum, The Music Center, the Museum of Contemporary Art (MOCA), multiple restaurants and gathering areas, and much more. The site features 5x5 Telecom internet and phone service, so employees can access the office network anywhere on the campus with speed and security. AnyCloud™ gives direct access to every major cloud platform 10 times faster than conventional internet speed for increased work performance. This superior connectivity extends to The Yard, the courtyard with lush landscaping and outdoor seating areas. One California Plaza has multiple smart and sustainable certifications, is a UL Verified healthy building for indoor air, and was the first SmartScore certified building in California.
This Week's Sponsor
Milesight is a fast-growing and innovation-driven technology company with a focus on 5G, AI, IoT and LoRaWAN. With advanced IoT insights, the company is committed to driving next-level technology innovation and business efficiencies in an actionable and locally adapted way. For more information, please visit www.milesight-iot.com.
Read Next