Feature
Schneider Electric | IntenCity: State-of-the-Art Regional Headquarters
September 29, 2022 | Realcomm Staff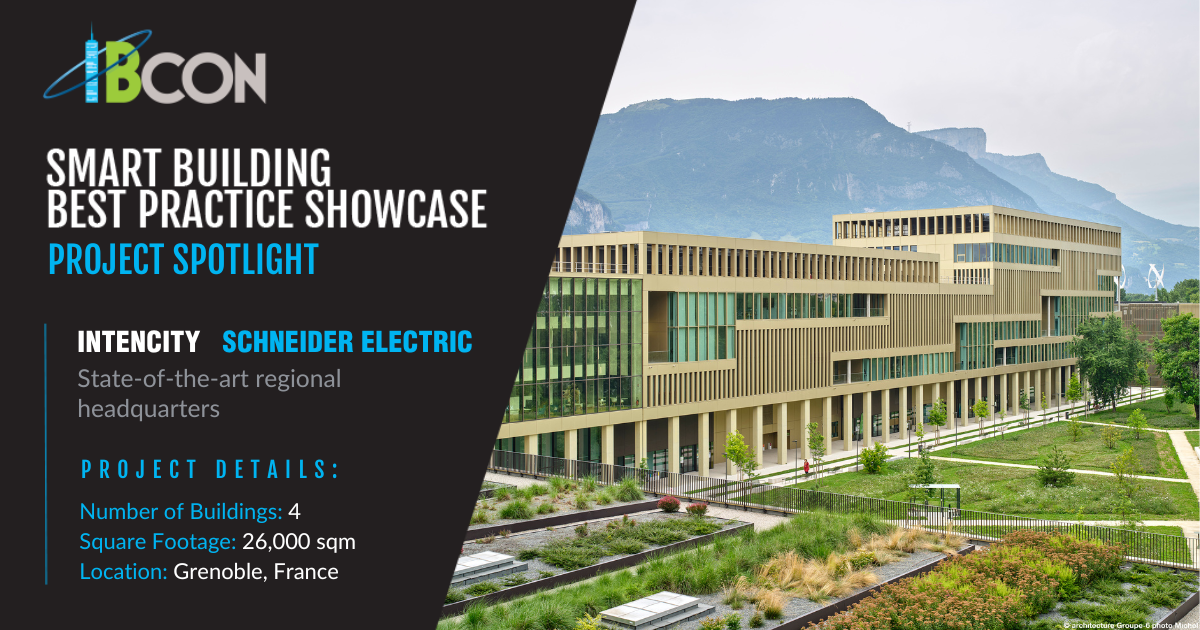 The IBcon Smart Building Best Practice Showcase is an annual event held at the Realcomm | IBcon conference where real estate leaders present their most innovative, technology driven commercial and corporate real estate projects. These projects demonstrate leading-edge technologies and vision for intelligent and adaptive design that is transforming the next generation of IT-enabled real estate. The Weekly News Briefing will feature a unique Showcase project each week.
IntenCity is Schneider Electricís flagship building
that serves as a beacon of sustainability and example of what is possible for buildings of the future. The building is all electric, all digital and is designed to use 10 times less energy than average European buildings. Equipped with photovoltaic panels, wind turbines, and on-site energy storage, IntenCity is energy autonomous. Through a unique microgrid partnership, this energy is also shared with neighboring buildings and the city of Grenoble, France. The site showcases data-driven design and build: hyper-efficient, fully flexible and human-centric.
This Week's Sponsor
As a leading advisory, assurance, and tax firm, CohnReznick helps forward-thinking organizations achieve their vision by optimizing performance, maximizing value, and managing risk. Clients benefit from the right team with the right capabilities; proven processes customized to their individual needs; and leaders with vital industry knowledge and relationships. Headquartered in New York, NY with offices nationwide, the firm serves organizations around the world through its global subsidiaries and membership in Nexia International. For more information, visit www.cohnreznick.com.
Read Next