Partner Content
Whatís in Store for CRE Building Operations in 2022
January 20, 2022 | Tim Curran, CEO, Building Engines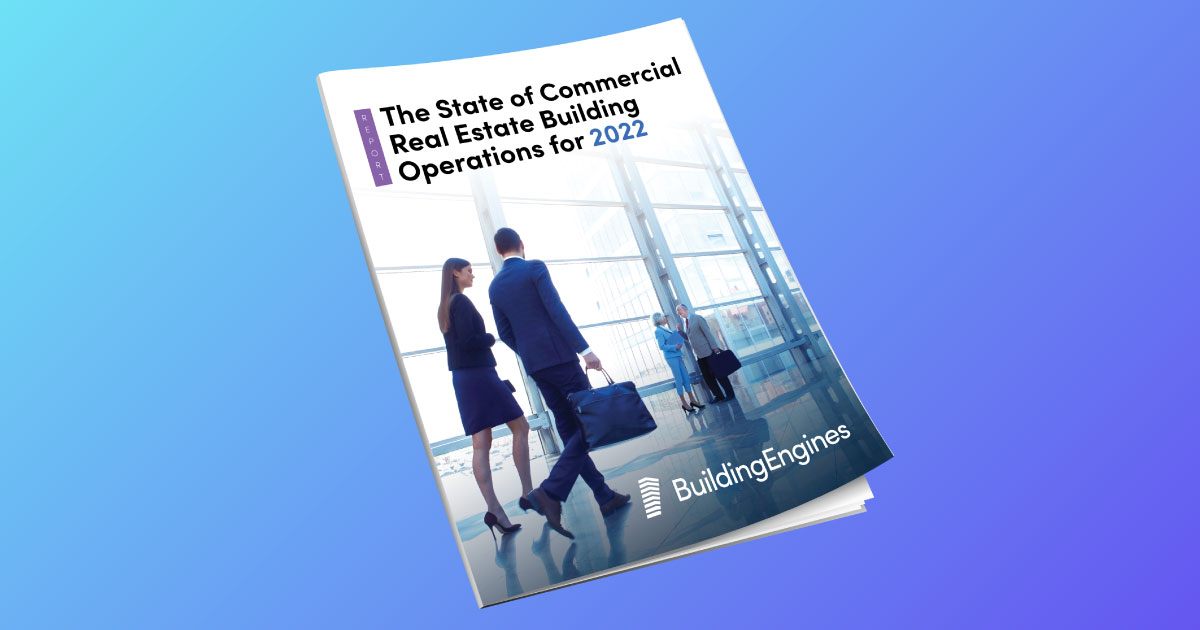 Commercial real estate (CRE) owners and operators have weathered a second year of the global pandemic in better shape than the first.
Thatís not to say that 2021 didnít have its challenges. COVID-19 continued to cause seismic industry shifts, resulting in mass disruption for carefully laid plans. On top of that, tenant expectations elevated, budgets tightened and competition increased.
Amid these challenges, one theme became clear: Assembling the right technology stack can be the difference between cementing your portfolioís long-term growth or falling behind competitor buildings.
To better understand what lies ahead in the coming year, Building Engines recently surveyed over 500 property professionals about their current situation in the CRE market and expectations for 2022. From the report, The State of CRE Building Operations for 2022, we found that nearly half of commercial property teams expect to increase their CRE technology spend this year. Among the top areas of investment? Building operations and the tenant experience.
Technology is now a crucial differentiator for managing building operations. Even if robust manual processes are in place, you canít easily share information or prove operational effectiveness. Whether a property team needs to do more with less, increase automation, or rise to the challenge of ever-increasing compliance requirements, itís clear that CRE professionals can no longer afford to be laggards in technology adoption.
Think about it. What percentage of your time do you spend reactively putting out property management fires? Are you able to focus on strategic tasks with the balance of your time? That is, if there even is time left over in your day. The trick to combatting some of the chaos and getting more time back in your day is to effectively utilize commercial real estate technology.
Good CRE technology helps eliminate unnecessary distractions by only displaying information thatís pertinent to each team member. For example, an engineer only needs to see the work orders and preventive maintenance tasks theyíve been assigned. If youíve already prioritized these assignments, the software you use should automatically display the most critical work orders and preventive maintenance tasks first by level of importance and deadline. This helps your team eliminate distractions and pay attention to what matters most.
Additionally, rolling out CRE technology with the same features across your buildings reduces the challenge of managing multiple properties or spaces and promotes more effective building operations. This means all your building engineers can use the same platform to track equipment, standardize preventive maintenance tasks, and keep all your important information in one place. The same goes for your property management team. Everything they need to work on is standardized across each property, making your teamís jobs more efficient.
Lastly, handling tenant requests and issues is one of the largest time commitments that property managers face in any environment. With CRE technology, you can provide options for your tenants to submit requests to your team from tools they use every day. This includes a web browser-based portal, text messaging, and mobile apps.
Market leading building operations solutions in this area even offer automated replies and follow ups. Empowering tenants untethers you and the property team from your desks. And it frees up time previously spent answering your phone or handling work orders through email.
While the past couple of years have caused some headaches in the market, the survey results suggest an optimistic outlook for the commercial real estate industry in the year ahead. The vast majority of CRE professionals have seen their portfolio size either increase or remain consistent in 2021, and most expect their tenants to reoccupy their offices by summer 2022. This is in large part due to property teams being more conscious of a change in tenant expectations, with 63 percent of respondents looking to address health, wellness, and air quality in their buildings.
Simply put, if you want to save time and money, the right commercial real estate technology will help you optimize and modernize your building operations, improve the tenant experience, and create more efficiency for your team members.
To help property teams excel at the day-to-day, plan for future growth, and ensure tenant needs are met, Building Engines created Prism, the most innovative and powerful building operations platform for CRE professionals.
User engagement and ease-of-use are Building Enginesí guiding design principles. And this approach is backed with more than 20 years of industry experience. Our work ensures you stay ahead of the innovation curve and can meet industry demands few could have predicted even a couple of years ago.
Learn more about Building Engines, and what your peers are saying about CRE technology and the year ahead, in our latest report: The State of CRE Building Operations for 2022.
This Week's Sponsor
Since 2005, Spot On Networks ("SON") has been the leading provider of in-building wireless solutions to the multifamily and commercial building industries. Its patented network architecture and secure Wi-Fi backbone make SON the wireless provider of choice for over 1,000 building owners nationwide. Their services include managed Wi-Fi, Wi-Fi Calling, cellular, public safety radio and 24/7 support & monitoring. More info at www.spotonnetworks.com.
Read Next