News
Gateway, Sydney: Australia's Journey to the 'Touchless' Office Building
July 30, 2020 | Mark Hansen, CIO, Dexus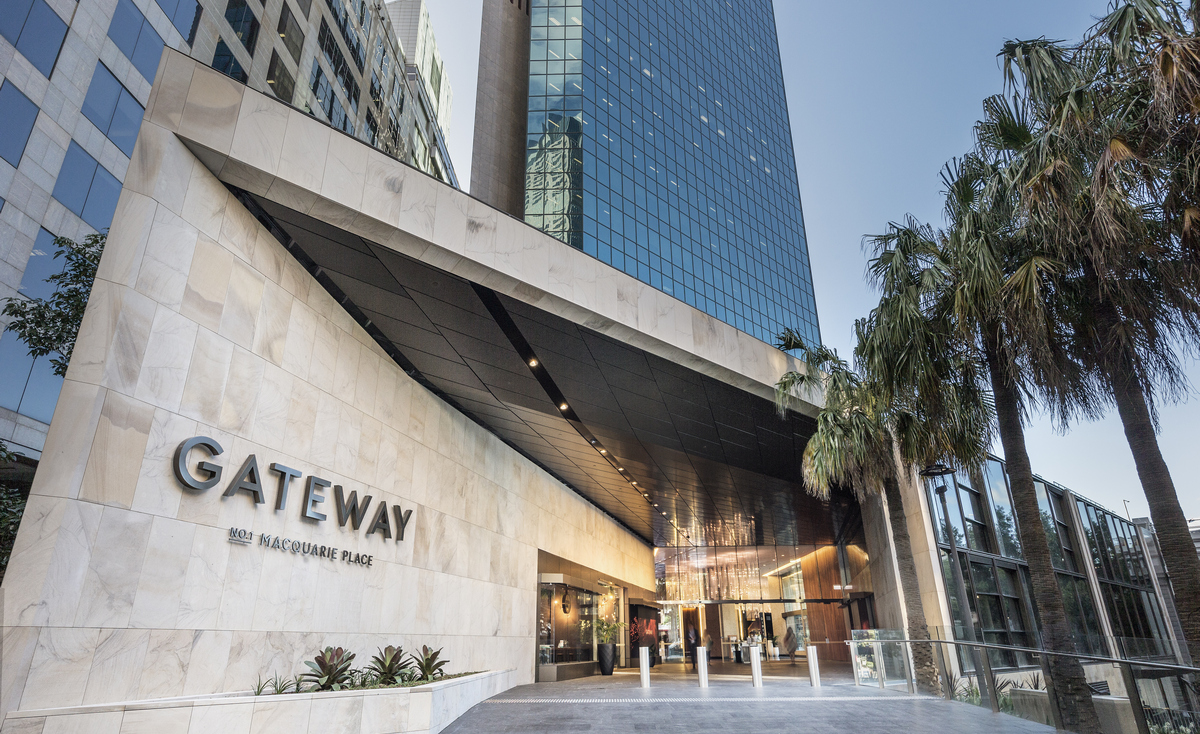 Property owners and real estate managers worldwide are preparing to return to the office in various ways. The challenge of reopening is heightened by the evolving COVID-19 environment in disparate geographical locations and the varying needs of businesses and tenants.
Dexus Wholesale Property Fund's Gateway building in Sydney is at the forefront of using the latest technologies to reopen buildings safely. The 46-story waterfront tower is the first in Australia to offer a completely touch-free secure building entry experience for occupants and visitors using an end-to-end integration.
The state-of-the-art touchless entry uses 3D biometric fingerprint technology. The system's intelligence enables gate access and understands the user's destination by seamlessly calling a lift. Once enrolled in the system, workers can pass through all these areas to enter their workspace without touching a single surface.
The technology is also used to access the end-of-trip facility (change rooms and locker management) and the secure bike cage and carpark to provide a complete user journey. The system caters to building visitors with either preregistration (via an email invitation using a mobile app for self-sign in) or using one of the tablets in the lobby where presentation of an ID grants a QR Code to an assigned destination. The mobile app also enables entry through wheelchair access gates without assistance.
We believe the hand scanning technology is superior to facial recognition technologies in terms of privacy, speed and accuracy. Facial recognition typically retains a physical image of your face and stores it for future use, yet with this technology, no photos are taken and no images are stored. The lines on your hand are simply registered and turned into a unique algorithm and stored as a code that cannot be reverse engineered.
Future plans include introducing retail technology for food courts and similar sites where all purchases are touchless. Your hand would serve as a "wallet" that is unique to you—and it is more secure than using a phone or credit card.
The building's technology includes seven systems from various manufacturers integrated onto a single platform, enabling them to share data sets:
Cloud-based visitor management system
Lift destination control system
Biometric reader system
Speeds stiles and controllers
End-of-trip locker system
Car park access controls
Bluetooth access control system
What sets the Gateway building apart is the integration of these disparate technologies to create a seamless experience for our customers.
The Gateway building is currently about 40% physically occupied as people begin to return to the office following the lifting of COVID-19 restrictions, with 90% of the current occupants registering to use the new technology. The new technology provides options to book your arrival which helps building management to manage people flows and physical distancing in a COVID-19 environment.
While COVID-19 has increased the demand for these types of health-related technologies, Dexus already had five years of research underway. Our number one focus has been on the health and safety of our people and customers, and COVID-19 protocols validated a lot of our current strategies. The Gateway building set the bar in the number of technologies provided and solves the challenge around how you can integrate these disparate technologies.
At Dexus, we seek to engage partners who understand the need for this type of seamless integration. We work with our partners to launch products where the systems will not only talk to each other but will serve integration needs now and into the future. It's important to understand the upstream and downstream effects when employing new technology in our buildings.
However, in the current climate we must be careful not to assume that technology is a replacement for robust personal hygiene practices and social distancing measures. It can complement these measures and can enhance the customer experience too.
The processes we have in place across our buildings to deliver COVID-safe environments are in line with government guidelines and include:
Implementing touchless sanitizer stations in office lobbies
Increasing cleaning in busy areas, including food courts and bathrooms
Delivering a comprehensive communications strategy, including prominent signage advising physical distancing and other health and safety requirements
Regulating daily lift occupancy and people traffic management in lobbies
Pivoting to changing government advice and regulations in a timely and responsive manner
Undertaking additional cleaning packages for individual tenancies
About 90% of the Dexus portfolio consists of existing buildings like the Gateway building, where retrofits are considered with a technology overlay. Every building is unique and presents a different challenge and there are some buildings currently being assessed for the application of the touchless technology.
For our new developments, we install technology solutions at inception and these plans are typically decided years in advance. As we continue to assess opportunities, we are guided by our customer-centric strategy. Our focus is on identifying a combination of technologies for both existing and new buildings to ensure a consistency of experience. Our buildings are located in CBDs across Australia and we have a broad range of tenant customers, many of whom occupy multiple Dexus buildings. No matter where they are, we want them to have the same quality experience.
We are always looking to the future and pushing the boundaries of possibility in technology. We are in a new era of heightened customer expectations for building safety and wellness. Our integrated touchless technology at the Gateway building provides a simple and easy experience for our customers and gives confidence to the building's occupants for a safe return to the office.
This Week's Sponsor
Join delivers networking as-a-service to office owners and tenants to enable Smart Buildings and Smart Workplaces. Join's Converged Network provides outstanding security and ultrafast connectivity to the internet with the ease-of-use of a modern cloud service. Join accelerates leasing by powering flexible space that creates great tenant experiences, transforms IT operations efficiency, and enables adoption of IoT and workplace technologies.
Read Next