Partner Content
Safe Workplaces Paving the Way to Smarter Buildings
July 16, 2020 | Kevin Tate, Chief Revenue Officer, Rigado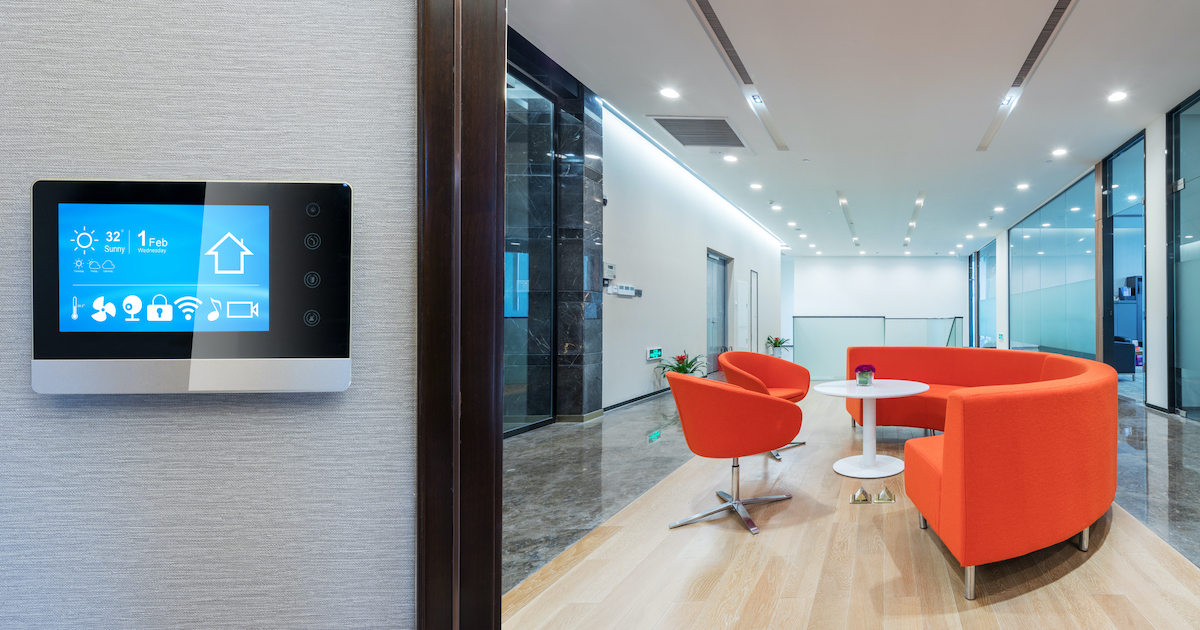 The ongoing global health crisis has triggered an unprecedented urgency to define and deploy safe workplace solutions that allow us to return to work responsibly and confidently.
As a company that provides wireless infrastructure and sensor networks, Rigado has seen the focus of our smart building conversations turn quickly from topics like hot-desking, tenant amenities and space optimization to now-pressing challenges such as:
How can I best monitor occupancy in my building and spaces?
How can I track and manage cleaning activities for compliance?
How can I create confidence for people who are returning to work?
While these new imperatives create a near-term urgency to quickly deploy smart workplace monitoring systems, they also present a longer-term opportunity to lay the foundation for smart building solutions in the years and decades to come.
As an industry, it's critical that we capitalize on this opportunity where possible, so that we exit this crisis and make use of the current wave of technology deployments poised to accelerate the overall digitalization of our commercial spaces. Put another way, "safe" can lay the foundation for our "smart" buildings future.
With that goal in mind, here are some recommendations for customers and partners who are designing and deploying safe workplace solutions:
Establish an Extensible Edge Infrastructure
Of the keys to leveraging safe workplace investments down the road, this one is likely the most critical: make sure you will be able to easily extend the system in the future. And, it's worth noting that those future extensions could fall into several categories:
New Smart Devices - adding new sensors and devices for monitoring assets, measuring spaces or automating systems
New Data Pipelines - adding new data pipelines between those devices and your enterprise systems, such as sharing air quality data with your BMS system
New Cloud Endpoints - adding new cloud endpoints or workplace management systems that can leverage real-time data from sensors already in place
In many cases, establishing an edge infrastructure that can be extended in each of these directions may have little or no impact on the cost of your near-term safe workplace rollout, but it will dramatically reduce the cost of deploying and scaling smart building solutions down the road.
Explore new cost-effective sensor options
Not so long ago, using battery powered sensors for smart buildings often meant expensive equipment, disappointing battery life and propriety wireless protocols. But the wireless sensor market has evolved considerably in recent years - driven by both the drop-in cost of edge computing (making smart cheaper) and the proliferation of higher-performance, lower-power wireless protocols such as Bluetooth 5.
These new sensors offer not only a substantially reduced price point (sometimes only 1/10th of legacy devices), but also greater interoperability and extensibility. As you consider options for safe workplace monitoring solution, be sure to explore the availability of cost-effective, multi-purpose wireless sensors for real-time data collection in areas such as:
Room occupancy and motion sensing
Air quality and environmental sensing
Asset tracking and monitoring
Selecting sensors that are both cost-effective and interoperable can significantly lower the long-term cost of operation for the safe (and smart) workplace.
Use "Plug & Play" wherever possible
When it comes to the deployment of smart systems or IoT solutions, there is much that commercial real estate can learn from what has (and hasn't) worked in the consumer space.
Many of the same cost and convenience factors that have driven the success of wireless home speakers, self-installed home security systems and peel & stick home automation products can also lower the cost of installing and maintaining commercial IoT deployments. A few things to consider:
Go wireless where you can. The labor cost of opening up ceilings and running wires often dwarfs the actual equipment expense for IoT solutions.
Look for long battery life and low maintenance. Long-term total cost of operation (TCO) can skyrocket if devices or sensors have short-lived batteries or require constant care.
Favor Plug & Play equipment that allows for a largely do-it-yourself installation. A solution that is pre-configured and can be deployed by someone already on-site (such as an office or store manager) is often a tremendous cost savings.
Finally, as you plan the deployment of safe workplace equipment, look for areas to avoid costs down the road by including some future-proofed smart infrastructure now. It may be less expensive to enable wireless connectivity and computing during your initial rollout versus waiting until a future phase.
Look for opportunities to bring legacy systems into the fold
Our industry is consistently challenged by the combination of hard-to-access legacy systems and the reality of long real estate portfolio refresh and update cycles. As a result, much of our smart building potential (and data) is locked-up in systems deployed 20+ years ago.
As mentioned above, the current Safe Workplace imperative has presented us with an unprecedented forcing function to deploy smart systems into both new (green field) and existing (brown field) buildings. As we roll out these new systems, we should look for every opportunity to bridge the gap to those legacy building systems. For example:
Most BMS systems have some capability to communicate via TCP/IP, even if using a proprietary data format. As you consider (extensible) infrastructure options, look for ones with edge computing capabilities that allow for a communications bridge to those legacy systems via ethernet.
Where direct integration with a legacy BMS isn't feasible, you may find you can capture key data from a low-cost sensor instead. For example, a Bluetooth motion sensor (approximately $8) placed on an HVAC unit can detect when the unit is running, eliminating the need to integrate directly with the HVAC system.
Look for opportunities to bring more of your data into a single pane of glass for monitoring and management. There may be existing enterprise solutions that you can extend to support your safe workplace needs, avoiding the complexities of introducing yet-another-dashboard.
To be sure, the current crisis has presented our industry with significant challenges, but also an unprecedented opportunity: to lay the foundation for smarter spaces in the years to come. The recommendations above will provide some food for thought as you look to implement safe workplace solutions that maximize future extensibility.
This Week's Sponsor
Angus Systems is a leading provider of customer driven mobile and cloud-based work order and operations management solutions for commercial real estate. Our software supports over 2 billion square feet across North America in buildings from 20,000 to portfolios of more than 100 million square feet. Visit www.angus-systems.com to learn how we help our clients shine.
Read Next