Partner Content
The Impact of COVID-19 on Commercial Cleaning Processes
July 2, 2020 | Junaith Shahabdeen, CEO, ZAN Compute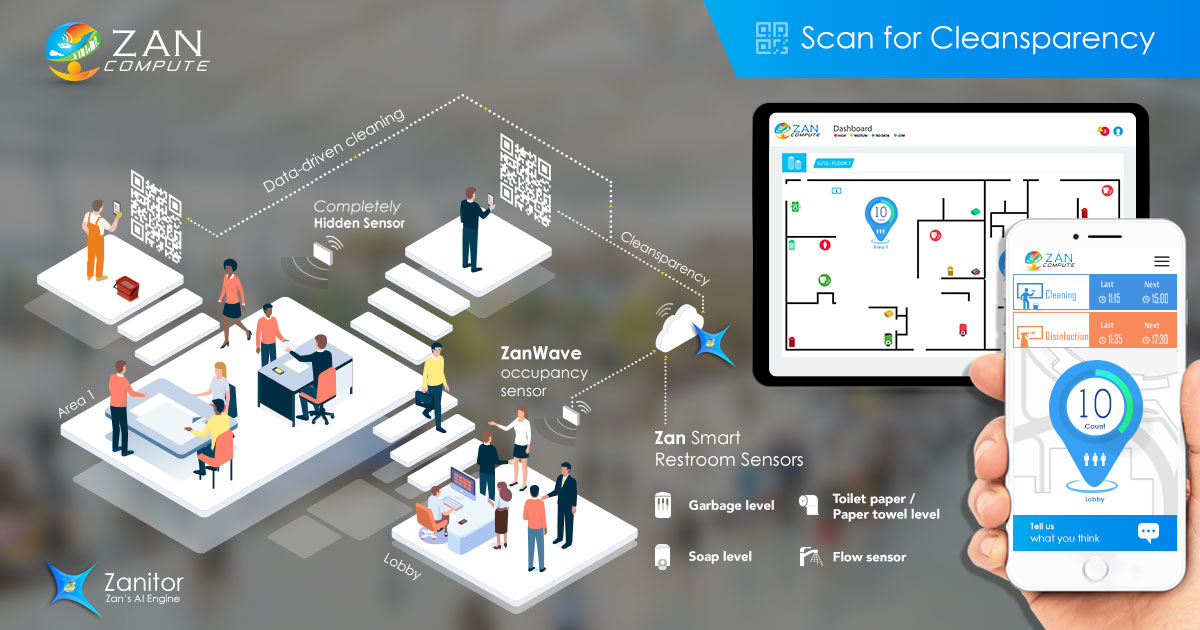 COVID-19 has fundamentally changed many aspects of our lives and the world economy. Cleaning and disinfection are crucial priorities in reopening plans around the world. The future hinges upon providing the safest possible environment for building occupants, while also respecting new requirements (e.g., social distancing, contact tracing, monitoring microbial contamination). How are we going to successfully navigate these radically increased needs? By fully empowering facilities with technology and data.
Let's examine some of the fundamental changes to the cleaning process in a post-COVID world, and how imperative open technology platforms with distributed, actionable recommendations will be to successfully execute them. Our perspective at Zan Compute comes from discussions with cleaning industry experts and our experience in handling cleaning IoT data in various verticals, including airports, commercial office campuses, health care facilities and stadiums.
In a post-COVID world, many aspects of the traditional, fixed schedule-based cleaning processes will not be scalable. Facilities will need data-driven processes to tackle a multitude of new challenges. From our experience, these include:
1. High touch, high usage areas need more frequent and deeper cleaning, making it critical to understand usage patterns within the building and how they change over time.
2. Cleaning crews previously trained to maintain a clean and fresh appearance for the facility while remaining "invisible" now need to do the exact opposite. Cleaning must now become extremely visible to building occupants so that they feel comfortable and safe.
3. Building occupants will play a key role in the cleaning/disinfection process. Cleaning processes and schedules, previously the purview of the facility maintenance company alone, will have a much broader scope.

Given the diverse nature of the requirements, most facilities will employ a variety of point solutions to meet these needs. That increases the risk of data silos which limit the potential of a truly data-driven cleaning process. In order to truly move into a data-driven future, facilities will need open platforms that facilitate information flow across systems and AI to aggregate and analyze the data for actionable recommendations. We have structured this platform with a construct based on value creation - the 3 Cs: Create, Curate and Circulate.
Create
First, create the source data on how a facility is being used. This can include a nearly infinite range of data points about a building:
Digital records of tasks performed by the cleaning crew
Washroom sensors to monitor resource usage (e.g., paper towels, toilet paper, soap, hand sanitizer, etc.)
Expected facility traffic information from class or flight schedules, major events, etc. Use sensors for privacy-focused tracking of space occupancy rates and common area usage pattern.
Curate
Second, curate the data to extract insights and recommendations. Zan Compute's machine learning algorithms can fuse all the various data sources across a building to provide both just-in-time and longitudinal recommendations. For example, facility managers can know when there are washrooms with ad-hoc incidents requiring immediate attention, as well as where to invest in more frequent cleaning based on months-long usage patterns.
Circulate
Third, circulate recommendations to the right people in the right places at the right time. Getting data into the hands of decision makers and service workers at the right time is a critical step to enable quick action and realization of the value from AI recommendations. Zanitor's task-based dashboard provides custom views for personnel across the facility - managers, supervisors, and cleaning crews - available conveniently in a mobile app for rapid access and action. Facility personnel won't need to sift through raw data or struggle to interpret it - the dashboard zeroes directly in on descriptive, actionable tasks.
Finally, as a specific response to new requirements in a COVID-19 environment, we launched our fourth C: cleansparency (cleaning transparency).
For the first time in the history of the cleaning industry, cleansparency will close the loop between building occupants and the cleaning crew. It not only allows building occupants to provide feedback and comments on cleanliness, but also captures detailed records of cleaning tasks performed in a given area and provides that information directly to building occupants. Two-way information flow is critical in the post-pandemic world.
COVID-19 has undeniably affected our personal and professional lives, it has forced us to think about mundane, day-to-day things differently. Cleaning is no different. The pandemic is forcing the industry to track and act on more needs in a data-driven manner, thus accelerating the digital transformation of the industry. Technology providers architecting this transformation must consider the need for open systems to share data, data analysis/AI, and how their solution can coexist within a technology ecosystem to provide value that is more than the sum of its parts. Such an ecosystem will not only allow us to tackle the current challenges, but also provide us a better tool chain to tackle future challenges, pandemic or otherwise.
This Week's Sponsor
Yardi® develops and supports industry-leading investment and property management software for all types and sizes of real estate companies. Established in 1984, Yardi is based in Santa Barbara, Calif., and serves clients worldwide. For more information on how Yardi is Energized for Tomorrow, visit www.yardi.com.
Read Next