Feature
Smart Building Bootcamp Series: Strategic Planning for Performance, Experience & Risk Management in the Coronavirus Era
May 7, 2020 | Sherry Whittemore, SVP, Content Strategy, Realcomm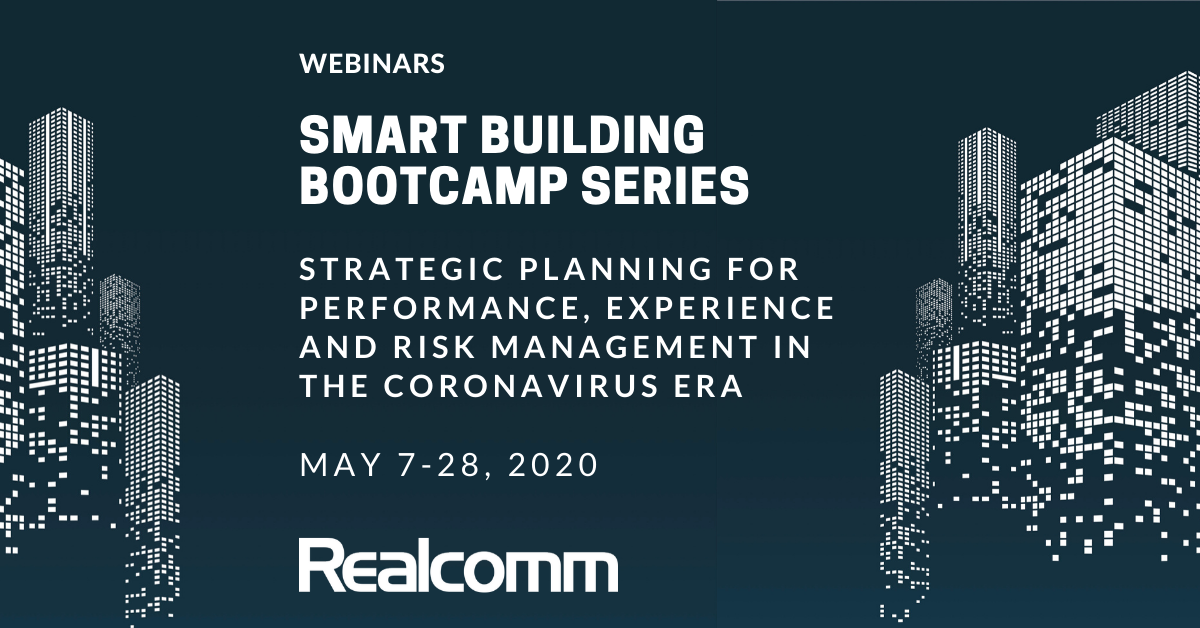 The new normal has one constant: uncertainty. As building owners and operators re-populate their properties, agility and vigilance are paramount to risk-management and health-safety. While there is no standard approach to navigating the unknown, there are case studies, best practices and guidelines for strategic planning and deploying intelligent technologies.
To help CRE leaders succeed in the coronavirus era, Realcomm is launching a new Smart Building Bootcamp Series.
This four-part series spans the month of May. Each week, you'll learn with experts leveraging time-tested principles to define, plan and execute a flexible smart building strategy adapted to meet the demands of the COVID-19 environment. Regardless the industry or size of your portfolio, campus or building, Realcomm's learning curriculum showcases cutting-edge case studies, research and best practices about leading technologies for public-health, risk management and operational cost-efficiency in the new normal.
Commercial and Corporate Real Estate experts and instructors will lead a weekly 60- to 90-minute session. Here's a snapshot of the month ahead:
May 7: Intelligent Buildings in the Pandemic Era
Using technology to triage in buildings
Strategy and standards for intelligent buildings
Start with use-cases, not systems and features
May 14: IT, Cybersecurity and Risk Management in Times of Crisis
The backbone
* Wired vs wireless
* Separate vs converged network
* PON vs. Active
* DAS
Building systems and 3rd party remote access
* Vendor management
* Cyber policies
Risk management
* Foot traffic monitoring
* Occupancy and utilization tracking
* Environmental and sustainability measures
May 21: Operational Efficiency, Experience and Health in the New Normal
BAS, energy, lighting and metering
Big data, building analytics and fault detection
AI and machine learning
Apps for occupants and managers
* Tenant, employee and guest experience
* Facility managers
May 28: Deploying a Smart Building Strategy: Navigating the Unknown
Customer education
The importance of a master system integrator
* Advanced smart building tech
* BIM, digital twins and more
* IoT platforms and sensor technologies
Organizational alignment, budgets, implementation and management
Do you have a solid smart building strategy and deployment plan? Want to learn how others are balancing privacy and health-safety? Uncertain you have the right tech? Join the Smart Building Bootcamp Series to learn and share best practices. Email Webinars & Program Manager Sarah Bemporad for more info.
Missed a session? Listen to the recordings.
This Week's Sponsor
When you succeed, we succeed. That's why REMLogics is focused on helping you stay ahead of what's next in the ever-changing real estate and technology landscapes. As your partner, we'll help predict your future so you can innovate your way beyond the cloud with our enterprise Real Estate Management SaaS and no-code development PaaS. To learn more visit us at www.remlogics.net.
Read Next