Partner Content
Streamlining Inspections: Drone Data for Facility & Property Management
March 26, 2020 | Jono Millin, Co-Founder & CPO, DroneDeploy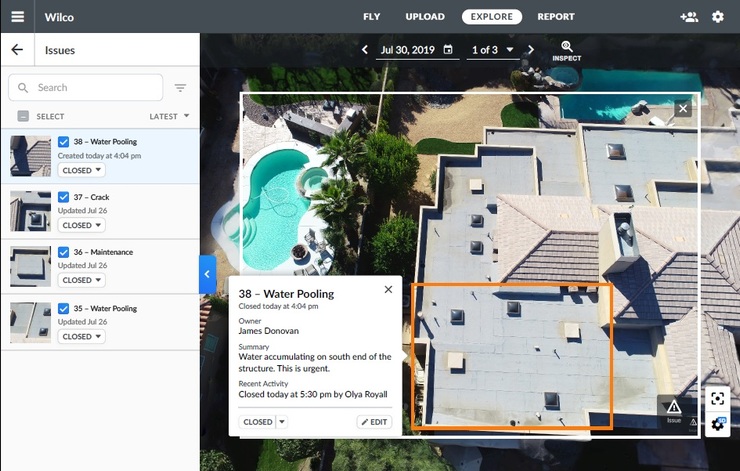 Any individual on a facilities and property management team understands both how vital – and how tedious – conducting a range of inspections can be.
After all, it is essential that buildings, grounds, roadways, and other structures are safe for employees and meet local and federal regulations. But examining every inch of company property on a regular basis is time consuming and inefficient. A restaurant or hotel chain, for example, has hundreds of properties it must maintain and ensure are safe for patrons 24 hours a day, 7 days a week. An office park or college campus has ever-changing weather and natural conditions that can cause hazards for employees, students, customers, and other stakeholders. And every building or structure requires ongoing maintenance or repairs on a regular basis.
But determining which buildings need maintenance and when they need it is an entirely different matter. Because your teams are often stretched thin, it's crucial that facilities and property management teams are able to prioritize the most urgent repairs in an efficient manner.
Drone software transforms the inspections process, making it seamless, efficient, and precise. At DroneDeploy, we're proud to help some of the leading corporations and institutions monitor their buildings, warehouses, campuses, office parks, and more through a smarter and safer approach.
Let's take a look at some of the ways drone software can help optimize your inspections.
ROOFS
Roofs bear the brunt of natural conditions, which requires consistent inspections. But it's also dangerous to put workers on roofs, for obvious reasons. That's where drones come in.
A Midwestern university uses thermal imaging from DroneDeploy to monitor roofs and see where weather damage has taken place. If there's a water leak, thermal imaging can help detect the source. Before using drone technology, the school had previously monitored roofs every 5 years via helicopter flights, costing around $20,000 per flight. This technology allows the user to conduct these inspections much more regularly and for a fraction of the cost. By using these flights to check gutters for blockage, this school saved $3,000 per building as compared to years past. Their facilities and management team also uses the company's drone software to inspect hundreds of steam vents across campus, which can be hazardous for workers to examine.
PAVEMENT
Monitoring and repairing pavement is another area where drone data can help maintenance teams. Engineering and consulting firm Bolton & Menk realized the benefits when they needed to capture images of 26 miles of pavement in a Minnesotan town. Leveraging drones reduced the time in the field by more than 60% compared to traditional methods. The images also helped analyze which areas needed to be repaired first and inform future records. This approach could easily be implemented by the facility and property management departments.
For any company that's conducting building maintenance, drone solutions offer a less expensive, faster, more accurate, and safer way to gather information and prioritize repairs.
Property inspections have been part of the facilities management role for decades. But drone data has made inspections much less expensive, and individuals can seamlessly view all the properties in a company's portfolio and pinpoint issues that must be prioritized over others.
By proactively monitoring each property, teams are able to objectively evaluate conditions and use maintenance budgets only where repairs are actually needed. Some of the company's customers have saved upwards of 30% on their annual facilities budget by fixing what's important – not what's scheduled.
TOMORROW'S USE CASES
So how will aerial imagery be leveraged by facility and property management teams in the future? The possibilities are endless.
It's not hard to imagine a building or campus that could be entirely proactive in its maintenance, relying on the latest images or data to prevent problems before they get worse. Ground teams will be able to leverage drone data to monitor for sinkholes, erosion, and problem trees. Construction teams will be able to see in real-time what issues arise, so they can prevent costly mistakes. Drones can be deployed just about anywhere to conduct more effective, faster, and safer inspections.
Want to learn more? Download our free eBook to learn about other use cases for drone data for facilities and property management teams.
This Week's Sponsor
DroneDeploy is the leading drone software solution trusted by over 5,000 companies across a variety of industries, including construction, energy, agriculture, mining, and real estate/property management. DroneDeploy makes aerial data accessible and productive for everyone. Simple by design, DroneDeploy enables professional mapping, 3D modeling, and reporting from any drone on any device. www.dronedeploy.com
Read Next