Partner Content
Driving Efficiencies to New Heights: Drone Data for Property & Facility Management
March 4, 2020 | Jono Millin, Co-Founder & CPO DroneDeploy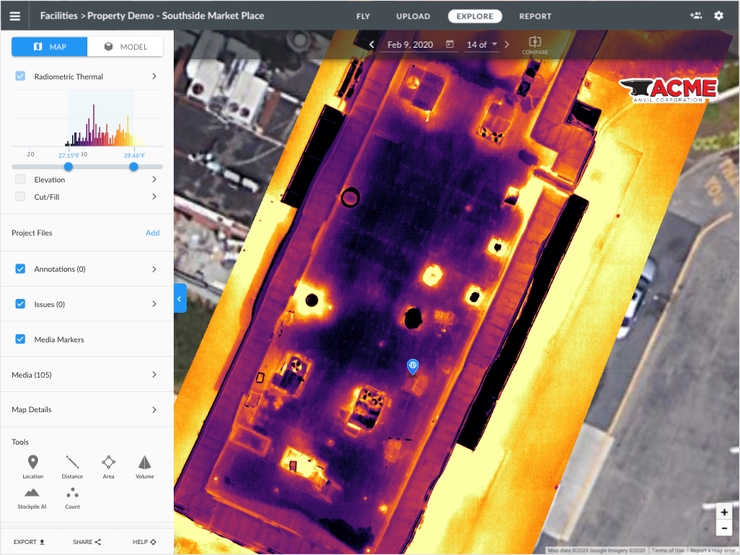 While designing and constructing a new building or property is glamorous and exciting, the ongoing operations, maintenance, and property management of a structure are the most expensive aspects of its lifecycle. As a result, it is imperative for property and facility management professionals to optimize building oversight and drive safety and cost savings throughout the property's life.
DroneDeploy is transformative for ongoing facility operations and maintenance. Our software powers drones to capture aerial images; creates 2D maps, 3D models, and 360-degree panoramas; and delivers reports and measurements accurately, quickly, and safely.
Property and facility management teams use the data from our software to build the foundation of a historical record and a single source of truth for their physical assets. It makes collaboration seamless, as our software enables team members to view maps, models, and data from around the world in real-time and provide comments directly into our platform.
With the company's platform, property and facility managers can be more proactive, collaborative and cost-efficient when overseeing numerous buildings, office parks, construction sites, college campuses and more.
Building Maintenance
ROOFS
No matter how old or new a building is, every structure is going to require ongoing maintenance. But determining which buildings need maintenance and when they need it is an entirely different matter. Because your teams are often stretched thin, it's important for you to be able to prioritize the most urgent repairs in an efficient manner. That's where drone data and software can help.
A university in the Midwest, for example, uses thermal imaging to monitor roofs to see where freezing or damage has taken place. If there's water damage, thermal imaging can help detect the source of a leak. Before using drone data and software, the school previously monitored roofs every 5 years via helicopter flights, which cost $20,000 per flight. Now they conduct inspections much more regularly and for a fraction of the cost. They also use these flights to check gutters for blockage, saving $3,000 per building to rent a crane as they did in years past. The facilities management team also uses the drone software platform to inspect hundreds of steam vents across campus, which can be dangerous for workers to examine.
In the past, many roof inspections were completed at night in order to spot temperature anomalies that signal the presence of a leak. For example, a commercial architecture and construction organization used this platform to help a university client apply for funding for a roof repair. The client had previously used helicopters to gather thermal imaging from the roof but discovered it to only provide 20% of the level of detail that the delivers. Images from our software helped the architecture and construction firm capture more accurate images, which led to them winning a grant to repair the client's roof.
And there was another benefit: staff safety. After all, being on a roof is dangerous, but especially so at night. DroneDeploy allowed them to conduct inspections without putting their people's physical safety at risk.
PAVEMENTS
Drone data also helps maintenance teams monitor and repair pavements. Engineering and Consulting firm Bolton & Menk realized the benefits when they needed to capture images of 26 miles of pavement in a town in Minnesota. Leveraging drones reduced the time in the field by 60% over traditional methods. The images also helped analyze which areas needed to be repaired first, and the images could be used to inform future records for the town.
LANDSCAPE
With 2,000 acres of property to manage, mow, and fertilize, one customer uses our software to monitor its vast lawns to ensure they are healthy. The company - with its deep roots in agriculture - monitors plant health and helped this customer concentrate efforts and dramatically reduce costs. Although this customer currently pays consultants to individually examine problem trees and areas, in the future, it hopes to use DroneDeploy to track year-over-year erosion, tree lean and take preventative steps to reverse erosion. This approach will also enable internal staff to spot and address trees that could potentially fall and damage buildings or harm people.
Building Portfolio Management for Big Box Retailers
Property inspections have been part of the facilities management role for decades. What's different with using drone data is inspections are much less expensive, and individuals can seamlessly view all the properties in a company's portfolio. Drone imagery can then be used to identify and prioritize issues throughout the company's portfolio.
By proactively monitoring each property, teams are able to objectively evaluate conditions and use maintenance budgets only where repairs are actually needed or dedicate resources for preventive measures. The company has helped customers save upwards of 30% on their annual facilities budget by fixing what's important, not what's scheduled.
Building Your Call to Action
For any company conducting building and property maintenance and inspections, drone software and data offer a less expensive, faster, more accurate, and safer way to gather information, prioritize repairs, and prolong the life of structures.
This Week's Sponsor
DroneDeploy is the leading drone software solution trusted by over 5,000 companies across a variety of industries, including construction, energy, agriculture, mining, and real estate/property management. DroneDeploy makes aerial data accessible and productive for everyone. Simple by design, DroneDeploy enables professional mapping, 3D modeling, and reporting from any drone on any device. www.dronedeploy.com
Read Next