Feature
Singapore Changi Airport: The Destination Location within a Smart City
February 13, 2020 | Tina Danielsen, Sr. Writer, Realcomm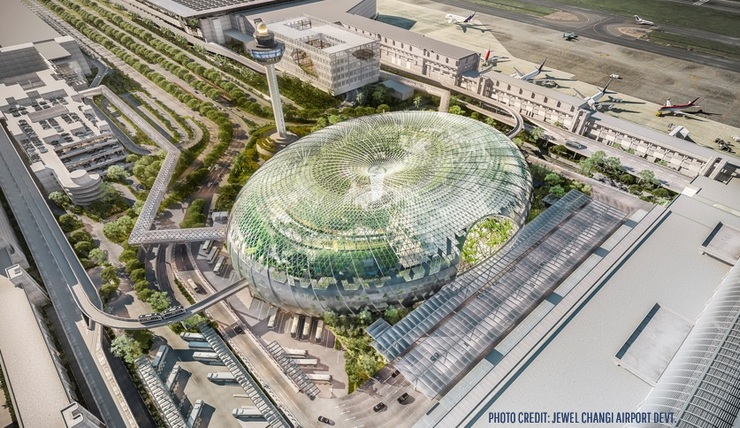 There is a flight every 80 seconds at Changi International Airport in Singapore. Asia Pacific is the world's fastest growing travel market, and this technology-enabled, award winning airport is continually building and improving on its designation as the best airport in the world. Completely automated, efficient and experiential, it's a destination in itself.
In 2020, the biggest buzzword for any public built environment is the experience. Malls are no longer just for shopping, they are lifestyle hubs where people go for social time, even if they have no plans to buy anything. Changi Airport exceeds this idea in every way; it is a draw for visitors whether they are flying or not.
Changi currently offers four terminals with an annual handling capacity of 80 million people. In 2019, the Jewel was opened to the public, a $1.3 billion experience extravaganza. Nine years of planning and five years of construction created a 1.46 million square foot entertainment and retail complex 10 stories tall (five of them underground). Boasting 2,000 trees and 100,000 shrubs, the Jewel has a terraced rainforest, multiple gardens, 300 retail and dining facilities and miles of walking trails. Also onsite are movie theaters and a hotel. There are art installations throughout and even facilities for customers to nap.
The centerpiece to all this is the Rain Vortex, the world's tallest indoor waterfall at five stories tall. The Changi Airport Skytrain that connects terminals passes near the waterfall, so passengers view the Vortex and Jewel while on their journey. At night the waterfall's circular walls feature a light and sound show. Canopy Park occupies the highest level, with leisure attractions such as the hedge maze and immersive mirror maze; a four-story slide; two gardens; a suspension bridge; a bouncing net; an experience studio; food and beverage sites and more.
This degree of sophistication is not surprising considering the location. Singapore's government has set clear goals for transforming the nation by using digital innovation technology to create superior urban planning, infrastructure and livability for its people. The Smart City Initiative (also known as Smart Nation) promotes policies in public and private sectors to improve life for the people who live there. Technology is the means to achieve this goal, offering a new world of opportunity for businesses in a digital economy.
All of this is made possible by state-of-the-art automation for everything from arrivals and departures to parking and cleaning. The extensive list of technological capability at Changi spans ease of travel, operations management, and customer experience:
(1) Fast and Seamless Travel (FAST) for departure: all touchpoints including kiosk check-in, automated bag drop and boarding are self-service; biometric technology provides a seamless experience
(2) Biometric automated immigration clearance with fingerprint scanners and facial recognition capability
(3) The centralized security checkpoint uses computed tomography (CT) technology so electronics can remain inside bags, saving time; scanned luggage is returned via automated tray return with multiple pickup points for greater efficiency
(4) The Jewel Smart Operations Centre deploys the Mozart platform, coordinating and integrating data and AI from smart operations including over 5000 IoT sensors, 700 CCTV cameras and 500 mobile devices
(5) Cameras and technology that detect and identify incoming planes, monitoring them as they line up for arrival
(6) A 'smart tower' that enables air traffic controllers to monitor aircraft in less-than-ideal weather conditions using digital infra-red cameras
(7) Laser-guided autonomous aerobridges position themselves to let passengers disembark
(8) Automated vehicle ramps unload baggage: baggage bots deliver to the luggage carousel in as little as 10 minutes
(9) Autonomous electric vehicle delivers documents for air cargo to the Airfreight Terminal
(10) Smart Parking: A video-based Parking Guidance System (VPGS) uses video analytics to identify license plate numbers and track all automobile entries and exits for better management in real time
(11) VPGS improves security with additional CCTV coverage of all parking areas
(12) State-of-the-art LED displays, including the Immersive Wall, which has been dubbed one of the largest indoor airport displays in the world; the largest LED display is 70 meters wide by 5 meters tall with a 60-millimeter pixel pitch display
(13) State-of-the-art kinetic artwork such as the Kinetic Rain sculpture and A Million Times clock
(14) Robot-packed meals for passengers; lounges receive food delivery with mapped routes using LiDAR (light detection and ranging)
(15) Driverless taxis for passengers exiting the airport
(16) Peter, a robotic traffic cop patrols the drop-off zone for smooth traffic flow
(17) Cleaning robots are deployed via sensors located everywhere, including bathrooms; AI is used to detect trends in cleaning needs
(18) Thirty-two robots sweep and polish digitally-mapped terminal floors at over 5,000 SF/hour
(19) A Ripple Maker 3-D printer etches selfies onto the foam in complimentary espresso martinis (Terminal 4)
(20) Pepper the robot sommelier queries people to guide them through selection of duty-free wine (Terminal 2)
As if multiple awards were not accolades enough, the new plans for Terminal 5 are even more ambitious. Known as Changi East, Terminal 5 will be larger than Terminals 1-4 combined. It will allow for a three-runway system and include over 100 additional aircraft parking stands. Architectural design is provided by a consortium: Heatherwick Studio, KPF (Singapore) and Architects 61, some of the biggest names in the industry, recognized for past projects such as the Vessel at Hudson Yards and Google headquarters in Silicon Valley.
The new terminal will process 50 million passengers a year (and up to 70 million if needed), have tunnel connections to the other terminals and employ an emphasis on renewable energy and rainwater capture. It will be one of the largest and most automated passenger terminals in the world upon completion in 2030.
Even more technology is being tested and planned for construction at Terminal 5:
(1) Innovative online work declaration system
(2) Safety managers, inspectors and engineers will use hands-free smart glasses in the field that streams footage in real-time
(3) For airport-specific safety measures (such as workers not getting too close to runways), workers and vehicles are equipped with a transponder to track their movements; transponders on safety vests will sound alarm when a virtual geo-fence is crossed
(4) Managers receive notifications through an e-tracking feature
The airport of the future is here now, in Singapore. It will be exciting to track the progress at Changi over the next decade as it continues to fulfill the city's vision for its people and the world.
The Jewel Changi Airport won a Digie Award under the Specialty Category at Realcomm | IBcon 2019. Many more world-class smart projects will be featured at the Smart Building Best Practice Showcase taking place at Realcomm | IBcon on June 2-5 at the Miami Beach Convention Center. Join us to learn more about the future of real estate; register early and save.
This Week's Sponsor
Smart Technology. Smart Equipment. Smart Solutions. Embracing open software and hardware platforms, Lynxspring develops and manufactures innovative edge-to-enterprise solutions. We enable better building automation, energy management systems, control systems and IoT applications. Deployed in billions of square feet of commercial buildings across North America, Lynxspring's solutions simplify integration, interoperability, and help connect your building's data. www.lynxspring.com
Read Next