Partner Content
Commercial Real Estate & Public Safety: 1 + 1 = 3
January 23, 2020 | Fernando Sommariva, Director of Engineering, Fiplex Communications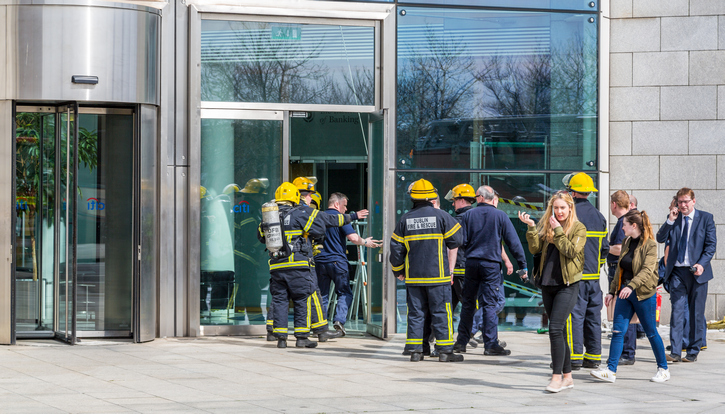 Imagine an EMT is responding to an emergency call at one of your properties... At the scene, she radios her arrival to get final instructions. Dispatch confirms, "50 year-old male, unconscious and unresponsive, north stairwell, Tower A, P2 level." The building fire alarm has been activated, and evacuation is underway. Making her way to the location, the EMT finds an electrical fire in a mechanical closet and two casualties. She keys the mic wired to her radio to request fire support but there is no connection. Not a squeak – just dead air.
Public-safety dispatchers have a saying, "You might know where you are. God might know where you are. But if DISPATCH doesn't know, you and God better be on good terms." Unfortunately, this scenario is more often the norm than the exception. That's because radio signals lose strength when they encounter obstacles such as buildings. And today's energy-efficient buildings are virtually impenetrable.
Years from now, 2020 will be viewed as a landmark year in which Commercial Real Estate and Public-Safety critical communications requirements collided, resulting in new level of urgency and focus. It will mark a turning point which empowered building owners and facility managers to focus on building technology and promote a healthier, happier and more productive occupant experience but, most importantly, a safer occupant experience. Here's what you need to know as 2020 kicks off.
Increased Code Adoption & Stricter Enforcement
Every state, city, town or county has public safety offices that focus on adopting, updating and formalizing the life-safety and fire codes for their jurisdictions. AHJs or Authorities Having Jurisdiction are responsible for – among other things – ensuring the buildings, venues and places we live, work or visit are safe by interpreting, adopting and enforcing these codes.
AHJ's reference the International Code Council (ICC) and the National Fire Protection Association (NFPA) for model codes, standards and ordinances but, ultimately, possess authority to decide specifically how to apply and adopt codes within the local jurisdiction. For public-safety critical communications, the latest version of the NFPA 1221 places the AHJ in authority to determine which buildings – based on signal level testing – will require an Emergency Responder Radio Communications System (ERRCS).
As illustrated by the example above, public-safety communications is justifiably and not surprisingly evolving from a nice-to-have to a must-have. Advocacy groups, such as the Safer Buildings Coalition, are proposing changes to improve model fire codes and educating AHJs on adopting and enforcing codes to ensure the highest level of indoor coverage signal levels.
Takeaway: Indoor public-safety communication requirements will become more pervasive in 2020.
Public Safety is Part of the Occupant Experience
In a highly competitive market, occupant experience is what differentiates one property from another. For years, traditional factors including location and amenities such on-site parking, cafes and fitness centers comprised the trading currency. Today, technology is driving occupant experience. This includes communication infrastructure like high broadband connectivity and smartphone enablement as well as smart building applications such as lighting and temperature control.
Today's owners and operators recognize occupant experience is a core contributor to a building's value proposition which directly impacts a property's ROI potential. However, where does occupant safety rank?
Everyone assumes the building they're in is safe. But, just like a property, there are varying degrees of safe. Complying with public-safety codes means more than securing a Certificate of Occupancy. Rather, it clearly demonstrates an investment in the safety and well-being of the building's occupants. And, just like a lighting system or a gym, safety is a differentiated asset that can be marketed to prospective occupants.
Takeaway: Start promoting life-safety and public-safety communications to differentiate your portfolio in 2020.
Proactive Planning is a Strategic Imperative
New construction in all jurisdictions that have adopted part of the NFPA 1221 code will be required to provide a two-way radio communication enhancement system prior to occupancy. Renovations, predicated on the scope of the project, will also need to meet the requirement before a Certificate of Occupancy is issued. Therefore, taking action to achieve compliance should not be an afterthought.
Engage an integrator having public-safety communications expertise early to ensure any radio technology solutions is properly engineered and designed to comply with indoor coverage signal levels and frequencies stipulated by the AHJ. Additionally, these systems are not unlike sprinklers, extinguishers, emergency lighting and alarms and will, therefore, need to be inspected and tested annually by the AHJs.
Takeaway: Start investigating your portfolio requirements early in 2020.
Traditionally, indoor public-safety communications was about checking the box: AHJ code requirements got met and owners and operators were granted a Certificate of Occupancy. But what if there was a higher value proposition – where occupant experience was also achieved?
1 + 1 = 3 tends to defy logic. But when public-safety is applied to occupant experience, it makes perfect sense.
This Week's Sponsor
Fiplex Communications is a worldwide recognized designer and manufacturer of highly innovative telecommunication products made in the USA that are focused on providing code-compliant solutions for public-safety and mission-critical applications.
Read Next