Feature
The Sinclair Hotel Fort Worth: PoE Lighting Sparks a Digital Vision
January 9, 2020 | Tina Danielsen, Sr. Writer, Realcomm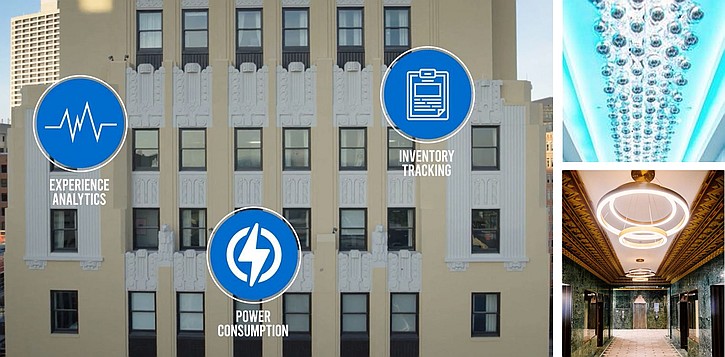 The hospitality industry is famously concerned with the customer experience, but for building owners and operators, the experiential aspect is only part of the story. Sinclair Holdings is a commercial development firm focused on utilizing technology to create next-gen smart, networked buildings that not only enhance user experience, but also improve costs and operations for large commercial buildings. Under the leadership of CEO Farukh Aslam, they have been exploring the capabilities of LED lighting using low voltage DC power and introducing this technology in exciting new ways.
Their retrofit story began with an energy and lighting overhaul of the Sanger building in Fort Worth, Texas, a multi-use building built in 1923. Its diversified usage presented a perfect test ground for an upgrade to PoE lighting. PoE is popular because it can transmit power and data over a standard Ethernet cable, and allows powered devices anywhere, even locations without electrical outlets. PoE requires less material and labor than traditional electrical systems. Aslam and his team realized the benefits: reduced installation costs, and an almost 40% reduction in power consumption.
"Fort Worth's energy code for commercial office buildings requires submitted plans to be under .8 watts per square foot power consumption for lighting," says Aslam. "We are currently averaging .25-.3 and with the newest LEDs we are testing now, this number will become .15 to .17 per square foot."
Their latest development, the Sinclair Ft. Worth (a Marriott property adjacent to the Sanger), is at the leading edge of their foray into PoE. This upscale 108,000 SF hotel that caters to a sophisticated clientele is nearly 100 years old. Renovating the hotel brought some challenges. While office lighting tends to be fairly consistent with panel lights or troffers, hotels may utilize 200 different types, many of them specialized decorative lights. Standard LEDs did not offer this variety.
Additionally, PoE systems often require many ports matched to many lights on the enterprise switch, housed traditionally in an IT closet. These can be over 100 feet from the light fixtures; a somewhat cumbersome design. To take full advantage of PoE potential, consider that light is measured in lumens, while power is measured in watts. Increasing lumens per watt can make a building very efficient with lighting - without increasing power.
Sinclair is working on doubling lumens capacity. They are currently placing 12-14 lights (each ~800 lumens) on a single 60-watt port; almost 10,000 lumens of light. They are also future-testing 90-watt single ports that can hold over 20 lights. With new lights capable of 1,000 lumens, the capability is 20,000 lumens on a single port.
Using his commissioning experience at other Marriott hotels, Aslam began to see PoE as a way to not only improve lighting, but to change the paradigm of electrical installations completely. He questioned why AC power is used to power LED lights, and why an electrical contractor was needed for low voltage device installation. He reasoned that if phone cabling did not require it, then plugging an Ethernet cable into a PoE driver which had lights connected should follow the same protocol.
The revelations continued as lighting opened up other areas. Aslam anticipates that new projects will be entirely PoE powered, and Sinclair is on a quest to eliminate 80% of the electrical panels from the hotel. The system's plug and play simplicity will enable everything from operations to guest services, including appliances, TVs, air conditioning units, outlets, motorized window shades, mini bars, interactive mirrors, door locks, guestroom hair dryers and irons.
The Connected Building and AI
A building like this is no longer an electrical design, but a connected site where every device has an IP address. The Sinclair hotel is used as a technology lab for further testing of this technology. The design team represents the changing face of the building industry, as they have morphed from traditional architects and engineers into certified network engineers.
With this level of connectivity, AI can be applied based on the data. There are many applications, but one example is fire alarms. It is estimated that over 90% are false; the systems are not intelligent and cannot properly distinguish between smoke from a fire and dust from construction. Logic can be applied to prevent this scenario.
Aslam works closely with Intel, a company he says is on the cutting-edge of AI. Every guestroom contains Bluetooth sensors for occupancy detection, more accurate than traditional PIR sensors. The network of Intel based systems gathers information to provide a great guest experience. The hotel is also experimenting with location analytics with partners SAS, Intel, and Cisco. Guests will not have to log on to Wi-Fi as long as their mobile phones are on. The building's access points can match the mobile number to the occupant for automatic enhancement and security.
Looking Ahead: The IP-based BMS
Now that the initial technology is complete, Sinclair is developing (with industry partners LG, Cisco and VoltServer) a brand new open source IP-based system for the BMS. They are moving away from the typical BACnet-based BMS, made possible because of the IP-address connectivity to every device, from cameras to smoke detectors to AC units. All installations already have an interactive GUI-based system, so communication is in place. It's just a matter of combining them to create a digital twin on a common platform.
The Future of Stored Energy
All high-rises require emergency backup power for life safety systems, typically a diesel generator. The Sinclair is first in the world to use Lithium Ion Battery energy storage to replace the diesel generator. City code does not specify backup type as long as it meets the UL 924 standard. Aslam had visited LG's headquarters in Korea, where he discovered a similar compact Lithium ion battery system. Modifications were made to make it compliant, and the system passed with flying colors.
Aslam sees the industry moving towards the stored energy model to avoid peak-energy-usage problems. He envisions an 80-story high-rise with 10 different battery packs strategically placed in different areas. There may be a small wind turbine on the rooftop; the windows will have film that harvests energy. Achieving net-zero capability with this type of daytime harvesting will become common in the same way that electric cars have become mainstream.
Public and Private Partnerships for Innovation
Planning future projects with predictive technologies requires partnering with companies and municipalities that are forward-looking and understand the potential. Sinclair began its journey by working with Cisco and learning about their lighting projects; that led to other partnerships with lighting companies and then organizations that developed PoE drivers. Cisco's Catalyst Digital Building Series Switch is the first purpose-built switch for smart buildings designed specifically for powering and connecting multiple siloed building subsystems (lighting, HVAC, sensors, A/V, and security network) onto a single unified low voltage IP network.
Cities that partner with businesses for energy and sustainability measures can greatly improve both entities. "Fort Worth is the 13th largest city in the nation, and they were great partners because they were amenable to new ideas," says Aslam. "We changed the industry standard." The federal government is also interested in the technology, promoting a healthy synergy between government and business.
This high-tech hotel offers guests the seamless amenity experience, and many lessons learned for the building industry. Cities would do well to look at what Fort Worth is achieving today.
This Week's Sponsor
Smart Technology. Smart Equipment. Smart Solutions. Embracing open software and hardware platforms, Lynxspring develops and manufactures innovative edge-to-enterprise solutions. We enable better building automation, energy management systems, control systems and IoT applications. Deployed in billions of square feet of commercial buildings across North America, Lynxspring's solutions simplify integration, interoperability, and help connect your building's data.www.lynxspring.com.
Read Next