Partner Content
Client Collaboration Brings 3D Conceptual Planning
Software to Life
December 24, 2019 | Nicole Amick, Director of Digital Product Sales, CBRE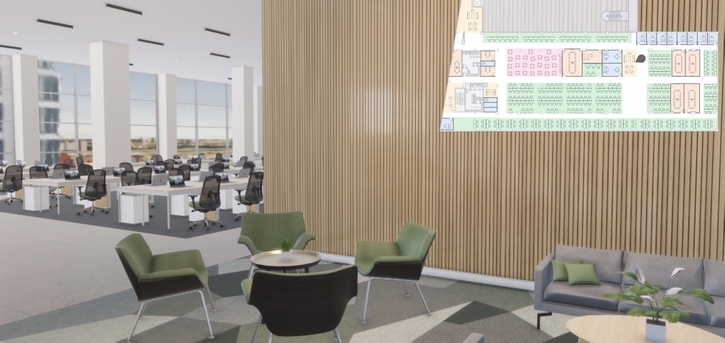 Technology promises a lot: better results, increased efficiencies, cost savings—the list goes on. Despite historically (and famously) lagging in tech, the commercial real estate industry is now making record-breaking investments in technology solutions. Beyond investing capital, a primary factor that can help differentiate a new, innovative solution is collaboration with end users.
The Trouble with Test Fits
The conventional test-fitting process - evaluating, planning, rendering and validating an occupier's use of space - has been cumbersome, inefficient and expensive. It can often hinder a corporate real estate team's ability to respond to their businesses' real estate needs in a timely and effective manner. Not to mention, every change to an architectural plan incurs a fee, and 3D renderings and tour simulations can send costs skyrocketing.
With this in mind, CBRE recognized that integrating conceptual test fitting and space planning with 3D visualization in a single, user-friendly product was an area of need and opportunity - especially for large occupier clients. The rise of virtual reality and interactive 3D graphics for personal use contributed to the feeling that similar technology could be harnessed for the evaluation, planning and modification of space in real-time.
A New Way to Plan Space
Enter Plans Pro, an enterprise Software-as-a-Service (SaaS) test fit 3D visualization tool for quick, efficient space planning based on a client's unique design standards. With Plans Pro, users can view, edit, visualize, manage and download test fits in real-time, via their own browsers. The tool takes 2D plans and instantly renders them into 3D virtual tours matching the company's specific design standards and making the user feel as if they are standing in the office themselves.
Plans Pro provides real estate professionals with an interactive way to make decisions about space and also the ability to easily share concepts with non-real estate-minded stakeholders. Further, it provides the opportunity for CRE leaders to be more directly involved in the design development instead of relying on architects or designers for the initial space layout. Plans Pro offers ultimate editing flexibility and customizability, allowing CRE professionals to upload specific design standards in both 2D and 3D, including custom furniture, finishes and room configurations across projects.
From Pilot Program to Premier Product
When CBRE launched a pilot program of Plans Pro in January 2019, four of the firm's large, global clients were eager to beta test. Over the next few months, the four client pilot participants and corresponding CBRE account professionals introduced and utilized Plans Pro within their respective organizations. During the trial, the combined CBRE and client teams leveraged Plans Pro to create test fits for properties around the world, which were automatically tailored to the clients' unique, custom design standards. After having explored the tool, the client pilot participants and CBRE account professionals provided critical feedback that helped inform the product development team on features and identify additional use cases for the product.
In the pilot, it was clear that presenting to key stakeholders and non-real estate decision-makers through a real-life iteration of space concepts within the tool was an effective way to share and communicate a strategic vision. In this way, Plans Pro supported faster decision making and helped address change management concerns by enabling the client teams to more efficiently and accurately test fit spaces.
Through the pilot program, the product development team gained a more comprehensive understanding of how the tool could be used in an occupier's space planning process. This enabled CBRE to make the modifications necessary to produce a stronger tool capable of increased efficiencies and the ability to help occupiers cut costs across space planning. Thanks to the collaborative partnerships between CBRE and its clients, key features of the product were refined and finalized for release in fall 2019. Plans Pro has since been successfully rolled out not only in the Americas, but also in the EMEA and APAC regions.
Plans Pro was conceived from an idea that was intended to help advance the industry and solve for a longstanding (and costly) pain point: the test fitting process. In addition to cutting-edge software, however, what has helped differentiate this product in the marketplace and truly make it a success has been our clients' willingness to work together toward a shared vision for innovation.
This Week's Sponsor
CBRE, a Fortune 500 company headquartered in Los Angeles, is the world's largest commercial real estate services and investment firm based on 2018 revenue. It employs 90,000+ people and serves real estate investors and occupiers through approximately 480+ offices worldwide. CBRE offers a broad range of integrated services, including facilities, transaction and project management; property management; investment management; appraisal and valuation; property leasing; strategic consulting; property sales; mortgage services and development services. Please visit our website at www.cbre.com.
Read Next