Feature
Microsoft's Singapore Office Takes Smart Buildings to a
Higher Level
December 24, 2019 | Realcomm Staff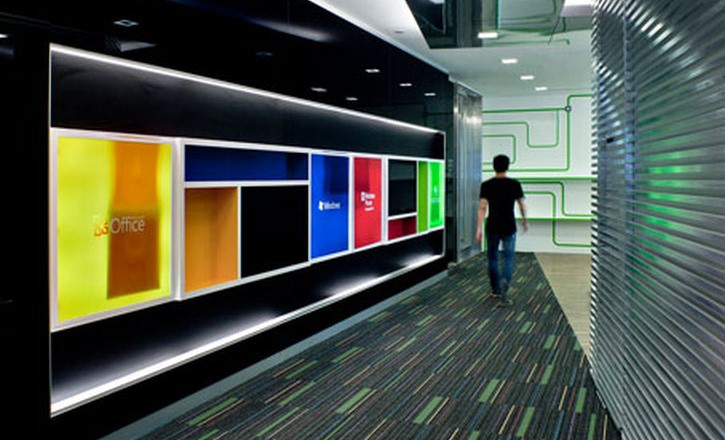 Microsoft continues to push the envelope of what the smart office environment can offer with the opening of their Singapore workplace and Experience Center. The Asia Pacific region is an overall innovation leader with 2.3 billion internet users; it produces 65% of the world's industrial robotics and is a huge growth market for digital transformation. Singapore is one of the most modern cities in the world; it's no surprise that leading organizations will feature some of their best work here.
The Singapore Microsoft Customer Experience Center features immersive demonstrations and examples of current digital implementations from around the globe. As traditional real estate organizations strive to become intelligent organizations, they can gain inspiration and ideas from the ways Microsoft and their partners are using IoT, cloud and AI technology.
This technology showcase continues to evolve and includes:
Technology pilots for a wide range of use cases

Using modeling to visualize and optimize sustainability and management

Microsoft Azure's suite of technology (such as digital twins for data collection and better insight) to deliver the end-to-end immersive, seamless experience

An Experience Zone, Technology Center, Cybersecurity Center and Innovation Factory

A robot concierge named Pepper
Read more about Microsoft's Singapore site at: Microsoft launches smart building era with debut of new Singapore office
.
(Article linked to Microsoft Blog with permission).
This Week's Sponsor
CBRE, a Fortune 500 company headquartered in Los Angeles, is the world's largest commercial real estate services and investment firm based on 2018 revenue. It employs 90,000+ people and serves real estate investors and occupiers through approximately 480+ offices worldwide. CBRE offers a broad range of integrated services, including facilities, transaction and project management; property management; investment management; appraisal and valuation; property leasing; strategic consulting; property sales; mortgage services and development services. Please visit our website at www.cbre.com.
Read Next