Partner Content
Introducing New Software Platform for Building Automation and IoT Applications: Open, Fast, Robust and Extensible
December 18, 2019 | Chris Irwin, VP, Sales EMEA & Global Marketing, J2 Innovations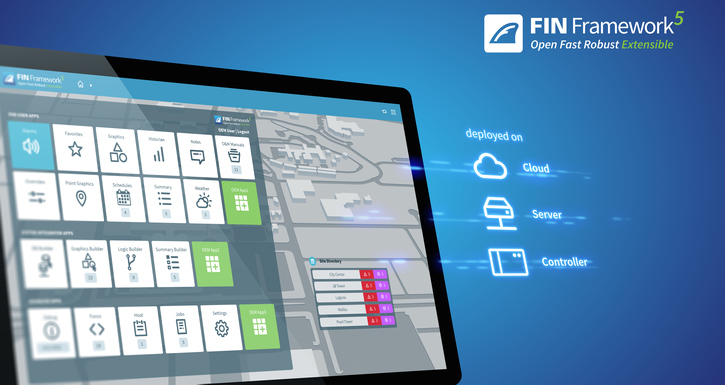 Building Management Systems have a lot to offer building owners, facility managers, system integrators and users. From its inception, it has sought to simplify the software used to manage building automation systems and provide the most open, flexible, and user-friendly software on the market.
The first iteration of this was FIN Builder, a product that offered simplified and enhanced visualization graphics for third party automation systems. This then evolved into the FIN Framework; an all new approach to an open framework that included a full application suite for building automation and IoT.
J2 Innovations is now launching FIN 5, the most innovative and advanced software platform for building automation and IoT applications. It is a software suite which provides monitoring, control, scheduling, alarming, visualization, integration, and analytics capabilities designed for OEM partners to customize and incorporate into their products or systems. FIN Framework is already used by a variety of system manufacturers involved in BAS, HVAC, lighting and shading control in buildings.
The release contains many new features and additional benefits, including an all new database, and system configuration UI, to enable faster engineering. A new template creation wizard also makes integrating controllers faster and easier, further reducing configuration time for systems integrators and OEMs. Numerous changes have been made to enhance product robustness. Lastly, additional open APIs were added to help OEMs and developers further extend the framework, as well as improving the connector framework to make it even more open for third party system and device integration.
FIN's architecture continues to be the only platform for building automation and IoT that is fully based on the use of semantic tagging. FIN natively supports the Project Haystack open standard for defining and communicating building related data across multiple instances.
This Week's Sponsor
Yardi® develops and supports industry-leading investment and property management software for all types and sizes of real estate companies. Established in 1984, Yardi is based in Santa Barbara, Calif., and serves clients worldwide. For more information on how Yardi is Energized for Tomorrow, visit yardi.com.
Read Next