Feature
Carr Properties & Prologis Discuss the Importance of a Business / Technology Strategy
September 26, 2019 | Sarah Bemporad, Webinars & Program Manager, Realcomm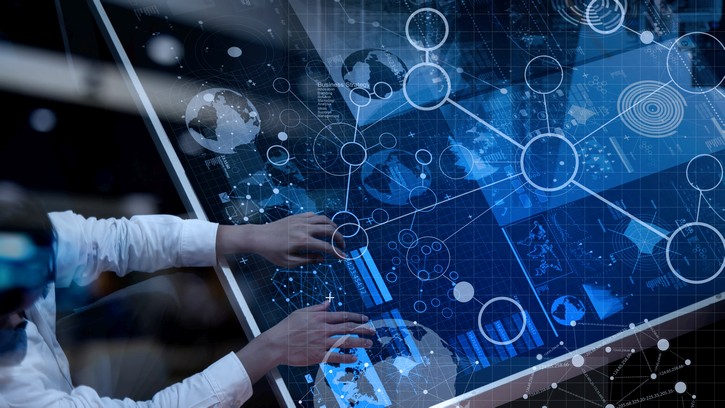 ITís role in the development and execution of a comprehensive business strategy has expanded significantly in the age of digital transformation. As the pace of technological change accelerates, some of the past rigid and disjointed approaches to IT strategic planning fail to keep up. Gone are the days when the responsibilities of a CRE CIO were limited to functions such as networking, server maintenance, hardware installations, desktop applications and email.
Given the growing importance of technology throughout the entire real estate organization and its supply chain, developing a business-aligned IT roadmap is more important than ever. Ilan Zachar, CTO of Carr Properties, and Sineesh Keshav, CTO of Prologis, joined Realcomm and technology partners HID Global, Join, RealFoundations and Yardi for a webinar discussing the importance of developing a comprehensive CRE IT strategy.
Carr Properties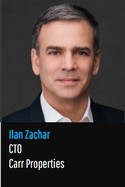 Ilan Zacharís approach to developing an IT strategy at Carr Properties is anchored in the notion that IT is the unifying force of the business and, as such, should be considered an important part of all business units. Traditionally a vertical department, Ilan grew the Carr Propertiesí IT division horizontal over time, expanding the role of the traditional CIO. Beyond providing separate, isolated support services, Ilan emphasized that the modern CIO/CTO must demonstrate an understanding of the business goals, while serving as an educator within the company.
Maintaining the existing technology stack is as important as keeping up with new trends and solutions to provide informed recommendations on new integrations that will support the business on every level.
One important lesson for his business pertained to the role of technology within a real estate organization. While many C-level executives understand that technology is a disruptor of the industry, Ilan and his team effectively communicated and demonstrated that technology is also an enabler that Carr Properties should embrace. Instead of focusing on how technology will disrupt the industry, he encourages the entire company to reimagine how technology can be leveraged to improve the business and the customer experience. The cultural shift of thinking about technology as an enabler has allowed Ilan and his team to successfully drive their IT strategy, as the company, including the C-suite, now take pride in addressing the technology roadmap which has become an integral part of the overall business strategy.
To achieve this cultural shift, a Steering Committee which looks at how the business can be improved using technology solutions was formed. Working together with different business units and demonstrating that the IT strategy is in line with the business strategy has helped Ilan and his team to shift the conversation on how IT can fix a problem to what IT can do to drive business initiatives. However, this transformation cannot be achieved overnight. In order to participate in strategic business conversations, you must ensure that basic IT needs and support services are provided before pursuing the goal of becoming a transformative innovator.
Prologis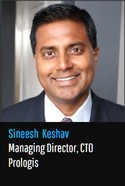 To deal with the increasing complexity of the real estate technology landscape, Sineesh views the role of the modern CIO/CTO as that of a Chief Integration Officer. While it is important to maintain and innovate successful legacy systems in a real estate IT infrastructure, opportunities to bring in new niche technologies that are pushing the boundaries of innovation need to be embraced. Integrating the point solutions into the larger ecosystem is key in successfully maneuvering the current technology landscape. The value of integration is deeply embedded into Prologisí IT strategy, which is based on four principles. First and foremost, Sineesh and his team need to protect and digitize the core business. As they scale the company and undergo an agile transformation, it is important to successfully integrate new solutions and ensure that no capability is left behind.
The second focus of the IT strategy centers around innovation. At Prologis, innovation is approached from three different angles. A corporate ventures team keeps a close eye on what is happening in startup landscape and vets new PropTech solutions. Their market assessments influence Prologisí technology strategy. Prologis Lab, an environment created to actively experiment new technologies and co-innovate with customers, tries to solve problems that are very customer centric. Finally, the innovation team ensures that new solutions solve a real customer problem Ė greenfield innovation and falling for trending buzzwords is not accepted in their customer-centric approach.
Additionally, Prologis embraces ideas that drive new monetization opportunities around technology. While transforming the business, Sineesh and his team are constantly looking at ways to build new customer-focused digital businesses.
A crucial part of Prologisí technology strategy concerns the role IT plays in the company. Sineesh reports directly to the CEO, which demonstrates that technology is part of the overall business strategy, rather than a vertical department. This hierarchy has led the Board and the Executive Leadership to express a much deeper interest in technology, going beyond the traditional IT role. The support from all levels of the business positively contributes to the technology initiative and endorses Sineesh and his team on their journey towards making Prologis a truly digital, technology-savvy company.
To successfully execute a unified IT strategy across the globe, Sineesh encourages innovation at the local level, but provides a framework that allows visibility and scalability across all countries of operation. This allows Prologis to leverage the best solutions that are coming out of the localized innovation pods and make them a global standard.
Lessons Learned
Based on Ilanís and Sineeshís presentations and the discussions of the technology partner panel, five themes around developing a successful IT strategy evolved throughout the webinar:
Developing a strategy that allows IT to be a transformative innovator is the goal; however, assessing your current state on the IT roadmap is crucial when determining the best path. Ensuring that key capabilities are not left behind when digitizing the core business is crucial.

The IT strategy must support the business. At the same time, whether the C-suite and other stakeholders endorse the IT strategy is a strong indicator for its success. The modern CIO/CTO is responsible for educating the company on how technology can be leveraged to transform the business in the era of digital disruption.

Innovation should be part of the IT strategy; however, it should be customer-focused and solve a real problem. Creating test lab environments that allow experimenting with new technologies can be an important driver for identifying the right solution.

The business must see IT as a value generator. Instead of creating a technology strategy that views IT as a separate, isolated support function, the IT roadmap should demonstrate strategic foresight and ideally uncover new revenue opportunities within the real estate company.

Given the fast-paced environment, a strategy can no longer be developed for 5-10 years at a time. Instead, it should be formally reviewed annually and allow for additional adjustments as new business risks or opportunities arise more frequently.
Developing a comprehensive strategy for Corporate Real Estate will also be discussed in-depth at CoRE Tech 2019 in Silicon Valley on November 13-15. Join us to learn from industry leaders about the importance of a technology strategy.
This Week's Sponsor
Corning is a leading innovator in materials science, with a more than 165-year track record of life-changing inventions. Our Optical Communications division delivers connectivity to every edge of the network, with optical fiber, cable, hardware & equipment for high-speed communications networks. With a fiber-based topology, you can deliver the ultimate in guest satisfaction for years to come.
Read Next