Feature
The World's First Fully AI-Driven Building: Bee'ah Sustainable Headquarters
September 12, 2019 | Ada Ma, Head of Platform & Strategic Partnerships, Digital Vault, JCI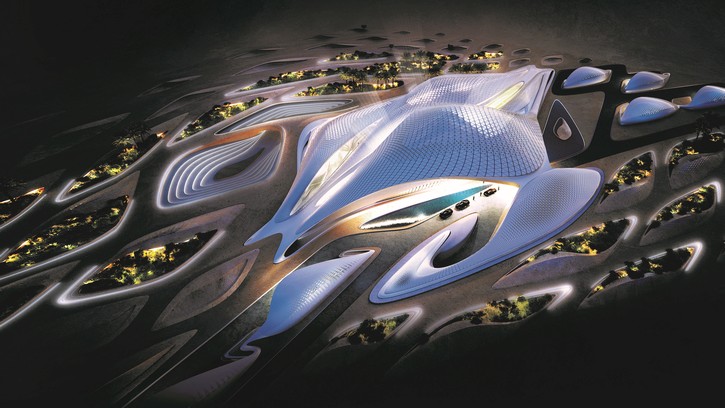 Bee'ah is the fastest growing waste management company in the Middle East, with a reputation as a force of change in the region. Their new world headquarters definitely pushes the limits on what is possible when environmental sustainability goals are fully immersed in digital technology for smart buildings. A vision has truly come to fruition in Sharjah, UAE.
Designed by Zaha Hadid Architects with flowing lines to resemble the sand dunes it resides in, Bee'ah is a futuristic site fully powered by renewable energy and optimized for net zero energy consumption. The site will achieve LEED platinum certification and zero carbon emissions within two years of operation. It will be the first building in the region (and one of the first in the world) to have full integration with AI.
To achieve this, Johnson Controls' Digital Vault offers extended capabilities built on Microsoft Azure to provide intelligent edge systems and software, enabling a data platform for people to build smart building experiences. The platform offers personalized recommendations for efficiency, enables frictionless access and security, has a natural language user interface and unifies systems such as building management, security and employee services.
Creating an AI-enabled building must go beyond the basics of the market today. The smart experience does not mean simply having a virtual assistant or having facial recognition software. It's gathering the data to really tie the use cases industry together, to actually make the building self-aware so it can do things on its own. It must leverage brand new capabilities enabled by IoT, Big Data, Cloud, AI and natural language programming. It must, in some cases, predict the future to forecast life-cycle management for optimal operations long after construction.
The Digital Twin
One interesting technology aspect is the development of a digital twin; this digital twin is unlike most others in that it interacts and communicates with the various subsystems, with standard operating procedures that allow the building to flow and work better. In keeping with the goal of the frictionless experience, the digital twin serves similarly to a human nervous system, uniting all components to help control the entire building. It is constantly learning about the people and assets within. With data gathered over time, it can make better and smarter decisions—from team communication protocols to remembering exactly what beverage a guest usually orders—and exactly when they usually order it.
The digital twin is visualized via a user interface; it is the connection between the physical systems gathering data from the Digital Vault. A series of APIs (and mobile or web applications) then use that information. This digital transformation applies to internal building systems integration too, both OT and IT. The AI works with the building control systems such as HVAC and lighting to communicate actions needed. A simple example is parking. Basic smart parking today gives you space availability by indicating a red or green light—but you have to drive to the parking lot to see it. The next level is to understand employee or visitor scheduling; what is the visiting pattern of arrival and can we learn that pattern over time? At this stage, the AI is applying machine learning. As data is fed back to the parking management system, employees can view a mobile app or other display to see where and when to arrive—before leaving home. This is the AI aspect that enables the activity to be truly frictionless.
This is just one example. Placing the Metasys® Building Automation System in Bee'ah enables building operators to work smarter to make the most of BAS investments, including air, fire, security and access control. For these integrations, JCI is developing connectors or API level integrations with each system to communicate directly to the systems themselves. From a facilities standpoint, managers will have access to mobile applications and/or dashboards that provide information. The building can also send a text message alert; there are many options for notification and control.
Challenges
All large building projects have their challenges, with deadlines to coordinate and meet. Bee'ah had logistical challenges perhaps unique to its design and location. A lot of environmental testing was done on electronics and equipment because of the climate; all had to withstand high heat and desert sand. Many design and building elements were custom built for Bee'ah, so it was not simply a matter of purchasing and delivering elements that already existed.
For this office of the future, a very famous architect was hired—one famous for having no straight lines in the building. A curved wall may be aesthetically beautiful, but placing cameras in a building with no corners is a problem not easily solved. All parties held great respect for the architect's artistic vison, so as not to compromise the design. The challenge was then finding the right set of hardware systems that could fit into the building without being visually obtrusive. Instead of using regular security cameras that stick out, smaller cameras were deployed—but now the number of cameras needed doubled because their range of coverage was smaller. Having the expertise to solve these issues and make the use cases real for the building was imperative to support the various ideas and customer requests.
Much of this process is educating customers and negotiating on what the requirement or scope should be. From a learning perspective, being involved in the beginning phase is the best place to be, especially if a company isn't in the technological space like the Digital Solutions group. It is an education on exactly what it means to enable a smart building, because this type of project gets very specific customizations to achieve desired outcomes. Use cases can vary, so the digital transformation process will always go through a similar journey with the customer. This is the big advantage of working closely with the construction management company; as you gather data they can understand how to utilize and visualize it in applications. The customer is learning more about what IoT really is, how these systems interrelate and connect at a very base level. It's a great educational experience for smart buildings as they continue to grow.
Other challenges were more common and well-known to international partnerships. The ability to work collaboratively across teams with differing time zones and work days was an area to surmount; cultural differences between countries and languages was another. The UX design team found that their user interface and mobile app needed adjustments for linguistic differences because of the way the Arabic language is structured and the way sentences are visualized on the app.
The Future
Beyond the environmental attributes, Bee'ah was ultimately designed to be a personalized, intelligent, frictionless environment. It is accessible to interaction in different ways: through a mobile app, through voice or through a chat. There is no longer a need for traditional badge access or a receptionist; a digital assistant or interactive screen helps visitors with entry and the system remembers that visitor and their preferences.
The Sharjah headquarters serves as a showcase for Bee'ah's customers, visitors and the public. Based on these successes, the company is now consulting for cities and municipalities, and hopes to replicate its model of success in other areas.
JCI sees lots of interest in developing these technologies for smart offices in Asia and the US. Lessons learned from the Digital Twin use cases include new ways of thinking about space planning and management. It has uncovered a new, seamless way to manage the whole life cycle, from design to construction to maintenance. Perhaps the end result will be to digitize every building on the planet.
Elyse Hobson, Technical Product Manager, Digital Vault, JCI

This article is co-authored with Elyse Hobson, Technical Product Manager, Digital Vault, a data management platform for the smart built environment. She serves as a lead product manager for the smart transformation of the Bee'ah headquarters. Her passion is to help customers digitally transform their buildings through the development of smart experiences which leverage cutting edge technologies.
This Week's Sponsor
Bear River's flagship product, BearTracks, is a fully scalable enterprise software designed to help companies of every size track, report and manage critical office services – from mail & parcels, print & copy, supply & assets – to facilities & hospitality. Whether you have one site or hundreds, BearTracks provides real-time operational insights to help meet and exceed even the most ambitious service goals, turning everyday workplace functions into true competitive advantage. www.bearriver.com
Read Next