Feature
Beyond Appraised Value: The Promise of AI-Enhanced Building and Location Scores
July 17, 2019 | Chuck Niswonger, President, NiceNets Consulting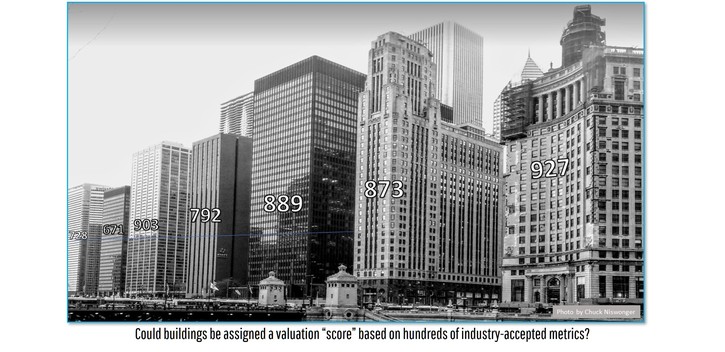 Comparing one building to another for the purposes of purchasing, selling, investing, or leasing has long been a subjective exercise best reserved for analysts, brokers, and agents. Valuation methods are primarily based on historical financial data, seemingly arbitrary market pricing, or simply whatever a new buyer is willing to pay.
Overview
In a recent article titled, "Five Commercial Real Estate Valuation Methods," Rafael Rosenkranz identified current valuation methods as the Cost Approach, Sales Comparison Approach, Income Capitalization Approach, Value Per Gross Rent Multiplier, and the Value Per Door Method. However, what if there was a more comprehensive way to assign "value" to any building or location? What if a building owner actually earned an aggregated "score" based on hundreds of industry-applied metrics—including the financials? Potential purchasers, buyers, investors and tenants could then filter on prioritized categories and weighted metrics that go well beyond appraised value.
To explore this concept, a group of attendees and vendors at this year's Realcomm | IBcon conference in Nashville participated in their Investment Management Networking Workshop. Chuck Niswonger, President of NiceNets Consulting, provided an overview of cloud-based data integration from a "Cumulous Perspective"—a term he coined earlier in the conference. (See his blog for a detailed definition.) He gave a brief history of building rating systems, what is accepted in the industry today, and what some vendors are now offering within their own consolidated data set. Chuck then assigned workshop participants the task of generating weighted metrics that would give a more complete assessment of valuation comparisons.
Evolving Rating Systems for Commercial Buildings
When considering building rating systems, we have to include the Leadership in Energy and Environmental Design (LEED) standards. This is a "certification program devised in 1994 by the U.S. Green Building Council (USGBC) to encourage sustainable practices in design and development." [Encyclopedia Britannica]. LEED ratings are based on the number of points assigned for green compliance. Prior to 1994, building construction codes were used to measure compliance. A building either passed or failed the minimum accepted standards based on routine inspections results.
Today, other independent rating systems are being adopted such as the WiredScore, a "connectivity rating" based on telecom availability, signal penetration, in-building wireless, and WiFi saturation. Another evolving metric is the WELL Building Standard, "the premier standard for buildings, interior spaces and communities seeking to implement, validate and measure features that support and advance human health and wellness." This includes ratings on Air, Water, Nourishment, Light, Fitness, Comfort and Mind.
New ratings are appearing in enterprise systems such as Moody's Analytics Commercial Location Score. Component weights in six different categories "compute a numerical score which can be used to complement existing site risk and investment assessment analyses."
Realcomm's Annual Networking Workshop
Given the recent introduction of independent scoring systems, we wanted to provide workshop participants with the opportunity to generate a full spectrum of weighted metrics that might be used to compare one building or location to another. We asked them to consider any source of CRE-related criteria with no restrictions on data analytic challenges that would likely accompany the actual design. Nothing was off limits! They were free to include any available metric no matter how difficult it might be to collect or how uniquely applicable it might be to a single location.
Their task was to generate as many ideas as possible, then group them into logical categories. Over 80 participants, comprised of attendees and vendors, took on this challenge! They worked together to explore how private and public data from multiple sources could be integrated using common data keys and interrogated within a single enterprise system to provide a more comprehensive scoring mechanism.
Some groups focused on traditional metrics while others included unusual details around the political landscape, the building's design or "cool factor" and workplace comfort. Altogether, the workshop participants generated 16 categories with over 150 metrics.
Workshop Output: Categories & Weighted Metrics
This graphic illustrates how categories could be prioritized and filtered using a standard user interface. By compiling the desired metrics, a customized rating system could compare one building or location to another. While this exercise produced interesting results, the actual data collection process brings about numerous and undeniable challenges.
Vendor Reactions and Future Possibilities
We concluded our workshop with a panel discussion made up of representatives from Yardi, MRI Software, Juniper Square, VTS, Realpage, and Reonomy. Julie Miner of CohnReznick, (center, see picture), moderated their reaction to the workshop's findings and explored the concept of a standardized scoring system that could enhance automated valuations using multiple criteria—beyond appraisal value. The most critical challenges focused on data issues including availability, subjectivity, privacy, anonymity, and quality. Several companies have already recognized the value of this information, but acknowledge that these challenges are extremely complex. If we are to provide meaningful comparisons between commercial structures within any given market, owners must be willing to release private data for broader use. Providing anonymity within an aggregated data set is a stumbling block for the larger institutions who own data from nearly every major market and industry vertical.
Conclusions
The Commercial Real Estate industry is still a long way off in accepting a valuation methodology that will include metrics beyond financials. Advancements in data consolidation techniques and leveraging AI to identify consistent patterns offers great promise in supplementing valuation calculations. Early adopters may initially be limited to data within their own portfolios. As data sets from multiple sources become widely available, artificial intelligence and machine learning advancements will complement accepted assessment methodologies. More enterprise systems will include scoring solutions within future releases as more of these challenges are resolved.
This Week's Sponsor
Angus Systems is a leading provider of customer driven mobile and cloud-based work order and operations management solutions for commercial real estate. Our software supports over 2 billion square feet across North America in buildings from 20,000 to portfolios of more than 100 million square feet. Visit www.angus-systems.com to learn how we help our clients shine.
Read Next