Feature
Realcomm | IBcon 2019 Ends on a High Note in Music City USA
June 27, 2019 | Realcomm Staff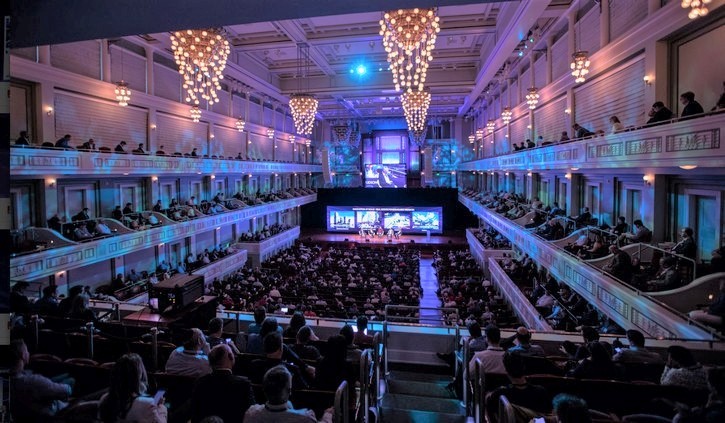 Evolving workplace demographics, new space concepts, advancing technologies, market uncertainty and a shifting global landscape brought over 2,500 Commercial and Corporate Real Estate technology thought leaders from more than 20 different countries to Realcomm | IBcon 2019 in Nashville, TN.
Commercial and Corporate Real Estate and Technology industry trailblazers gathered June 11-14 to connect and collaborate on learning opportunities, case studies and sharing of best practices while enjoying the local flavor and flair of Music City U.S.A.
Check out the 2019 highlights.
June 11
Four days of networking and idea exchanges commenced with Pre-Con activities designed to continue building the industry community at the conference and to showcase real estate innovation.
Innovation Tech Tours
Five Innovation Tech Tours featured smart buildings and state-of-the-art infrastructures throughout Nashville, including live-work-play hubs, team-based workspaces, building automation strategies and global specialists in energy management. Attendees gained exclusive access and behind-the-scenes perspectives on how Nashville is innovating the real estate industry.
5th Annual Golf Outing
From smart buildings to sweeping landscapes, Realcomm | IBcon hosted its annual Golf Outing that drew over 65 participants (our largest yet!) to Gaylord Springs Golf Links. Bordered by limestone bluffs and protected wetlands of the Cumberland River, golfers enjoyed 18 holes on a course designed by U.S. Open and PGA champion, Larry Nelson.
Meetups
Some conference attendees opted for the buzz of downtown and a chance to Meetup with new and old friends. Three locations provided a mix of music, food and sports. The Musicians Hall of Fame and Museum drew music enthusiasts from all genres with exhibits featuring Jimi Hendrix, Elvis, Stevie Wonder, Bob Dylan, Neil Diamond and Ringo Starr. Thrill seekers sharpened their skills and tried something new – axe throwing – at The Downtown Sporting Club, while some of Tennessee's best chicken and ribs were served at the iconic Martin's Bar-B-Que Joint.
Advisory Council VIP Event
Our 2019 Advisory Council is a group of 150 women and men. Realcomm is co-chaired by Annette Prater (Brookfield Properties), Art McCann (Highwoods Properties) and Clint Osteen (Granite Properties). IBcon is co-chaired by Jared Summers (ExxonMobil), Kenneth Finnegan (Related | Hudson Yards) and Zorba Manolopoulos (Facebook). All were instrumental in the creation of this year's conference program. As our way of saying thank you, we invited them to the Country Music Hall of Fame tour to view countless American music treasures and enjoyed a private dinner followed by a fun workshop with songwriters.
June 12
Pre-Con Events
This year's nine Pre-Con events featured in-depth analysis and discussion among the attendees on June 12 at the Music City Center. The day started with the CRE Cybersecurity Forum which brought together industry thought leaders to address the most high-impact cyber threats and presented cybersecurity best practices developed by the Real Estate Cyber Consortium (RECC). The afternoon featured individual breakouts based on the attendee's role within the Commercial, Corporate, Government and Institutional Real Estate industry. It provided comprehensive and innovative programs addressing challenges and technology opportunities for the specific target groups. During the 16th Annual CIO Roundtable, COO/CFO/CAO Innovation Summit, Higher Education Smart Campus Summit, Intelligent Buildings Boot Camp, Smart Building Integrator Summit, Smart Building Leadership Forum, the newly added 5G Congress (hosted by DASpedia) and the Property Manager Technology & Innovation Forum (hosted by IREM), top-of-mind topics in all categories were covered by industry experts.
Welcome Networking Reception
Open to all conference attendees, the Schermerhorn Symphony Center came alive Wednesday night with music from local favorite Adairs Run. The at-capacity crowd enjoyed appetizers with local and global flair from Tennessee hot chicken to Tokyo ramen.
June 13 & 14
Opening General Session
An overnight transformation, featuring architectural advancements and technology-enabled building design, morphed the Schermerhorn Symphony Center from an open-floor party venue for the Welcome Reception to elegant amphitheater seating for the General Session. The 2019 conference theme, REcalibrate | Using Innovation to Turn Challenges into Opportunities, facilitated dynamic discussions among industry powerhouses on various segments on how to REcalibrate, identify the challenges, embrace innovative ideas and discover new opportunities in the way we design, build, lease, operate, transact and use Commercial and Corporate Real Estate.
Learning and Best Practice Sharing
Kicking off two days of education and idea exchanges, more than 300 thought leaders led 150 sessions. From drones and robots to data integration and space as a service, best practices, case studies and panels explored current and upcoming industry issues that impact everyone in Commercial and Corporate Real Estate.
Conference LIVE
The Realcomm | IBcon news desk featured 48 live interviews with industry experts: Bert Van Hoof, Microsoft; Gerry Hamilton, Stanford University; Mariel Ebrahimi, DisruptCRE; Leo Lo, Asia PropTech; Thano Lambrinos, QuadReal; Beth Eckenrode and Craig Stevenson, AUROS Group, Rob Teel, Yardi and more. Watch the Conference LIVE interviews.
Digie Awards and Lifetime Achievement Award
Congratulations to the 2019 Digie Award and Lifetime Achievement Award winners! This year's Lifetime Achievement Award was awarded to Lachlan MacQuarrie in the General Session, recognizing him as an early adopter and pioneer who continues to lead commercial real estate's adoption of technology. The 2019 Digie Awards, announced in a ceremony on Thursday evening, recognized those companies, Real Estate projects, technologies and people that have gone above and beyond to positively impact our industry using technology, automation and innovation. Special congratulations to this year's Julie Devine Digital Impact Award winners Art McCann, Patrick Ghilani, Charles Meyers and Paul Maximuk. Watch the 2019 Digie Award Ceremony.
Best Practice Showcase
One-on-one interactions sparked dynamic conversations about 40 of the world's most successful smart buildings, campuses and portfolios at the Best Practice Showcase on Friday morning. Representatives of each project shared strategies and insights on their state-of-the-art design, connectivity, systems integration and enhanced occupant experience.
Exhibit Hall
More than 200 innovative solution and service providers demoed state-of-the art technology, products and services in the exhibitor expo. The Microsoft Partner Pavilion featured a diverse ecosystem of more than 25 partnering companies, comprising a network of connected services that offer an elevated IoT platform of smart building solutions. The 5G & In-Building Wireless Pavilion featured the top 20 vendors focused on in-building wireless solutions and emerging 5G and CBRS technologies. Some of the best and brightest industry ideas and solutions were showcased in the Startup Launchpad, while the latest in robotics and virtual reality were featured in the Emerging Technology Lab. Attendees in need of a quiet space were able to take advantage of on-demand, micro-workspaces provided by ZenSpace, and the Hangout Lounge created opportunities to refresh and unwind with coffee or wine while listening to local musicians.
View full Conference Photo Gallery.
Realcomm | IBcon continues to lead the real estate technology industry in hosting the best and brightest minds in thought leadership, with the widest-ranging informational program in the world. Growing attendance made the 2019 conference the best in its history.
This Week's Sponsor
Yardi® develops and supports industry-leading investment, property management and energy management software for all types and sizes of real estate companies. For the energy market, the Yardi Pulse® Suite helps manage costs, consumption and sustainability initiatives. Yardi is based in Santa Barbara, Calif., and serves clients worldwide. For more information on how Yardi is Energized for Tomorrow, visit yardi.com.
Read Next