Feature
5G & the History of Wireless Networks
March 14, 2019 | Soyola Baasan, Managing Director, DASpedia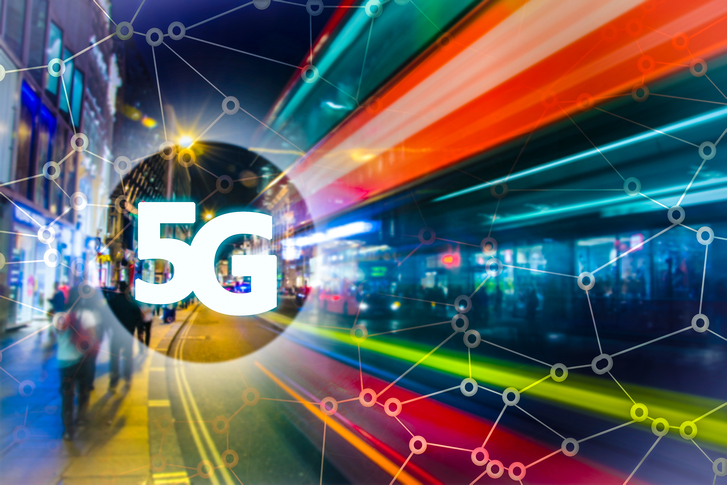 The in-building wireless discussion has been going on for over a decade. Whether it is enhanced cell coverage (traditionally referred to as DAS), WiFi or the host of new applications including building automation and IoT connectivity being offered by 5G and CBRS, the interest of the Commercial and Corporate Real estate industry grows daily. We are going to be covering this topic at great length at Realcomm and IBcon in June with a 5G Congress, 5G and In-Building Wireless Pavilion and dedicated Wireless Education Track. To get the conversation started, we asked one of our partners, Soyola Baasan, Managing Director of DASPedia, to provide an overview of the next generation of 5G wireless technology.
Fifth–generation cellular network technology – 5G for short – is a hot topic. Mobile technology undergoes an evolutionary leap every decade or so. We're on the cusp of the most consequential one yet. The hype surrounding 5G has been intensifying. The drumbeat will continue to crescendo. Consumers should expect to be inundated with marketing information presently. Just like previous leaps, 5G promises monumental improvements to existing mobile networks and revolutionary new applications thanks to its touted super-fast speed, high-bandwidth capacity and low latency. 5G will make possible autonomous vehicles, remote medical procedures, ultra-high-definition 3D videos, cutting-edge cloud computing, IoT, AI and smart, connected buildings.
Let's take a step back to remember how cellular wireless technology has evolved over the years. The first-generation cellular network, known as 1G, was deployed in the early 1980s. This analog technology was cutting edge at the time – surpassing radio phones, walkie-talkies and amateur ham radios as a superior alternative for mobile communication. But it wasn't perfect. Those who could afford to plunk down $4,000 in the '80s for a Motorola DynaTAC (aka brick phone) could only make sporadic voice calls due to unreliable network coverage. But it didn't matter at the time. Carrying a mobile phone was a status symbol and people wanted a piece of it.
The second-generation wireless network (2G) came with glimpses of a bright future by offering digital features in the early 1990s. Brick phones were replaced by smaller, slicker devices like Motorola's StarTAC. Every self-important chum had to have one. The shared ritual of flipping open our phones and extending the frail, little antenna made us feel like rock gods in packed arenas. These small devices and the networks they ran on offered newly minted digital features like Caller ID, Short Messaging Service (texts) and 3-way calling.
Blackberry reigned supreme until the other 'fruity' company introduced its revolutionary device to the world. It was the 3G network that sparked the smart phone era. 3G was dubbed the first truly high-speed and fully digital network, launching around the world in the mid-2000s. Businesses and major enterprises came to rely on this network to get things done. Wireless became the standard medium of communication in modern society. We couldn't get hold of our kids without texting them. Call quality was crisp, the internet was mobile, and there was video on our phones! Hoarding the precious minutes allocated by carriers was common practice during the 1G and 2G ages. Unlimited calling became the norm during 3G. Tracking the number of text messages allowed under our family plans was another monthly drudgery.
Fast and even faster was the motto for 4G. Suddenly, we had to learn terms like megabyte (MB) and gigabyte (GB) because that's how communication is measured in 4G networks. Everything is about data consumption. Wireless carriers deployed the 4G network – also known as LTE (Long Term Evolution) – in the early 2010s. Generations of smart mobile devices were already abundant in the market at this point and with them we developed an insatiable thirst for data, thanks in part to video and gaming content offered by streaming services.
And now 5G is coming: it's 2019 and time for the next leap. This imminent advance will be no exception in terms of the timeline, arriving approximately ten years after 4G.
But it will definitely be different, because the technology to be deployed is radical. 5G will connect every device with an on-and-off switch to a vast network. The consequences will be like nothing we've ever seen before. It will be a combination of multiple platforms and 'smart' everything. It's only slightly hyperbolic to say that pretty soon our toasters are going to be smarter than us. Inarguably, the 5G network will be much faster than anything we're used to. Concepts such as autonomous vehicles, remote medical procedures, smart cities and buildings, IoT and AI will leverage the 5G network, but the real surprise will be the applications we haven't imagined yet.
Deploying 5G is an expensive and complex undertaking. Mobile Network Operators (MNO) will use a combination of low, mid, and high-band frequencies and rely heavily on fiber optic networks. Fiber is the only medium capable of pushing high–bandwidth efficiently with minimal delay, which is crucial to planned 5G network deployments. Relatively slower versions of 5G will probably be deployed using low band frequencies in rural or sparsely populated areas. Mid- or high-band frequencies will be used in dense urban areas. Many more hidden antennas, sensors, and radio gadgetry will be installed everywhere.
Just because MNOs are beginning to deploy 5G doesn't mean they will immediately decommission existing 4G networks. Average network utilization lasts about 15 to 20 years after deployment. It wasn't until Jan 2017 that AT&T shut down its 2G network in the US. Talk of shutting down the 3G network is ongoing. Some operators like Verizon reportedly plan to end their 3G services by the end of 2019. Others will probably follow soon thereafter, leaving 4G LTE as the primary wireless network for years to come. This is because large scale 5G network deployment hasn't even started yet. Realistically speaking, it will probably take another three to five years before average consumers start to experience the true capabilities the 5G network has to offer. Until then 4G and Advanced LTE is here to stay.
What does this mean for Corporate and Commercial Real Estate now – and in the near future? First, the benefits: greatly increased communications speed and coverage. Speed and reliability will solve and improve many of the roadblocks we experience in our buildings today, from unreliable cell service inside some buildings to being able to analyze large data streams efficiently. Speaking of data – expect a lot more of it. Business transformation through AI and other digital capabilities will get a huge boost. The occupant/tenant experience and customer-facing apps will benefit greatly with enhanced speed, and latency problems will be solved with 5G. Such superlative language can also be used for the challenges, which range from security issues to cost concerns around creating a new kind of infrastructure. With so many more connected devices and third party apps, vulnerabilities abound – and they will be tough to keep ahead of. As far as physical structures, the modern sensored smart building will require superior cyber defenses to avoid digital and physical threats.
The network densification requirements to be 5G compatible will require new infrastructure investments larger than any other in recent history. The CBRS Alliance group (Citizens Broadband Radio Service) recently partnered with SCA (Small Cell Forum) to drive initiatives and solutions for coverage and capacity.
This topic will be discussed at great length at Realcomm | IBcon 2019 with the 5G Congress (Pre-Con Event, Hosted by DASpedia), 5G and In-Building Wireless Pavilion and a dedicated Wireless Education Track. The conference will be held at the Nashville Music City Center on June 13 & 14 (Golf and RE Tech Tours June 11 | Pre–Con Events: June 12). Early bird rate is expiring 3/15/2019, register today!
This Week's Sponsor
Yardi® develops and supports industry-leading investment, property management and energy management software for all types and sizes of real estate companies. For the energy market, the Yardi Pulse® Suite helps manage costs, consumption and sustainability initiatives. Yardi is based in Santa Barbara, Calif., and serves clients worldwide. For more information on how Yardi is Energized for Tomorrow, visit yardi.com.
Read Next