Feature
Altus Group CRE Innovation Report Reveals Rapid Acceleration of PropTech Adoption & Rise of Disintermediation as Major Trends Impacting CRE
February 27, 2019 | Jeff Hayward, VP, Global Marketing & Communications, Altus Group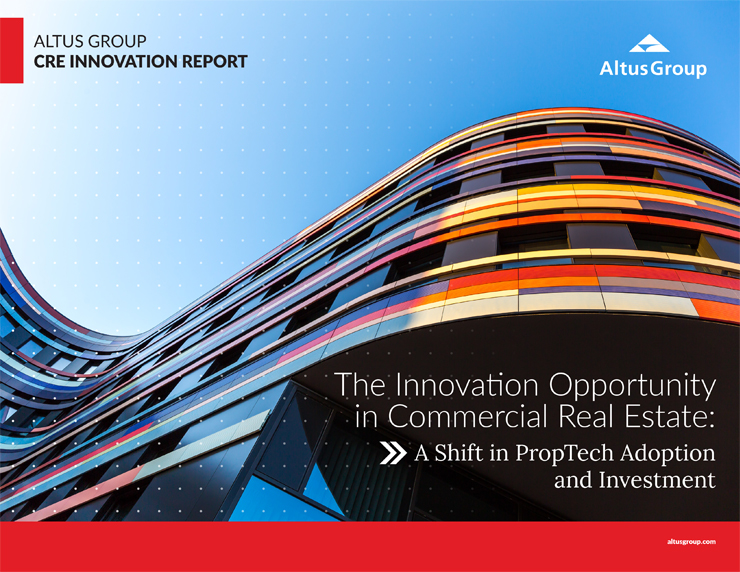 Commercial real estate ("CRE"), like other industries, is adapting to today's "data everywhere" world and making investments to create value through data and analytics. We're at a turning point in embracing technology and we're entering a state of experimentation, adoption and investment as new technologies and applications continue to emerge. This higher level of engagement and investment has the potential to enable the development of solutions that are better equipped to solve the unique challenges of the industry.
Altus Group, a leading provider of software, data solutions and independent advisory services to the global CRE industry, recently released the latest Altus Group CRE Innovation Report. The report provides an outlook on technology trends impacting the global CRE industry and highlights the significant acceleration in adoption of PropTech, the effect of disintermediating technologies, as well as a growing trend of CRE firms investing directly in PropTech companies and startups themselves.
Automation, AI and Machine Learning Having Major Impact
According to the report, which is based on a global survey of 400 CRE executives at firms with assets under management ("AUM") of at least US $250 million representing a total AUM of over US $2 trillion, driving efficiency through automation is a key priority for CRE executives, and the use of AI and machine learning is approaching a critical mass. Firms are not only focusing on improving business intelligence based on enhanced analytics, but also eliminating inefficiencies by strategically applying process automation, artificial intelligence and machine learning in areas that they believe will see the greatest benefit, such as:
41% of firms are using automation for benchmarking and performance analysis, 39% for scenario and sensitivity analysis and 36% for budgeting and forecasting
19% of firms are using AI and machine learning for scenario and sensitivity analysis followed by 16% for accounting and property management
Disintermediation: Cutting out the Middle
Disintermediation is also driving emerging technology adoption. New business models associated with the sharing economy, co-working and e-commerce are disrupting the CRE industry by cutting out middle steps and processes to create greater efficiencies. The layers and stages of the financing, funding and transacting process create inefficiencies in many core CRE functions. As a result, the rise of disintermediating technology platforms and solutions are having a major impact on the CRE industry.
The report findings suggest that transaction-based platforms such as online property exchanges, lending marketplaces and crowdfunding are now increasingly being used to streamline processes and create a more direct line between buyers and sellers, lenders and owners, and investors and funds, effectively altering the relationships between them at a fundamental level:


61% of CRE executives indicated their firms are using or already trying out online lending places, with 23% using them in a significant way
60% of CRE executives indicated their firms are using or already trying out online investment marketplaces and crowdfunding platforms, with 22% using them in a significant way
A Shift in PropTech
"The combination of new market entrants, new technologies and changing demographics have created disruptive models within CRE. This is having a profound impact on portfolio planning and decision-making," said Bob Courteau, CEO, Altus Group. "At the same time, this presents new opportunities for organizations who rapidly embrace innovation and PropTech to reduce complexity, increase efficiency and drive performance."
While CRE executives may still be skeptical of the impact of some emerging technologies, many recognize the changing landscape and the need to adapt and invest to remain competitive. As a result, CRE firms are no longer simply anticipating that new technology will have an impact on their industry – they are actively participating in this change through direct investment in PropTech. The report indicates 53% of CRE firms directly investing in at least one type of PropTech firm. PropTech companies focusing on smart buildings systems, online lending marketplaces, and online investment marketplaces and crowdfunding are the top investment choices for CRE firms.
Other key findings from this year's Altus Group CRE Innovation Report include:


Nearly one in ten (10%) CRE executives "don't really understand blockchain and what it does," while 37% of executives expect blockchain to start having an impact on the CRE industry within the next two years
31% of executives stated that smart city initiatives and projects are already having a major impact on their investment and portfolio decisions
A large majority of firms have already invested in integrated software solutions for critical CRE functions. However, 60% of executives said their firms are still utilizing spreadsheets as their primary tool for reporting, 51% for valuation and cash flow analysis and 45% for budgeting and forecasting, indicating that despite significant innovation, the industry continues to lag in certain areas
The
Altus Group CRE Innovation Report
is based on a global quantitative survey of 400 CRE C-level and senior executives in both front and back office positions at owner operator and investor firms in North America, Europe, Asia-Pacific and Latin America. All firms represented in the survey had a minimum of assets under management of at least US $250 million at the time of being surveyed, representing an approximate total AUM of over US $2 trillion. The survey research, used to form the basis of the report, was conducted by leading international research firm IDC in late fall 2018.
Download the full report.
Realcomm | IBcon 2019 will be presenting a CRETech / PropTech track focused on providing further insight on how to navigate this explosion of new companies and ideas. This year's conferences will be held at the Nashville Music City Center on June 13 & 14 (Golf and RE Tech Tours June 11 | Pre-Con Events: June 12). Register early and save!
This Week's Sponsor
Managing lease compliance, measuring up-to-date occupancy and utilization information, IoT integration, detailed real estate cost analysis, reporting and portfolio benchmarking… What challenges do you face today? As a global specialist with over 35 years' experience, Trimble helps customers transform the way they plan, manage and optimize their real estate portfolios, buildings and workplaces through cloud-based integrated real estate management software.
Read Next