Feature
Smart Building Best Practice Showcase: Featuring the Newest, Most Innovative Corporate Buildings & Campuses Presented @ CoRE Tech 2018
October 3, 2018 | Realcomm Staff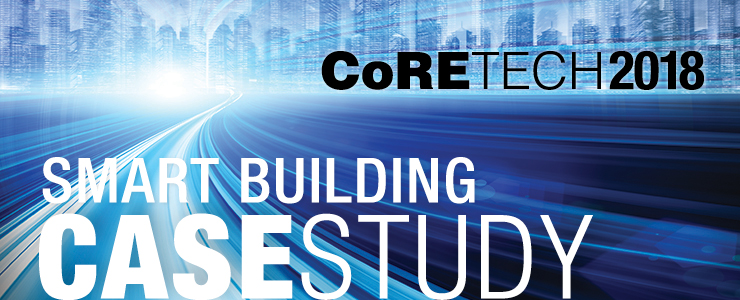 On Nov. 15 from 7:30am to 8:30am, CoRE Tech 2018 kicks off Day Two with the Smart Building Best Practice Showcase and will feature the world's preeminent corporate real estate projects. These buildings and campuses are designed and built by industry-leading companies who are strategizing for the workplace of the future.
The projects featured will display best practice guidelines for the connected, fully integrated built environment where big data analysis and the experiential aspect of the site are playing an increasing role.
Representatives at the Showcase will share the newest technologies that enable a truly innovative 21st century digital experience. They will also discuss the challenges inherent in producing buildings of such ambition and scale.
Corporate initiatives for energy efficiency, sustainability, social responsibility, health and wellness, and the digital occupant experience will all be covered at the Showcase, as well as the impact of AI, VR, Machine Learning and other flourishing technologies that will continue to influence the industry.
Below is an example of the types of projects that will be featured:
Aruba – Corporate Headquarters
After years of helping customers design their mobile-first digital workplace, it was time for Aruba to make their own vision a reality. The main goal was to optimize for a highly mobile workforce, creating a modern design that would attract the best talent in the competitive Silicon Valley market–as well as providing a building showcase for customers and ecosystem partners. Providing high-performance connectivity is no longer enough; employees need and expect efficient tools to collaborate seamlessly, and businesses need analytics to better understand space utilization. By combining leading edge technology with an open design, Aruba was able to achieve these goals. Housed in a new LEED Gold building, Aruba's main campus includes multiple types of community spaces, quiet zones, location-aware conference rooms, wireless projection, connected LED lighting, smart furniture, free address seating, a 10,000 SF Customer Experience Center (CEC) and smart innovations required to empower the mobile workforce.
Also included in the Showcase:
ExxonMobil – Houston Campus Headquarters

Oracle – Santa Clara Smart Buildings

United Therapeutics – The Unisphere

McDonald's – Chicago Headquarters

CapitalOne – McLean 2

Boston Properties – Salesforce Tower

CompuCom – Fort Mill Headquarters

LinkedIn Portfolio
Note: Case studies that will be featured in the Showcase are subject to change.
Don't miss the unique opportunity to network, collaborate and meet face-to-face with the representatives from the Smart Building Best Practice Showcase at CoRE Tech 2018!
This Week's Sponsor
Yardi® develops and supports industry-leading investment and property management software for all types and sizes of real estate companies. Established in 1984, Yardi is based in Santa Barbara, Calif., and serves clients worldwide. For more information on how Yardi is Energized for Tomorrow, visit www.yardi.com.
Read Next