Feature
Realcomm CIO Forum Sydney Attracts Top Local Industry Leaders from Mirvac, Dexus, Lendlease & More!
September 6, 2018 | Howard Berger Managing Partner, Program Director, Realcomm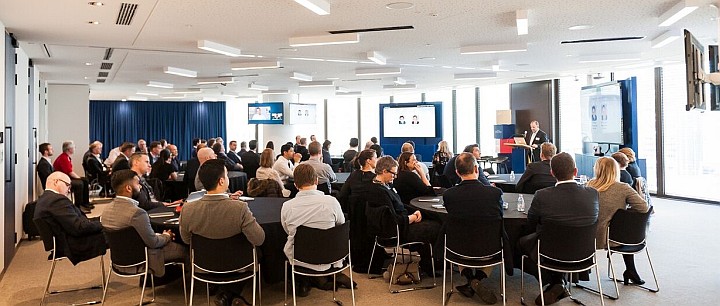 During the Fall season, in addition to the annual CoRE Tech conference, Realcomm produces a series of CIO & Property Technology Forums in the US as well as London, Toronto and Sydney. These by invitation events are typically half-day networking and educational programs ending with a hosted reception. In these closed-door forums, we engage thought leaders in talks and discussions on some of the key technology issues facing our industry.
Two weeks ago, I had the honor of leading our annual Sydney CIO Forum which was attended by about 70 senior level IT and operations execs from the major REITs and owner/developers in Australia.
The event was hosted by Mirvac at their spectacular headquarters located at EY Center on 200 George St. in Sydney's CBD – a unique, highly converged smart building encompassing some groundbreaking technologies including an organic, responsive 'living skin' of timber blinds that continually adjust to external factors and occupant preferences.
For those of you not familiar with the smart building innovation in Australia, I would encourage you to get to know some of the progressive companies, their innovation programs and some of their leading-edge projects. In terms of smart building innovation, Mirvac has been a pioneer along with companies such as Lendlease, Investa, AMP, Dexus, Vicinity, Scentre and others.
After an opening by Jim Young (remote) and myself (present), our honorary chairman Campbell Hanan, Mirvac's Head of Office & Industrial, welcomed the group.
The event focused mainly on future work trends, leveraging data/analytics and lessons learned from Generation 1 smart building projects and how we can apply those to building the business case for Generation 2 projects.
Felice Spark, Research Director, CBRE opened with a brilliant report on the results from the research her group conducted on how occupiers viewed the impact of various technologies on how space would be used in the future. We were able to see how those surveyed in the industry viewed the potential impacts of technologies such as AI, blockchain, etc., on commercial real estate design and use.
Next, Bruce Duyshart, CEO, Meld Strategies, one of the true smart building pioneers, led a panel of industry experts who've been instrumental in some of the most iconic smart building projects in Australia: David Palin, Sustainability Manager, Mirvac; James Peterson, Head of Asset Management & Operations, Lendlease; and Ross O'Toole, GM Innovation, Vicinity Centres. The group discussed lessons learned from projects completed in the last five years and lent their perspective on how they might focus on future developments.
As a follow-up to Bruce's panel, Josh Ridley, CEO, Willow, led a discussion focused on taking some of the lessons learned and applying them to some of the newest smart building projects that will be coming out of the ground over the next three to five years. Josh's panel featured experienced smart building professionals such as Nathan Lyon, Head of Building Technology, Investa; Leon Wurfel, CEO, BUENO; Alex Fuerschke, Senior Manager Building Technology, Dexus; and Jonathan Clarke, Associate Director Digital Buildings, Norman Disney & Young, who all contributed insights on creating the business case for the next wave of smart building initiatives.
These sessions were two of the most intelligent dialogs I've seen yet on smart building developments. Outside of Realcomm and CoRE Tech, we rarely have the opportunity to get in one room together these group of leading-edge industry leaders who have been instrumental in architecting the smart building strategies for the most progressive projects in the world.
Finally, we wrapped with a panel discussion dealing specifically with the practical realities of data/analytics initiatives – from the importance of executive leadership buy-in of an enterprise program to designing a data science program to data models and architectures. This valuable session was led by Ross Miller, CEO, CohnReznick Australia along with three leading commercial real estate data scientists: Toby Heaton-Armstrong, Digital & Customer Technology, Senior Manager, Dexus; Jenny Van Zyp, National Customer Analytics Manager, Stockland; and Genevieve Elliot, GM, Data Science, Vicinity Centres. It was a rare privilege to have this top-level group of experts collectively discussing their craft in the context of what's working and what's not.
The day was capped off with a wine and beer reception hosted by Mirvac in their Café on Level 28 with breathtaking views of the Sydney skyline. Industry folks in Sydney tend to know each other so it was a very congenial and warm reception, although many new relationships were formed at this event.
I'd like to extend a very special thank you to our hosts at Mirvac, especially David Palin, Jessica Price and Campbell Hanan, who were instrumental in helping us with the planning and production.
Last, but not least, I'd also like to thank our event sponsors – Yardi, MRI, Altus Group, Bueno, Willow and CohnReznick, whose generous support made this event possible.
This Week's Sponsor
Altus Group Limited is a leading global provider of independent advisory services and technology for the commercial real estate industry, including ARGUS® software solutions. For over 25 years, ARGUS® products have been the industry standard for creating cash flows and valuations helping thousands of commercial real estate professionals gain transparency into their property assets, manage risk and optimize their portfolios. Real estate investors, asset and portfolio managers, lenders, brokers, appraisers and other commercial real estate professionals use ARGUS to facilitate transactions and communicate value. For more info, visit www.altusgroup.com.
Read Next