Feature
Tech Perspective @ the Edge: Aaron Pais, CIO, Morguard
August 30, 2018 | Tina Danielsen, Sr. Writer, Realcomm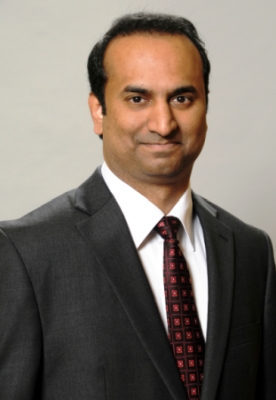 Aaron Pais is CIO at Morguard, a fully integrated real estate company with an owned and managed portfolio of total assets valued at $21.7 billion. His diverse leadership experience includes leveraging technology to drive organizational growth, performance and profitability at some of North America's largest fully integrated residential and commercial real estate investment, development, construction and asset/portfolio management companies.
Tell us about your technology journey at Morguard.
I was brought in at the start of 2017 to manage the execution of an ERP implementation program; it was a strategically critical, highly visible initiative and the largest transformation ever undertaken at the company. It was successful and we were recognized by our industry at Realcomm 2018 with a Digie Award for Best Use of Automation, as one of the largest companies to ever achieve a cross-border, full suite Yardi implementation of commercial and multi-suite residential modules in the same environment.
The success of the program can be tied to: (a) a Strong Executive Sponsor that actively worked to remove roadblocks; (b) the Agile Program Office that kept multiple workstream teams and vendors focused on our goal via weekly dashboards and risk review meetings; (c) Effective governance, with clearly identified roles and responsibilities for all parties; (d) a Control structure with rigorous change control and approval gates that kept scope changes in check; (e) a Robust Change Management and Communications plan, which got everyone onboard right from the start and included a training program to ensure that employees could get the best out of the new system; (f) a Comprehensive readiness plan that ensured that the business was ready to adopt the new system prior to go-live; and (g) a post go-live Hypercare period where 'super users'' were integrated into the support structure to ensure that the changes were thoroughly adopted by our staff.
I was subsequently asked to take on the CIO role at Morguard and I am currently more than halfway through a complete Service Delivery Transformation of the groups under my umbrella. This exercise began with the development of a Target Operating model and aligned organizational structure to ensure that we could deliver services both efficiently and effectively. With the Roles & Responsibilities defined, a transformation roadmap was then crafted to transition our employees into the new target structure. As part of this transformation, Operational Technology (OT) systems was also added to my portfolio. This includes property level technologies such as Base Building Networks, Building Automation Systems, Cameras, Access Control, Traffic Counters, Digital Meters and more.
Tell us a bit more about this process and your priorities for 2018.
Following the ERP implementation and the Service Delivery Transformation, our objective is to continue standardizing on platforms that optimize operations and customer experience. The drivers are to maximize cost effectiveness, enable quicker decision making, enhance our organizational agility and improve business outcomes.
We have initiated an Asset Inventory and categorization exercise. This exercise will be completed by our converged IT-OT team in partnership with volunteers from our Operations groups. The goals of this exercise are to identify opportunities to reduce operating costs and budgeted capital expenditures through vendor and solution consolidation, and the development of "fit for purpose" product mixes across our asset classes. The savings generated from this exercise will subsequently be re-invested to drive innovative solutions for the business and enhance customer experience.
How has technology affected how you spend your time and focus?
It's the best time in history to be a CIO.
With digitalization affecting every industry, the role of the CIO is changing from a delivery executive to a business executive – from controlling costs and improving processes, to exploiting data and driving revenue.
An increasing amount of my time and focus is spent on identifying how Morguard can best achieve our desired outcomes. So now we are asking, what are the business capabilities, talent, technology platforms and ecosystems that will be required to get us there? These discussions culminate in a strategic roadmap that has buy-in from the executive team and is aligned to our business goals.
What are the technology trends you see affecting your business the most?
This is a unique time historically, because a number of disruptive technologies will have a significant impact on where and how we live, work and play.
The key trend that I see is Real Estate companies are going to make better and faster (including real-time) decisions. This is only feasible through investments in technology platforms, analytics and the right talent. These key pieces would dovetail with technologies such as in-memory computing (IMC), RPA, machine learning (ML) and artificial intelligence (AI), to help companies use data to improve deals and investments, mitigate risk, better understand customers and their needs, and open up new profitable possibilities.
Since we own or manage a number of the major asset classes, I can provide some examples of where this exploitation of data to drive revenue would be applicable:
(1) Office - A few years ago, a 'smart' connected building that was energy efficient and constructed using sustainable materials was seen as a unique project. Today, that same building is a necessity because tenants and their employees will settle for nothing less. Therefore, to stay competitive, you now need to have a building that is flexible enough to accommodate what's next - and your data will help you understand the changing expectations of your customers so you can anticipate and meet their needs.
(2) Retail - We're in the middle of a major evolution in retail. As a result of consumers' changing needs and expectations, traditional retail centers must be transformed into destinations that provide more experiential offerings; so combine shopping with restaurants, entertainment and a wider range of services in new ways. Again, this is where you can leverage the technology platform, analytics and talent to understand these customer expectations and rapidly respond to them.
And this extends to the other asset types – Multi-Suite Residential, Hotels, Industrial and so on.
What advice would you offer other CIOs?
I believe that we are starting to reach a tipping point where you can stitch several disruptive technologies together and the usefulness of this integrated solution is starting to exceed the friction of using the individual components.
The advice that I would have is to become the leader to increase digital literacy for the business; be the influencer on how to leverage these technologies and marry this with the cultural change that the organization is trying to drive; to co-lead transformation to differentiate your business and help the business win.
This Week's Sponsor
MRI Software delivers innovative applications and hosted solutions that free real estate companies to elevate their business. Our flexible technology platform and open and connected ecosystem meet the unique needs of real estate businesses, from property-level management and accounting to investment modeling and analytics for the global commercial and residential markets. For more information, please visit www.mrisoftware.com.
Read Next