Partner Content
Maximizing Operational Efficiency: Tenant Apps Provide More Than Just Better Engagement
August 3, 2018 | Matthew Stetson, Head of Marketing & Design, Prescriptive Data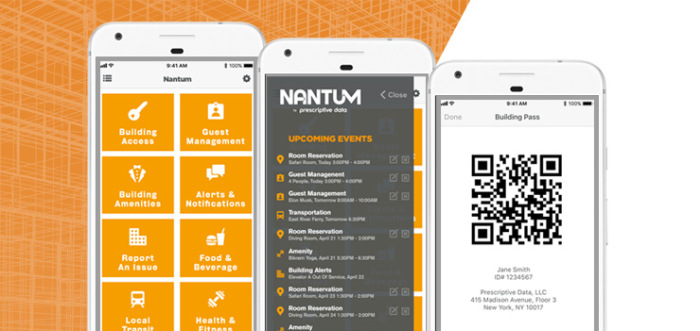 Providing tenants easy access to building services and amenities is just one piece of the operational puzzle – the key to driving efficiency in buildings lies in the data. While today's workforce struggles with new challenges of work-life balance in the "always on" generation, building owners and managers struggle to accommodate tenants and their employees within the rapidly changing workplace environment.
Most commercial office buildings and their respective enterprise tenant spaces were architected for a traditional 9-5 lifestyle but are now expected to support the blending of professional and personal lives in the workplace. From adding fitness facilities and communal spaces to sponsoring health and wellness seminars and underwriting social events, Building Operators and Enterprise Tenants alike are rising to the challenge of offering a more connected, more flexible, and more engaging workplace experience.
At the front of the trend to offering more engaging and more responsive workplaces are tenant engagement apps – mobile apps that are designed to enable building occupants to transact in the workplace, engage workplace amenities, and communicate their preferences at work in the same way they do at home – i.e. via their mobile phone. CBRE and JLL are developing their own internal tenant applications to boost engagement in their spaces. Convene and WeWork are providing digital concierge amenities that bridge the gap between older construction and new live/work patterns. These may solve for a specific, individualized need within a building but often lack full integration between systems.
Improve Occupant Experience with a Single Integrated Platform
With the sheer volume of point solutions hitting the market today, the process of untangling which applications tenants and their employees should use for each amenity becomes daunting. Building services apps (access control, maintenance requests, guest management) and amenity apps (health and fitness, food and beverage, community engagement, local transit) all are separate and distinct, and switching between apps can become tedious for the users, creating "app fatigue."
If all available tenant-facing applications in a single facility are combined through a single integrated platform, that application becomes the single point of adoption for the entire tenant experience, creating a 360° experience for all building engagement and communication.
Nantum Tenant Fractal App (NTFA) from Prescriptive Data is one application that is solving for full system integration - acting as a "passport" to all critical building services. This allows users to manage guests, expedite security and access control, and provide building-wide emergency alerts and notifications, all from their personal smartphones.
The use cases for a single integrated platform are near-limitless, allowing for additional tenant engagement applications including conference room and shared amenity space reservations, food and beverage ordering, fitness class booking, smart parking, real-time local transit updates, and local community engagement. Additionally, in properly outfitted facilities, a single integrated platform can allow building occupants to communicate with building management to report facilities issues and specify customized lighting and thermal preferences.
"The unique value of NTFA is simple: enhance the workplace experience for your customers while improving the operational efficiency of the building itself," said Sonu Panda, CEO of Prescriptive Data. "As enterprise tenants and their employees demand the latest amenities and a more responsive workplace, buildings need to offer a consumer-facing building passport that is easy-to-use and seamlessly integrated with existing building systems and operations."
Owners/Enterprise Tenants Should Retain and Make Use of Their Data
Within a building, building systems, Internet of Things (IoT) devices, and occupants generate massive amounts of data. This data, when properly utilized, can have a tremendous impact on tenant experience and operational efficiency. As new systems and applications come online, the question of data ownership becomes increasingly more pressing. Who owns this data and how is it being used?
By maintaining control of the data generated within buildings, owners can retain one of their most valuable assets in the new economy: data. In turn, this data can be used to drive further engagement, enhance tenant comfort, and drive sustainable building operations, all of which translate into dollars.
John Gilbert, EVP & COO at Rudin Management Company, added: "Data is the new oil – and Nantum Tenant Fractal App not only maintains our data ownership, but fundamentally changes the relationship with our tenants – allowing delivery of data and insights to our tenants to help them increase the health, wellness, and productivity of their employees."
Harness the Power of Building & Tenant Data with a Building Operating System
Property data is only as good as the value that can be derived from it. Data for data's sake is not the point. Rather, the point is to capture data, make sense of it, and then translate the insights derived from analyzing that data into actionable recommendations. Without a proper "catcher's mitt" for this data, most of its value is lost in exhaust.
Implementing a Building Operating System such as Nantum allows for the collection and analysis of data, making it actionable for building operators. Additionally, with NTFA data pushing into the Building Operating System, buildings can learn the preferences and habits of building occupants and use machine learning technology to generate recommendations which optimize the building's operations and improve interactions with tenants and their employees. This allows for cost savings, enhanced sustainability, and greater tenant comfort and flexibility – ultimately driving revenue for the real estate owners and operators.
Unlike point solutions, a Building Operating System looks at data from all three key building data inputs: core and shell, enterprise tenant spaces, and building occupants. This allows for the aggregation and analysis of building data, ultimately driving maximum comfort and efficiency.
This Week's Sponsor
Prescriptive Datais focused on the intersection of IoT, big data, and machine learning as applied to built spaces. Our flagship cloud-based building operating system, Nantum applies machine learning to synthesize predictions from live and historic data to optimize operational efficiency, thereby increasing the underlying value of real estate assets. The Nantum suite includes products for building core and shell, enterprise tenants, and building occupants.
Read Next