Feature
Tenant Experience Applications: The Hot Topic for 2018
April 18, 2018 | Jim Young, Co-Founder & CEO, Realcomm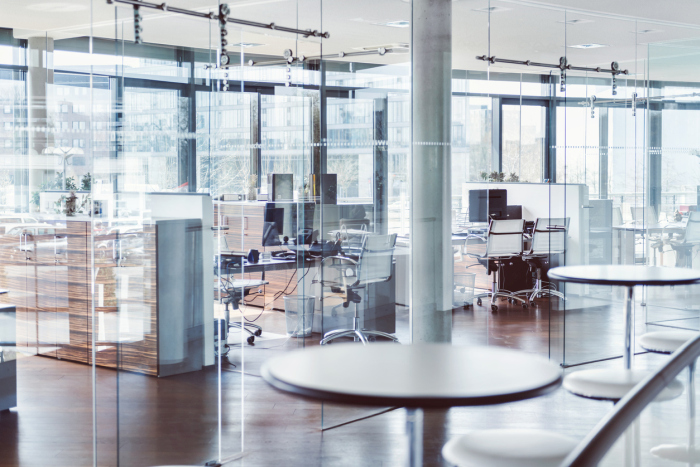 In the beginning, the tenant experience – specifically in an office building – was nothing too exciting. Take a paper ticket from a parking machine, wave to a security person, get on a nondescript elevator and arrive at the destination: your office. Then, get a cup of coffee and start the day at your desk.
During the dot-com era we were introduced to new types of more engaging office experiences. These mostly involved an entertainment factor such as games (pool, ping pong and foosball tables), new types of interesting furniture and free food and drinks. This trend brought a more informal environment that interspersed hard work with opportunities for a little downtime and fun. The food and drinks were an enticement to keep employees at the office with no need to venture outside for nourishment.
In more recent years, the tenant experience has become more digital and may reside inside the environment in subtle ways. Digital signage has made its way into the office with applications ranging from 24-hour news programs to wayfinding and sometimes, community events and public/private service announcements. We have also seen applications reach into the ceilings and begin to deliver control to the tenant via a browser or mobile phone for things such as HVAC comfort and lighting. Another application making its way into the more sophisticated projects is using a mobile phone for secure access into the building.
Fast forward to the last 24 months and we have yet another generation of the Tenant Experience Application or as some suggest, Tenant Experience Platform. Imagine the young worker (or anyone who has come to rely heavily on their mobile phone) and you can begin to see where this is going. The following are a sampling of the services and amenities that companies are beginning to offer this new breed of digital tenant.
Building Garage Access

Parking Spot Locator

Building Security Access

Elevator Call

Desk Reservation

Concierge Services

Tenant Communications

Incident Awareness

Amenities & Activity Scheduling

Conference Room Reservation

Food and Beverage Ordering

Heating / Cooling Control

Lighting Control

Video Camera Access

Maintenance Request/Alert

…to name a few
While this task list is exciting and conveys a digital strategy to mimic the daily life of an office occupant, the amount of integration required is quite extraordinary. To make all this seamless and real-time, the front-end system needs to access data from a multitude of different solutions including BAS, maintenance, security, parking, reservations and more. Given this extensive degree of integration, a great deal of time and planning must be applied from a cyber security perspective. One weak link could leave a variety of different systems exposed to cyber threats. For example, hypothetically, if a lighting system for the boardroom is chosen by a consultant, installed by an integrator and managed by a service provider – and that system's microphone is hacked and financial damage is incurred, who is responsible? These systems also have to take into account user authentication, as a stolen or lost phone could wreak havoc on the building. Finally, given the variety of mobile devices, the platform also has to conform to a number of different technologies, formats and form factors.
One other thing to consider is that in multitenant environments, the complexity of the tenant mix could prove to be a significant challenge. Say a larger tenant is the branch office of a major corporation with their own security protocols at their corporate headquarters. How would these unique requirements overlay the general security needs of the building? Or, what would the protocol be if 100 tenants (all with different lighting controls) want to utilize the building owner's network for broader communications access?
Tenant/Occupant Experience Applications/Platforms are one of the most talked about solution sets for 2018. In just the last year, a number of new startups have decided to join the existing providers in bringing new ideas to the market. While one solution may not have all the different requirements, combining the collective functionality is a good indicator of what the mobile building experience might look like in the not too distant future.
The following is a sampling of the Tenant/Occupant Experience Application/Platforms that are in the marketplace.Given the number of vendors and the diversity of their offerings, it is clear that building owners and operators will need to do a fair amount of due diligence, not only on the different solutions, but also the organization's ability to deliver on the integration and interoperability promise.
Building Link

CBRE 360

Commercial Owners and Corporate Custom Applications

Equiem

iViva

Modo Labs

Skyrise

SmartenSpaces

SmartOne Solutions

Thing Technologies

Workwell

Yardi
This very important topic will be discussed and debated in a number of different sessions at Realcomm | IBcon 2018. For anyone interested in the kind of Digital Experience your tenants and visitors will come to expect when they walk into your building, there is not a better place to learn what the most forward-thinking organizations are doing.
This Week's Sponsor
ESD is a leader in Improving Society Through the Built Environment. It creates solutions that produce economic, environmental and experiential benefits for its clients, many of whom are the biggest names in the worlds of business, technology — and beyond. The company is in the forefront of developing Intelligent Buildings. For more information, please visit www.esdglobal.com.
Read Next