Feature
Lake Nona: A Digital District Reaching Into the Future
May 12, 2022 | Realcomm Staff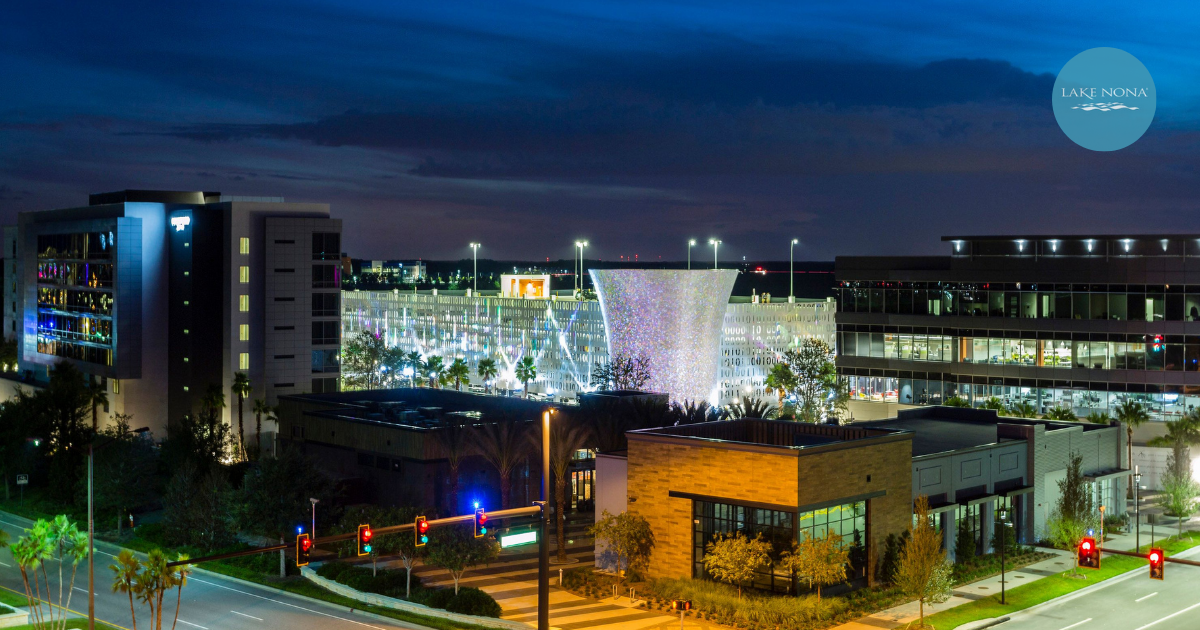 Smart districts are emerging all over the world. Copenhagen, Dubai, Singapore, Milan, Hanoi and many more global cities are recognizing the need for connected, neo-urban communities of the future. In the United States, one of the best examples is Lake Nona in Orlando, Florida.
Dubbed "a community of and for the future," Lake Nona is one of the most advanced digital districts in the United States. Encompassing 17 square miles right next to the Orlando International Airport, Lake Nona is planned and developed by the Tavistock Group, whose vision includes creating globally recognized clusters of excellence in health and well-being, sports and performance, education, and aerospace/aviation. Lake Nona's advanced infrastructure and commitment to collaboration have attracted visionary companies and startups from across the globe to join and turn cutting-edge ideas into realities. The community's "living lab" entrepreneurial environment allows companies to test and deploy transformative technology at scale in a real-world setting.
Lake Nona is CISCO's first iconic Smart+Connected city in the U.S. and features an advanced fiber and wireless 5G communications infrastructure ready for what lies ahead. Central Florida has one of the fastest growing workforces in the country, with a large subset of talented technology workers. Recognized as the Silicon Valley of the East Coast, Lake Nona is attracting commercial and business ventures keyed on innovation in multiple industries.
Both physically and virtually, Orlando is the most visited city in the United States and is one of the most connected mobility sites in the country. With an extensive roster of technology partners, Lake Nona is a world-class digital district that shines as a future-facing community built on sustainability, integrated technology, and well-being by design.
Here are just some of Lake Nona's many sites, features and amenities:
The Lake Nona Wave Hotel
This is what hospitality will look like in the future: technology is everywhere in this hotel. The hotel's guestrooms – where "art meets automation" – feature smart TVs, tablets with a digital concierge, voice and app enabled in-room controls, TOTO smart toilets, keyless entry, and View Smart Windows that predictively tint in response to the sun. Rosie, the robot butler, complements food and drink delivery at the hotel's signature restaurant, BACÁN. Aptly named in honor of the Jetsons' loyal housekeeper, Rosie uses 3D cameras and technology to navigate her designated area. The hotel also features a Technogym-powered fitness studio and over 12,000 square feet of tech-infused event space.
Verizon 5G Innovation Hub
The Hub is a dedicated space where 5G-enabled solutions can be developed and tested across a variety of industries in the community such as healthcare, technology, autonomous mobility, health and wellness, education, retail, and sports.
It is focused on wireless and all its future applications, partnering with businesses and organizations to explore new 5G use cases in the real world living lab.
The WHIT House
Wellness Home built on Innovation and Technology (WHIT) is a first-of-its-kind home designed to activate the latest health solutions and technologies in a real home environment. In WHIT, wellness features are all around you. The home features different technology showcases like the Sleep Sanctuary, Wellness Kitchen, dynamic lighting, and View Smart Windows in addition to latest technologies for fitness, rest and relaxation. The technology in WHIT is chosen to help guide you to create daily behaviors that can empower you to be your best self. WHIT is a living laboratory that demonstrates how a home can be the ultimate health-improvement tool.
Beep Autonomous Vehicles
Move Nona (powered by Beep) is the largest and longest running autonomous vehicle (AV) network at one location in the country, with multiple routes and shuttles connecting nearly 10 key destinations within the community. Expansion plans include more than 30 shuttles and more than 15 miles of multi-modal paths. Beep is actively developing the technology to support the safe operation of AV fleets in Lake Nona and in different deployments across the country. The company's high-tech Lake Nona headquarters is home to the Command Center, where Beep actively monitors its complete portfolio of autonomous projects to provide instant support to its service areas. The office also includes a showroom and Innovation Lab where collaboration with premier partners in the AV industry test and showcase their developments for next-gen autonomous mobility.
Lake Nona Aerotropolis
A key component of Orlando's aerotropolis, an airport-centric economic development region that harnesses the opportunities aerospace (airport/spaceport) can bring to a region, Lake Nona is attracting the world's top aviation companies to collaborate in its innovative business environment including dnata USA, SIMCOM Aviation and Training, BBA Aviation/Signature Flight Support and Lilium, which is building the country's first vertiport network with a hub in Lake Nona.
Lilium Vertiport
"The future of transportation has arrived." America's first high-speed, electric air mobility hub is coming to Lake Nona by 2025. Built in partnership with the City of Orlando and Lilium, the German aviation company developing an all-electric, vertical take-off and landing (eVTOL) aircraft, Lake Nona will be a hub for a state-wide urban and regional air mobility network.
Hitachi America Movement Analytics and Drone Integration
Hitachi America has implemented a Movement Analytics and Drone Integration strategy to better understand, improve and optimize movement within Lake Nona. The data-driven technologies analyze movement patterns of both people and traffic and formulate solutions on how to address and mitigate real-life traffic bottlenecks and mobility flow challenges. Looking to the future of design, Lake Nona aims to enable frictionless movement within the community.
Lake Nona Performance Club
This 130,000-square-foot facility provides a whole-person, evidenced-based precision approach to improving individual fitness, wellness and performance. This tailored method is implemented by a team of trainers, teachers, physicians, experts, rehab specialists and nutritionists that use a blend of traditional and innovative fitness technologies. Unique programs include Limitless Minds, co-founded by Super Bowl Champion Russell Wilson, the Chopra Mind-Body Zone founded by Lake Nona's long-time wellness ambassador Dr. Deepak Chopra, and a premier indoor golf training and performance lab from InClubGolf.
KPMG Lakehouse
This 800,000-square-foot corporate training facility is on a 55-acre site featuring state-of-the-art training and classroom space, 800 guest rooms and 15,000 square feet of amenity space, including fitness and outdoor recreation areas. It is an environmentally friendly, LEED Silver certified facility that used prefabrication for key portions of work, including SurePods factory-built bathrooms, the exterior curtain wall system, as well as many mechanical, electrical and plumbing components. The combination of off-site prefab and self-perform work reflects new construction methods that result in improved quality, schedule and project safety.
GuideWell Innovation Center
This site for health care innovation is designed to attract and foster startups working on the next health, wellbeing, or technology breakthrough. It is home to the University of Central Florida (UCF) Life Sciences Incubator, equipped with private wet labs, offices, and shared research facilities, and a state-of-the-art co-working space. Known as an East Coast hub for leading health and life sciences, Lake Nona is often called Medical City for its large medical facility footprint and research programs. These include the UCF College of Medicine and UCF Lake Nona Cancer Center, UCF Lake Nona Hospital, Nemours Children's Hospital, the Orlando VA Medical Center and much more.
Lake Nona is one of the exciting Innovation Tours offered at Realcomm | IBcon on June 13 in Orlando. It will also be one of several world-class smart districts featured at the Smart Building Best Practice Showcase as well as featured as a General Session segment. Register today and join us for these events and more!
This Week's Sponsor
Founded in 2017, BrainBox AI was created to address the dilemma currently facing the built environment, its energy consumption and significant contribution to climate change. As innovators of the global energy transition, BrainBox AI's game-changing HVAC technology leverages AI to make buildings smarter, greener, and more efficient. Headquartered in Montreal, Canada, BrainBox AI is currently deployed across 5 continents and 100,000,000 sq.ft. of commercial real estate. More info at brainboxai.com.
Read Next