News
Congratulations to Our Realcomm | IBcon 2021 Digie Award Winners!
November 11, 2021 | Realcomm Staff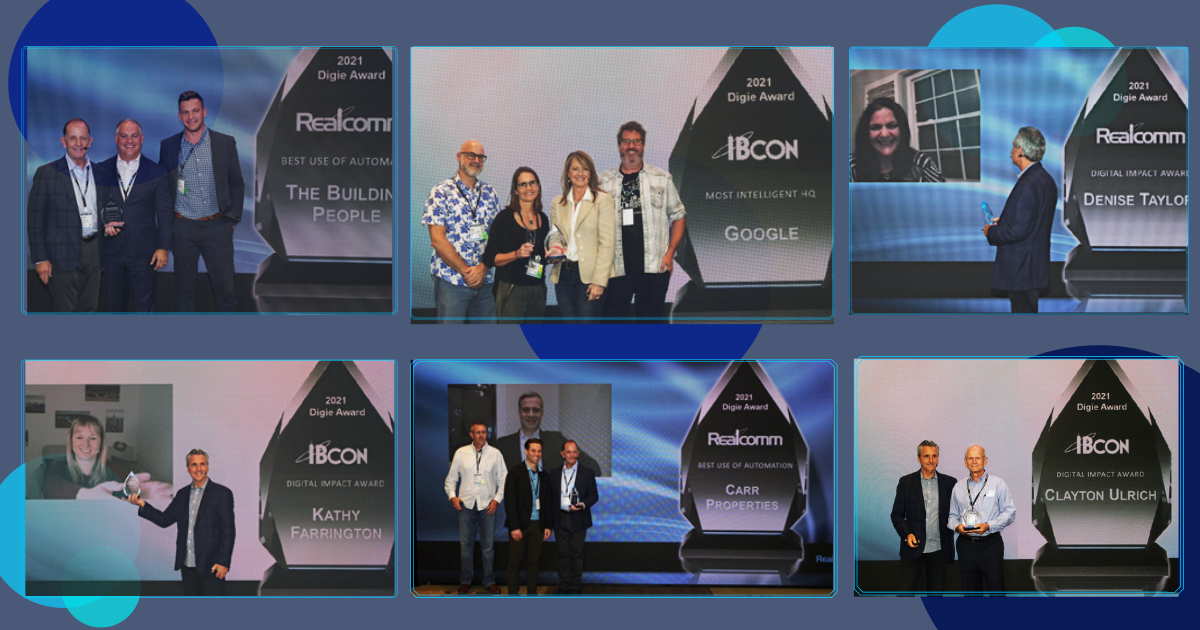 The Digie award winners were announced at Realcomm | IBcon 2021 on Nov. 2 at the Westin Kierland Resort in Scottsdale. For 23 years, these awards have recognized real estate companies, projects and people that have gone above and beyond to positively impact and transform our industry using technology, automation and innovation.
Following are the 2021 Digie award winners:
REALCOMM
BEST USE OF AUTOMATION
Property/Facility Management: The Building People
Founders were instrumental in developing the vision, strategy and implementation for the most comprehensive federal government smart building program in history
Strategic focus on developing a workforce with the talent and skills necessary to navigate 21st century real estate facilities operations challenges
Unprecedented commitment to innovation in the transformation of traditional facility and property management functions
Commercial Services: JLL
Successfully launched a number of new technologies to navigate industry uncertainty, including a BI platform and experience technology
Drives innovation internally and in the industry through strategic investments in PropTech, constantly optimizing business processes and delivering the highest level of service for their clients
Plays an instrumental role in identifying new hybrid workplace strategies that shape the future of real estate
Commercial Real Estate: Carr Properties
Innovation team dedicated to tirelessly explore state-of-the-art data, analytics and smart building technologies throughout entire portfolio
Demonstrates willingness to educate internal departments and share concepts and innovation with the industry at-large
Pushes the boundaries of wellness technologies, leveraging an ecosystem of healthy building technologies
Retail Real Estate: The Inland Real Estate Group
Fosters an innovation culture that promotes agility and creativity to address everyday challenges
Continuously reinvents its products and services leveraging technology to create meaningful experiences for their end customers
Embraces a digital strategy focused on automation and innovation-driven benefits to aid the business and its customers
Corporate Real Estate: LinkedIn
Promotes a corporate culture that values data-driven insights and encourages the use of innovative technologies
Continually applies learning and iterating to improve employee engagement and experience
Leveraged multiple data inputs to create a global workplace application with exceptional adoption providing insightful performance and engagement metrics
Investment Management: Invesco
Executive leadership and IT shared vision to drive organizational alignment around key IT projects
Comprehensive implementation of Yardi IM and Investor+
Created a comprehensive, integrated enterprise architecture and data model for back and front office investment management processes
BEST TECH INNOVATION COMMERCIAL/CORPORATE REAL ESTATE
Created a comprehensive data management and analytics platform incorporating a growing network of data partners
Innovative focus on creating enterprise data management and asset evaluation platform as a service
AI-enabled platform for sourcing and assessing potential investment opportunities
JULIE DEVINE DIGITAL IMPACT AWARD
Consistently willing to share both successes and challenges with the industry to advance the built environment
Tirelessly works towards integrating business operations and building technologies to drive process efficiencies and increase productivity
Valued as a consistent thought leader dedicated to raising the bar on industry best practices
Continuously pushes the envelope developing future-forward strategies and implementing cutting-edge technologies
Demonstrates passion and vision tackling large-scale projects and successfully navigates both the technological and change management aspects of digital transformation
Tirelessly shares her vision and experience with the industry and continues to offer her time and insight to others
LIFETIME ACHIEVEMENT AWARD
Marc Petock
Demonstrates an extraordinary commitment to improving real estate operations through technology
Recognized as a global thought leader in smart building operations technology and innovation
Passionately shares industry knowledge with peers, promoting the value of technology for the built environment
IBCON
MOST INTELLIGENT BUILDING PROJECTS
Office Building: RiverSouth
Uses technology to tailor the user experience for each occupant, providing completely touchless interactions from the point of entry to the tenant spaces
Integrated micro-movement sensors that track building temperature and minimal movement to analyze occupancy
Data collected from advanced sensors, camera analytics and Bluetooth beans allows locating active shooters and billing tenants for individual energy usage, among other applications
Office Portfolio: QuadReal
Embraces a sophisticated digital building infrastructure to realize the value of truly smart and autonomous buildings
Installed passive optical network (PON) technology to support IoT requirements and deliver unique and differentiating services to their customers
Ensures the highest level of security and overall mitigation of risk through their commitment and active efforts in advancing building cybersecurity
Corporate Headquarters: Google
Created an open, secure and digital infrastructure allowing for any device to support the applications and use cases for its buildings
Extreme focus and innovation concerning cyber for operational technologies and edge devices
Defined specific roles for both internal and external organizations as stakeholders in BOS and IoT initiatives
Retail: AT&T Discovery District
Downtown Dallas destination where some of the world's most leading-edge technology, culture and entertainment combine to create unique experiences
Powered by 5G, the plaza connects the surrounding buildings through unique interactive experiences that fuse art and technology
Features a massive 104 ft., 6K media wall that brings digital art and media to life on a building facade
Digital District: Vinhomes Techno Park
420 acres of Live-Work-Play-Shop-Learn billed to platform, including a smart office building, TechnoPark Tower in Hanoi, Vietnam
Vinhomes' comprehensive smart city intelligent ecosystem is based on four core pillars: smart security, operations, community and real estate
AI and ML protocols detect a wide range of scenarios including injured tenants, weapons, suspicious persons, kidnapping, and more
Industrial: Prologis
Created Prologis Labs which serves as an incubator for new ideas, products and services that can generate new revenue streams, while reducing expenses and risk for customers, investors, partners and communities
CEO who "gets it" with aggressive technology initiatives driven "top down" by executive leadership
The clear leader in vision and innovation in industrial real estate
Multifamily/Residential: 303 Battery
Instituted touchless access for optimum occupant experience
Leverages Digital Twin, bringing together data from design, supply chain, construction, building operations, financials and historical performance data enables digitally modeling and tracking every aspect of the building
Deploys an Infrastructure ecosystem designed to plug and play with any commercially-available advanced mechanical, energy generation, or energy efficiency technology
BEST TECH INNOVATION
Hybrid Immersive Experience: Convene
Effortlessly combines its physical locations equipped with large LED displays with hybrid event technology
Implemented a hybrid AV including newsroom-quality cameras, lighting and technology facilitates immersive experiences for onsite and remote attendees
Well versed, creative and open minded staff passionate about innovation
Wellness Tech: Aura Air
Detects, captures and kills 99.9% of viruses, bacteria, mold and VOCs
Designed for indoor spaces, including high-traffic areas, it removed airborne particles as small as 0.3 microns, including allergens and viruses
Interactive dashboard provides smart air insights on real-time indoor and outdoor air quality, as well as high-risk scenario prediction
Intelligent Buildings: ThoughtWire
Maximizes operational efficiency and minimizes carbon footprint through their smart buildings co-platform
Open architecture provides interoperability and the ability to integrate tomorrow's technologies
Leverages a proprietary sense-think-act cycle that continuously updates the operational digital twin with physical and contextual data in real time
JULIE DEVINE DIGITAL IMPACT AWARD:
Demonstrates vision inside a large organization that is on par with smaller more agile organizations
Has created an environment where smart buildings have become an integral part of the culture
Pushes the industry by example, tirelessly sharing her vision, passion and experience with the industry
Valued and respected smart building leader and visionary on technologies impacting the built environment
Consistently willing to share both successes and challenges and continues to offer his time and insights to others
Brings an RE executive perspective on innovation to the built environment, promoting technology to his peers
Congratulations to the 2021 Digie Award winners and nominees for your contributions in positively impacting and furthering our industry!
This Week's Sponsor
YardiŪ develops and supports industry-leading investment and property management software for all types and sizes of real estate companies. Established in 1984, Yardi is based in Santa Barbara, Calif., and serves clients worldwide. For more information on how Yardi is Energized for Tomorrow, visit yardi.com.
Read Next