Feature
Global Smart Buildings and Districts Inspire Innovation
October 7, 2021 | Tina Danielsen, Sr. Writer, Realcomm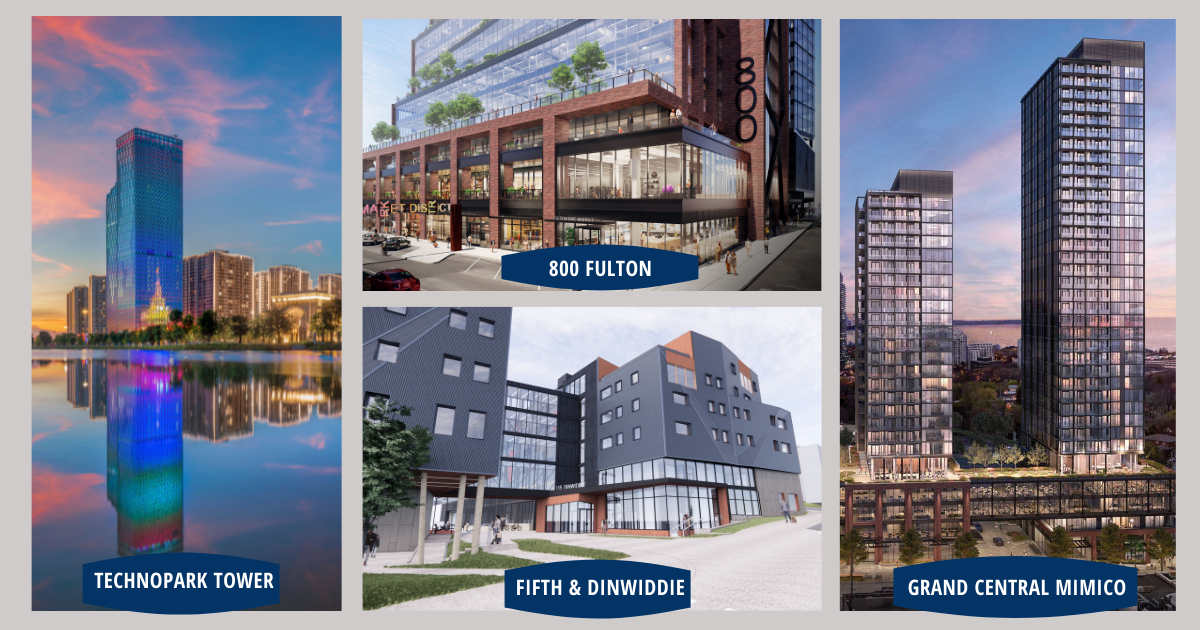 We are fortunate to be alive at a time when technology is enabling some of humanity's wildest dreams. (Commercial space travel, anyone?) It's also inspiring to see the great innovative work being done by the best and brightest in the building industry. I recall in 2015 when the Edge Amsterdam was named the smartest building in the world. Since then, there have been many such designations and new certifications established to definitely measure such claims. There are so many types of intelligent buildings, whether they are historical retrofits, office towers, corporate campuses, universities, scalable portfolios or full districts and smart cities.
Building innovations that began as ways to become more sustainable and energy-efficient evolved to encompass multiple systems integration and predictive technologies. We then moved on to an explosion of market technologies like sensors with diverse uses, the IoT, edge devices, digital twins and augmented/virtual reality. In 2021, many innovators take the holistic view of user-centered design with an aim toward community-building. This is the umbrella under which digital transformation goals are planned. I find this incredibly encouraging from a human standpoint.
This design perspective is manifested by intuitive, interactive buildings and sustainable, walkable, efficient communities. Adaptive to human needs and desires, these districts are also attractive sites for business and tech development. The synergistic nature of multiple integrated technologies naturally brings companies together for ongoing research and development. While many of us have gotten used to "working from anywhere" there are many companies showing the way to better, healthier office buildings and living spaces for the future. Data-designed and data-driven, these smart sites offer a wide range of technologies to enhance operational effectiveness (and value) and overall user experience.
Some examples include:
800 Fulton by Thor Equities: Chicago
This LEED Platinum and WELL Certified Class A office site is earning the title of Chicago's smartest building. It is delivering the workplace of the future with technology-first construction combining connectivity, intelligent technologies, and health and wellness solutions. While many of the technologies in 800 Fulton's design aren't new, master system integration to create connected intelligence brings innovation never before seen in Chicago's market. Its features include a tenant experience app, occupancy sensors, app-integrated visitor management system, indoor air quality monitoring, intelligent restroom systems, touchless elevators, and DAS cell coverage. In total, 12 building systems and sensors with more than 8,000 data points converge into a unified building analytics software, enabling management to leverage machine learning to streamline operations and efficiency.
Master system integrators guided design and construction processes to ensure long-term building management success, addressing smart building goals cohesively and effectively from construction through occupancy. Selecting best-in-class equipment and controls based on open protocol communication standards and the latest in smart sensor technology were key factors in the building's success. All installed systems are ultimately integrated into a single-pane-of-glass so operators can maintain energy efficiency and occupant comfort throughout operation. The building, at 500,000 square feet, has the highest designation for indoor air quality, HVAC, water use and energy efficiency. Carrier-neutral data systems offer choice and flexibility for tenant tech needs and the building analytics software provides building intelligence that increases employee productivity, retention and attraction of talent, health and wellness along with energy and maintenance savings.
TechnoPark Tower by Vinhomes: Hanoi
TechnoPark Tower is a smart office building located in Vinhomes Ocean Park, the newest smart city in Vietnam. Ocean Park has transformed over 420 acres into a thriving community that represents the Live – Work – Play – Shop – Learn ecosystem. TechnoPark Tower was designed as an international beacon of efficiency with aggressive goals toward net-zero emissions. Built to exceed LEED Platinum standards, it is one of the few buildings in Asia to be designed and operated according to this most rigorous criteria. It is equipped with a wide range of smart features with the goal of becoming one of the top 10 smartest buildings in the world.
The site has a 3,000 square meter solar panel structure, which floats on an adjacent lake and provides up to 600kWp electrical energy to supplement the building's power requirements. The building's exterior incorporates 26mm thick Low-E energy-saving box glass that effectively prevents heat transfer in or out on every floor. Nearly 3,000 motion sensors detect the absence of movement to automatically turn off lights and dim lighting in parking areas to minimize wasted energy. Rainwater systems collect water in storage tanks, used to irrigate garden areas. More than 75% of the workspace was designed to take advantage of natural daylight illumination for human health and wellness and to save energy. Tenants receive energy credits for offsetting the energy draw on indoor lighting; every tenant space incorporates sub-metering to monitor energy consumption.
Over 8,570 sensors monitor temperature, humidity, CO/CO2 concentrations, human movement, water flow, gas, and lighting. Indoor air quality (IAQ) is constantly monitored and optimized.
In-building mobile requirements are provided by a distributed antenna system (DAS); additional coverage is provided by small cell site vendors. An office application promotes digital interaction between tenants and management team. The app is used for everything from guests/building access and parking to ordering food, taking the electric VinBus and eliminating wait times for meetings and events. TechnoPark Tower encourages tenants to use environmentally friendly vehicles, with charging stations for cars and mopeds, along with over 600 bicycle storage areas to promote an energy efficient, healthy working environment.
TechnoPark Tower will quickly join the elite group of the world's smartest buildings alongside such structures as the Edge in Amsterdam, Salesforce Tower in the United States, and RBC Waterpark Place in Canada, sharing numerous smart building metrics in common with these iconic buildings.
Grand Central Mimico by Vandyk Properties: Toronto
Grand Central Mimico™ is a master planned smart community comprised of over two million square feet of mixed-use development. Planned for completion in June 2024, it is designed under the concept of transit-oriented communities that promote sustainable transportation. The all-inclusive neighborhood will feature a new modern reconstruction of the Mimico GO station, with integrated access points to new mixed-use buildings; residents are at the center of everything, connected to downtown Toronto and the future Ontario Line for "convenience without a car." A landscaped plaza, pathways, permeable pavement, green streets, green parking and green roofs will create a sustainable, resilient environment that's healthier and more adaptable to climate changes.
Other smart attributes include integration of all base building systems and services, advanced HVAC control, retail mall integration and security best practices.
The residential area is integrated with Vandyk's Smart Connect™, a smart community technology system. Each suite comes equipped with full smart home functionality, supported by an in-suite wall pad, digital door lock, and smartphone app, allowing residents to control and connect from anywhere. Smart home function is extended through unique community services that include automated license plate reading, automated package delivery, car share, digital marketplace, smart car charging and family care.
Fifth & Dinwiddie by Bridging the Gap Development: Pittsburgh
Located in Pittsburgh's EcoInnovation District, Fifth & Dinwiddie models a multipronged approach to sustainable design. A mixed-use, mixed-income development, the site will offer commercial office space, coworking space, housing units and retail space. Its Passive House design strategies will help reduce energy consumption by 70% compared to the regional average for its building type. The development will be net-zero ready but is striving for full net-zero energy with the inclusion of rooftop solar arrays.
Beyond Passive House certification, the project will prioritize occupant health, tracked through Fitwel and RESET Air Certification. RESET will ensure indoor air quality with real time monitoring based on the first-ever RESET Air multi-family typology. Fifth & Dinwiddie will also be the first integrated digital twin of this type that combines simulated data and trended data to enable advanced data analytics. The project teams were aligned from the start on the data-centric model.
The design includes a converged OT network for all technology associated with this multi-tenant office and multi-family construction project, with an open data lake resulting in single-pane-of-glass for all time-series operational data. Believing that aspirational design is not enough, Bridging the Gap and their teams planned for "straight out of the gate" effectiveness and measurable performance. An on-site clean energy jobs program keeps the community focused on training, education and improvement.
Slated for completion in summer 2023, BTG is breaking through the inertia of the status quo to drive deep innovation. This is the future of sustainable construction, where developers balance first-costs with aggressive building performance goals and long-term operating costs to achieve attainable, sustainable, tech-enabled housing.
Learn more about this and discover other smart building projects, buildings, campuses, districts and portfolios at the Smart Building Best Practice Showcase at Realcomm | IBcon which will be held on Nov. 2-3 (Golf Outing: Oct. 31 | Precon: Nov. 1) at the Westin Kierland Resort and Spa in Scottsdale, AZ. Register today!
This Week's Sponsor
We help customers See Beyond What's Next with cloud-native ERP real estate management solutions for office, retail, industrial, and residential owner operators. REMLogics is built on a modern no-code ERP platform so customers can continually innovate and respond faster to the ever-changing real estate and technology landscape. To learn more visit www.remlogics.net.
Read Next