Partner Content
The Future of Corporate Real Estate – Building a Growth Mindset
June 3, 2021 | Sabine Ehm, Thought Leadership & Research Manager, Locatee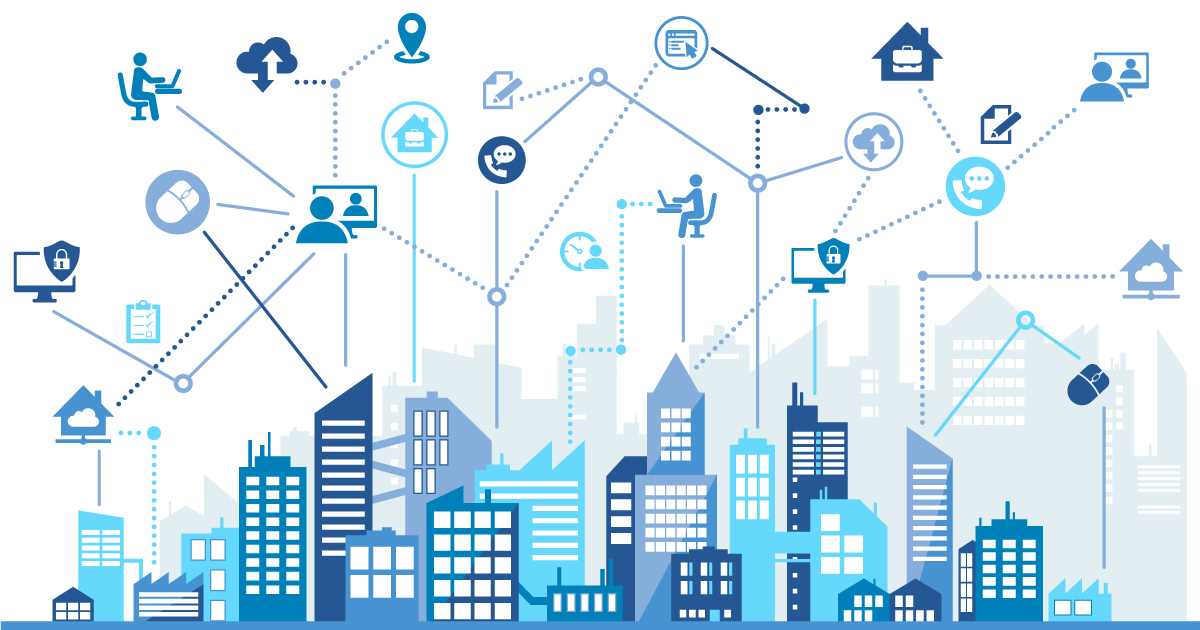 As was the case for many industries, 2020 was a cataclysmic year for corporate real estate management. We saw the widespread adoption of workplace strategy trends - such as activity-based working and virtual meetings - take place practically overnight. While they were extant for decades as solutions mainly embraced by innovative minds and an early majority, only when the first lockdown hit us did the adoption curve really pick up. We made years of advancement in digital transformation within the matter of weeks, all because COVID-19 necessitated it.
What we saw during the last year was the world's largest remote-working experiment. There was no expectation of perfection; businesses had no option aside from trial-and-error on a big scale. Since then, we've gained a much better understanding of remote work, and the power - and limitations - of our tech.
With this understanding forced upon us, we're seeing changing expectations of work and how it can and should be conducted. In the context of corporate real estate, new working models will form, which will in turn lead to a transformation in space demand.
Research and interviews conducted during the last 12 months have revealed that many look forward to returning to the office space in some capacity. Many experts and leaders have touted the idea of a hybrid office world, or splitting work between home, the office, and third spaces. The onset of a second pandemic wave in Europe put that on hold once again, so everything we know about the workforce's interaction with their office space is still very much in flux.
In an unprecedented twist, corporate real estate has been thrust into the limelight. All of a sudden, C-suites and executive teams were clamoring to move staff to remote work setups and ensure essential workers could perform their jobs in safe and legally compliant conditions. As knowledge workers, we cannot forget that CRE concerns more than just office and office employees, but also includes factories, warehouses, laboratories, and their staff. Space occupancy and usage became a business-critical topic.
During this time, we've seen the gap closing between teams that traditionally have little to do with one another, such as HR and IT. We've also seen a need for CRE profiles to upskill, expanding their scope of work beyond cost and asset management in accordance to the changing value and relevance of the workplace.
Previously, workplace performance was mostly measured in terms of density and cost metrics. With the recent turn of events, even some of the most cost- and space-efficient buildings have become essentially useless. Therefore, the human factor will become a primary focus of workplace managers.
We'll be looking increasingly at the human-centricity of offices and put more weight on performance metrics which take these aspects into account. CRE managers will not just want but need to find out what attracts employees to the office, where work is being done, and in what manner. Companies will need to evaluate whether their pre-COVID portfolio is still the right setup in 2021 in terms of supporting human capital, attracting new talent, and fostering a productive working environment. The notion of the workplace being a shaper of employee experience and company culture is not new knowledge, but it will be a much more prevalent topic in the coming years.
Managers in particular are faced with the additional challenge of transmitting the "water cooler sensation" - the ritual of chats by the water cooler or coffee station, the community, the sense of belonging - while employees are working remotely. Overall, there is a lot of opportunity to finally break free from old stigmas and preconceptions weighing down the corporate world, but this will require companies to make mindful decisions that are no longer based solely on cost factors.
Understanding the motivation for people to come into the office will be of large interest to corporate real estate managers. We're already starting to see a key learning crop up in industry conversations: in the absence of a physical common office, workers are realizing its importance for creating communal, communicative, and collaborative experiences. With that said, it will be crucial to understand the who, what, when, where, and why of these human experiences that are so dependent on corporate real estate.
There is an opportunity for CRE executives to leverage the space utilization data available to them and marry their findings with insight from more qualitative surveys. When it comes to technology, there is increasing interest in predictive analytics that are able to anticipate employee needs as well as support corporate real estate decision-making. We may also see an increase in benchmarking, that is, more comparative metrics between regions and countries to confirm or reject new workplace initiatives and constitutions.
Currently, one of the biggest challenges is that corporate real estate executives are not fully enabled to implement the right technology and digital tools in time to support their business-critical needs, as the majority of CRE organizations do not have budget responsibility. In addition, the urgency brought on by the pandemic has made key decision makers myopic: a lot of the attention is going to short-term reactivity, but leaders still need to strategize for the long-term and opt for solutions that will support future use cases.
CRE managers will need to refer to an increasing amount of data: Starting with extrapolating from existing data sources which require minimal set-up effort and moving to implement additional technology to bridge the data gaps identified. On top of that, data without a logical narrative is near useless. So, the ability to read from data sets and draw the right conclusions will need to be nurtured.
Finally, we will need to acknowledge that the office must be seen as a work in progress going forward. It will be the playground to test the future. In that sense, CRE managers will need to adopt a growth mindset, be open to experimenting and meticulously assess outcomes in workplace data to define drivers for employee wellbeing and productivity in the workplaces provided.
This Week's Sponsor
Locatee is the leading workplace analytics solution that transforms complex data into space utilization insight. Developed with a strong focus and a deep understanding of the corporate real estate challenges facing the modern world of work, Locatee empowers leaders and managers to make decisions about their business buildings with confidence.
Read Next