Feature
RE Developer JBG Smith Acquires CBRS Spectrum to Establish National Landing as First 5G Smart City
March 18, 2021 | Realcomm Staff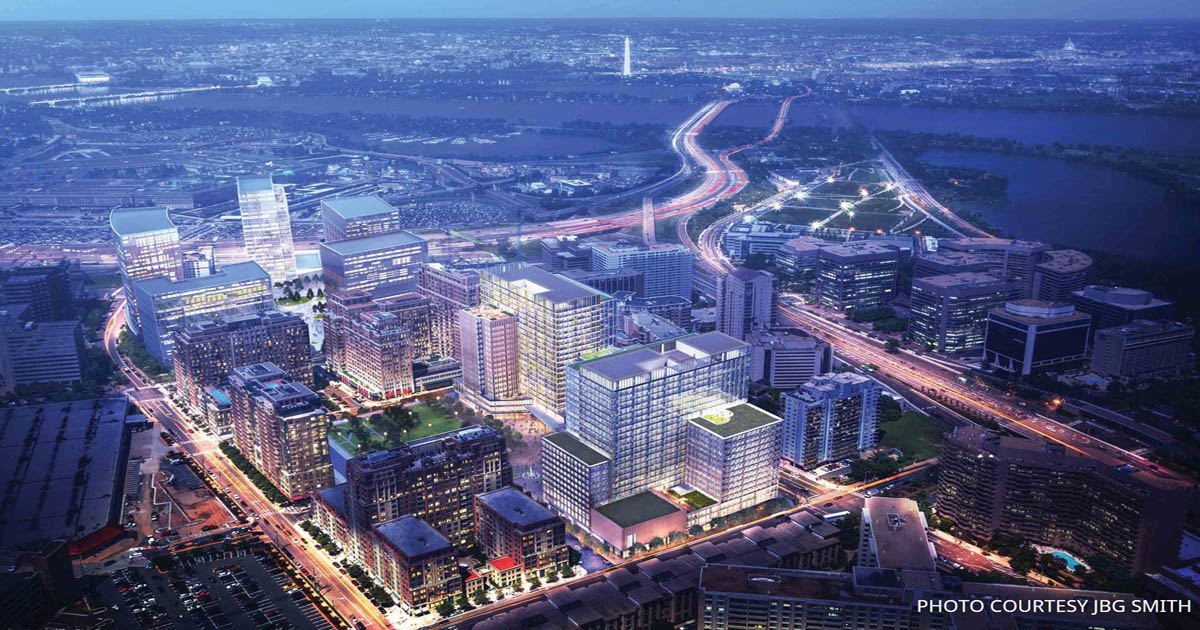 As part of an initiative to establish National Landing, a premier mixed-use urban community in Northern Virginia, as one of the first 5G hubs in the U.S., JBG Smith has acquired seven blocks of Citizens Broadband Radio Service (CBRS) spectrum for $25.3 million through a national auction. It also acquired a total of seven Priority Access Licenses stretching across Arlington County and the City of Alexandria. These licenses will span over 16.2 million square feet in National Landing and the Potomac Yard.
Known as the Citizens Broadband Radio Service (CBRS) band in the U.S., the 3.5 GHz PALs auction offered the first auction of mid-band spectrum for wireless carriers' 5G services. CBRS spectrum also is expected to greatly increase the number of private networks in the U.S., and expectations are high for a healthy secondary market as PAL licensees seek to lease their spectrum to other entities.
The CBRS auction was unique in a number of ways, including the fact that many qualified bidders included non-traditional auction participants thanks in part to the smaller size of the licenses. Utilities, rural service providers, universities and others joined wireless and cable service providers in bidding.
National Landing is a mixed used complex that covers 4 square miles, which spans all the way from legacy Pentagon City in Arlington, down to Alexandria where Virginia Tech's campus is coming up. It will be anchored by Amazon's second headquarters sized at more than 4 million square foot and Virginia Tech's Innovation Campus valued at $1 billion. JBG Smith is the developer and master planner behind the 6.3 million square feet (about half the total floor space of the Pentagon) of multifamily and office space. The interconnected, largest walkable neighborhood encompasses Crystal City, the eastern portion of Pentagon City and the northern portion of Potomac Yard. Adjacent to Reagan National Airport, it is situated across the Potomac River from Washington, D.C.
The investment in CBRS spectrum accelerates JBG Smith's ability to partner with leading service providers to bring 5G and other technology infrastructure within the district. This robust technology infrastructure, highly privatized and secure, enhances National Landing's digital capabilities. It will allow enterprises to connect everything and everyone in real time and transform customer engagement and experiences.
"The push for faster internet capabilities is due in part to the company's desire to attract cutting-edge tenants and to lay the foundation for a broader smart city," said Evan Regan-Levine, the executive vice president of strategic innovation at JBG Smith. "Our investment in next-generation connectivity infrastructure will further cement National Landing as a premier global destination for entrepreneurs, universities and global technology companies to ideate, innovate and scale globally."
Digital placemaking is the DNA
for this mixed-use development by creating a more dynamic, walkable and human-scale neighborhood. It is animated by parks, public plazas, live events, markets, bike paths, a diverse array of shops, restaurants, entertainment venues and other lifestyle amenities. The key is strategically mixing high quality multifamily and commercial buildings that are designed to be flexible and responsive to shifting tenants' preferences.
There are reports that both public and private sectors are investing more than $4 billion into the transportation network to meet the needs of current and future tenants, residents, employees, students and visitors. The urban center will be one of the most connected in the region featuring three Metrorail stations, two major highways, miles of on-street bike lanes and off-street trails, commuter rail and bus rapid transit.
'The Helix,' the crown jewel of Amazon's PenPlace, will be wrapped in a vertical hiking trail that you can climb to the top. This amenity building will complement the three 22-story LEED Platinum office buildings. The new model in sustainability will utilize a rainwater reclamation and reuse system. Both PenPlace and Amazon's Phase 1 Metropolitan Park will be powered by a centralized electric heating and cooling system that will run completely on renewable energy from a solar farm in southern Virginia to help Arlington meet its ambitious clean energy goals and become carbon neutral by 2050.
The Virginia Tech Innovation Campus' first academic building is designed by SmithGroup. It features a gem-shape design centered on the principles of sustainability, health and wellness, green and social spaces, accessibility, connectivity, flexibility and integrated technology. It is designed to achieve LEED Silver certification from the USGBC. The building will include a space frame to allow for a rooftop solar array, while plans incorporate photovoltaics directly into the glazing system throughout the facade.
In addition to its projects in partnership with Amazon and Virginia Tech, JBG Smith has 274,000 square feet (about the area of the Lincoln Memorial Reflecting Pool) of mixed-use development under construction. Work is expected to commence on another 800 units of multifamily development in National Landing in the coming months.
Watch  Realcomm Live on April 9 featuring Vardahn Chaudhry, VP, Smart Cities of JBG Smith, who will share project highlights and how the vision for National Landing came about two years ago and has evolved as a new tech and innovation blueprint for the smart city of the  future.
This Week's Sponsor
Yardi® develops and supports industry-leading investment and property management software for all types and sizes of real estate companies. Established in 1984, Yardi is based in Santa Barbara, Calif., and serves clients worldwide. For more information on how Yardi is Energized for Tomorrow, visit yardi.com.
Read Next