Partner Content
Flattening the Curve: What COVID-19 Can Teach Us About the Other Global Problem - Climate Change
October 29, 2020 | Sam Ramadori, President, BrainBox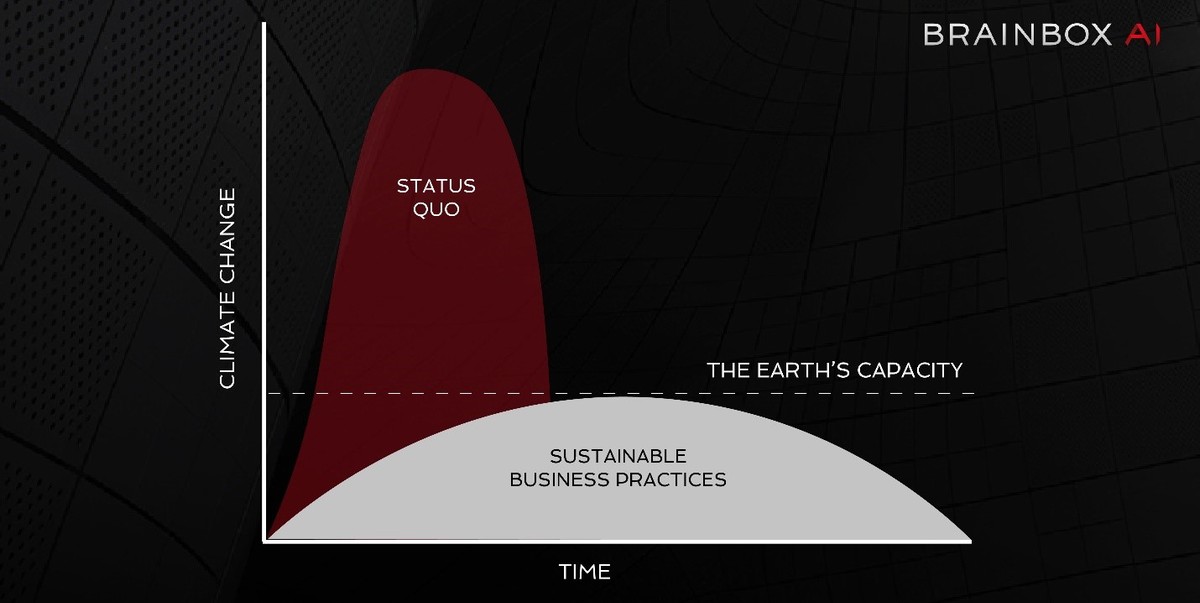 The phrase "flattening the curve" will be ingrained in our minds for years to come thanks to the COVID-19 pandemic. Without a doubt, COVID-19 has taught us a lot about the importance of acting promptly and proactively in the face of global-level risks. Whether it be a pandemic or climate change, the results of being reactive have been clearly presented to us – and they aren't pretty.
Faced with these global challenges, it is clear that the longer we wait to act, the more challenging and costly it will be to fix the problem. This relationship is on a logarithmic scale, not a linear one, so speed and impact matter.
The silver lining is that the pandemic has shown us that communities are able to act with urgency and in a coordinated fashion to avoid mass infections and the overloading of our healthcare systems. Few, if any of us, would have believed that we could shut down entire countries and put precautionary health measures in place in a matter of weeks to stop the spread, and yet here we are. There are powerful learnings we can take from these measures and the COVID-19 pandemic that can help us overcome or even prevent future global crises.
In the real estate sector specifically, "business as usual" is a luxury we can no longer afford as buildings are a main driver of climate change's steepening curve. In fact, according to the 2018 World Economic Forum CRE Sustainability Report, real estate uses more energy than any other sector in the world and is a growing contributor to CO2 emissions. It accounts for over 40% of global energy consumption annually and 20% of total global greenhouse gas emissions. So, how can we apply these recent COVID-19 pandemic learnings to help us disrupt the status quo and more rapidly address sustainability in real estate?
Here are three key lessons we can take away from the global pandemic:
Lesson 1: Investing in technology can dramatically improve the speed of change
Technology has consistently proven itself to be a key factor in overcoming complex challenges, and the current pandemic has made this clearer than ever. It is to be commended that experts in various disciplines have come together at a global level to find ways to support communities and healthcare systems through these trying times. In many cases, technology was at the core of the solutions presented by these experts. For example, the COVID-19 pandemic has led to the introduction of many technologies such as AI-powered smart helmets to detect anyone with a fever within a five-meter radius, an occupant system that anonymously tracks occupancy in buildings and triggers alerts when safe limits are exceeded, and telemedicine apps that measure and monitor vital signs associated to COVID-19 in real-time.
This drive for innovative and high impact solutions needs to continue beyond the current COVID-19 crisis. Exciting technologies have been developed for the built environment, and more than ever real estate owners can rapidly test and adopt cleantech solutions in ways that do not involve large financial commitments, long timelines, and permanent changes to their buildings. In fact, many of these green solutions drive attractive financial returns, so gone are the days where "going green" means shelling out large amounts of capital with long payback periods. We at BrainBox AI are excited to be contributing to this technological leap via our autonomous AI-driven technology, which delivers a significant decrease in a commercial building's energy consumption, creating both financial and environmental benefits, without forgoing the comfort and health of occupants.
Lesson 2: Collaborative, community-wide action is far more impactful than individual action
Individual action is important, but progress made at the community level drives the most impactful change. We have witnessed countries act with varying levels of coordination and decisiveness to combat this pandemic, and the difference in outcomes has been stark. Rapid decision-making and community-wide implementation of precautionary measures have proven to be the most effective approach in controlling the spread of the virus.
Much like COVID-19, climate change affects us all—while some areas of the world might be more vulnerable than others, no region is immune to its effects. We have proven to ourselves through this pandemic that we can act on a global scale to solve a global problem.
The analogy for the real estate sector is the current approach of improving one building at a time using slow-to-implement and costly solutions, versus being able to roll-out high impact technologies across large real estate portfolios in a matter of weeks – again, speed and impact matter. The latter approach implies an industry-wide effort to make a step change in the sustainability of buildings, from design and material selection in new buildings to energy performance in the built environment.
Lesson 3: Set yourself up to be adaptive to a rapidly changing environment
Remaining stagnant is not an option. COVID-19 has taught us to adapt quickly to reduce the spread of the virus on our communities. Crystal balls are in very short supply, especially accurate ones. No one could have predicted what we are living today, just as no one can predict what challenges and events will change fundamental aspects of daily lives tomorrow. We must put ourselves in a position to react nimbly to constantly evolving environments.
We may not know what is on the horizon for the real estate industry, but we will see the emergence of the now often cited "new normal" that will likely include novel challenges such as varying building occupancy rates and a heightened awareness of health and safety issues. In the past, air quality may have been one of many criteria that tenants applied in their assessment of building performance. Today, health and safety have taken on a new meaning, and building owners are now taking drastic measures to improve air quality through air-purification technologies and more aggressive air change metrics.
The challenge is that these changes substantially increase energy consumption, effectively rolling back the clock on years of work trying to reduce energy consumption and improve a building's carbon footprint. Health & safety and energy efficiency cannot be seen as mutually exclusive. We have to innovate to harmonize these objectives in the commercial real estate setting in order to avoid setbacks in sustainability initiatives undertaken in the last years. Implementing technology that can adapt to the changing needs in a building is now more crucial than ever.
COVID-19 has been challenging, but it has also given us the opportunity to reassess how we run our businesses in the face of a new reality. As a community, we came together to fight the virus headfirst to flatten the infamous curve. It is time we do the same for our planet.
This Week's Sponsor
BrainBox AI was created with the goal of redefining building automation through artificial intelligence to be at the forefront of a green building revolution. BrainBox AI's deep learning solution enables the HVAC system in a building to operate autonomously, in real-time, generating up to a 25% reduction in total energy costs. Since its launch in May 2019, BrainBox AI has installed its self-learning AI HVAC technology in over 25 million square feet of commercial properties, across 3 continents. BrainBox AI supports real estate clients in numerous sectors, including office buildings, airports, hotels, multi-residential, long-term care facilities, grocery stores as well as commercial retail, and works in collaboration with research partners including the US Department of Energy's National Renewable Energy Laboratory (NREL), the Institute for Data Valorization (IVADO) as well as educational institutions such as McGill University.
Read Next