IBCON "DIGIE" AWARDS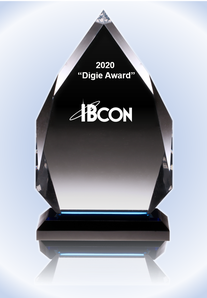 Realcomm has been presenting the Commercial Real Estate Digital Innovation "Digie" Awards since 1999. These awards recognize those who are improving the commercial, corporate, government and institutional real estate industries, which must manage an inordinate amount of information, systems and business processes to operate. This data intensive, manual, mostly disconnected environment provides the perfect opportunity for innovation that can radically transform how we do business.
In 2012, we created separate award categories for Realcomm and IBcon to more clearly address the difference between automating real estate business processes and creating intelligent building systems, buildings, portfolios and cities.
IBcon has grown to become the world's most comprehensive and leading-edge discussion on the next generation of smart, connected, high-performance, green, sustainable, intelligent buildings. This event is not about the traditional one building, one system, one vendor smart building of yesterday, but rather the open architected, interoperable, integrated, IP, IT centric smart buildings of tomorrow. For this reason, we recognize those who are leading the charge in shaping the future of smart buildings.
Most Intelligent Building Projects
This award will go to those extraordinary examples of buildings, projects and communities that best demonstrate smart, connected, high performance intelligent building concepts in the following categories:
City/State
College/Campus
Corporate Campus
Corporate HQ
Mixed-Use Projects

Multifamily/Residential
Office Building
Office Portfolio
Retail
Specialty
Best Tech Innovation Intelligent Buildings
Each year, we witness a host of new solutions developed for our industry. For the smart buildings, portfolios, campuses and cities, these include energy reduction, operational efficiency, sustainability, enhanced occupant experiences and financial optimization. This award will recognize the most innovative new idea/ technology/product/service for the smart, connected, high performance, intelligent building marketplace.
Digital Impact Awards
Changing the Commercial, Corporate, Government and Institutional Real Estate industry into a digital model is not an easy task. For years, the innovators have struggled to get acceptance by an industry that has been doing things the same way for a very long time. However, given the size and scope of the impact our business has on the US and International economy, combined with the fact that our systems are terribly inefficient, these visionaries have not given up. This award is designed to acknowledge those individuals who saw things ahead of their associates, had the courage to leave the mainstream and the tenacity to keep standing up after many failed attempts. History proves that we cannot accomplish major change without these innovators and for this they need to be recognized.
LIFETIME ACHIEVEMENT AWARDS
Celebrating 20 years in 2018, Realcomm created this award to acknowledge the visionaries in our community. This year, we are looking for two individuals that meet the following criteria and have: 1) A career span of 20+ YEARS focused on Real Estate, Technology or Real Estate Technology; 2) Demonstrated a clear VISION on how technology would strategically impact the industry; 3) Consistently SHARED their time and experience with the community; 4) Willingness to take significant RISKS in the name of innovation; and 5) Made a definite positive IMPACT to the advancement of the Commercial and Corporate industry.
NEW! REAL ESTATE TECHNOLOGY – YOUNG INNOVATORS AWARD
For over 20 years, we have been giving awards to those individuals, companies and projects in the Commercial and Corporate Real Estate industry that have innovated using technology and automation. This year we are adding the "Real Estate Technology – Young Innovators Award." This award will focus on young professionals who are beginning to make significant impact to our industry through the use of technology. We will be presenting two awards, one for Realcomm (Real Estate Enterprise and Information Management) and one for IBcon (Smart, Connected, Intelligent, High-Performance Buildings).