Thank You From the IBcon Team!
5 Days, 20 Countries, 1,600+ Attendees, 150+ Sponsors abd Exhibitors, 100+ Education Sessions, 225 Speakers
That's a wrap!!
The IBcon | Realcomm 2017 conference, one of the most powerful gatherings for the commercial and corporate real estate, facilities and technology industries, was held June 12-16 in San Diego, . The event brought together leaders from more than 20 countries, including Canada, Australia, Singapore, China, India, Germany, South Africa and many more. The turnout was remarkable and there was an undeniable buzz of energy, both of which contributed to one of the most successful events ever!
Watch the Conference LIVE Videos!
Conference LIVE was once again a highlight of this year's Realcomm | IBcon conference! More than 50 commercial and corporate real estate, facility and operations professionals, as well as system integrators, consultants, suppliers and technology solutions providers joined the discussion on how technology, automation and innovation continues to impact how we design, lease, operate, transact and use real estate.
Some of the many interviews include:
Jason Dely - Cylance - Cybersecurity in 5 Years
Max Crowley - Uber - The Impact of Ridesharing on Real Estate Development
Scott Collins - Bedrock Real Estate Services - Smart Buildings in Detroit
Kirsten Billhardt - Dell EMC - The Next 24 Months of Building IoT
Mike Hess - Panasonic USA - Denver's Smart City Project Vision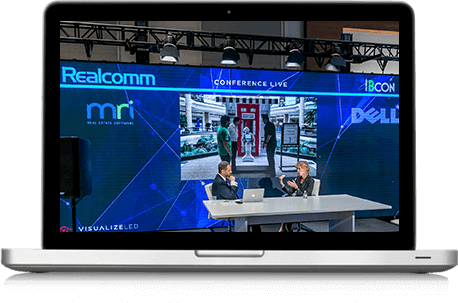 Watch the Videos!