Program Overview
The CoRE Tech education program is designed to give CORPORATE REAL ESTATE DIRECTORS, CIOs, FACILITY MANAGERS, BUILDING ENGINEERS, ENERGY and SUSTAINABILITY EXECUTIVES, PORTFOLIO MANAGERS and ASSET MANAGERS the technology tools they need to positively impact the bottom line of their companies — from automating business processes to general technology solutions specifically for Corporate Real Estate organizations to smart building technologies.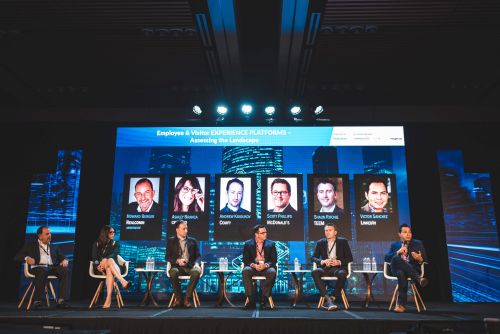 CoRE Tech 2019 Program Topics:
From Hype to Reality — DIGITALLY TRANSFORMING the Corporate Real Estate Enterprise
The Journey Continues — Creating a Comprehensive SMART BUILDING/CAMPUS STRATEGY
Technology as an Enabler — Delivering an Impactful DIGITAL EXPERIENCE to Employees and Guests
FLEX SPACE and COWORKING — Where Does it Fit in Your CRE Portfolio Strategy?
Setting the Foundation — Developing a Corporate Real Estate Enterprise DATA STRATEGY
Convenience & Efficiency vs. Surveillance — Defining PRIVACY in Highly Connected Buildings
The Next Chapter in the Smart Connected Building Journey — AI ENABLED buildings
ENTERPRISE ARCHITECTURE — The Digital Infrastructure Fundamental to Organizational Convergence
Agile, Experiential and Efficient — The OFFICE OF THE FUTURE has Arrived
SMART BUILDING RETROFITS — A Holistic Approach to Maximizing Returns
Protecting Buildings and Campuses — Developing a CYBERSECURITY STRATEGY
SENSOR TECHNOLOGIES — Beyond Traditional Occupancy and Location-Based Services
IWMS and Beyond — Managing the Myriad of Corporate Real Estate Applications
ADVANCED TECH Impacting Corporate Real Estate — AI/Machine Learning, AR/VR, Microgrids, Digital Twins and More
Smart Building IT and OT CONVERGENCE — Collaborating for Optimized Performance, Productivity and Agility
...and more!