Program Overview
The CoRE Tech education program is designed to give CORPORATE REAL ESTATE DIRECTORS, CIOs, FACILITY MANAGERS, BUILDING ENGINEERS, ENERGY and SUSTAINABILITY EXECUTIVES, PORTFOLIO MANAGERS and ASSET MANAGERS the technology tools they need to positively impact the bottom line of their companies – from automating business processes, to general technology solutions specifically for corporate real estate organizations, to smart building technologies.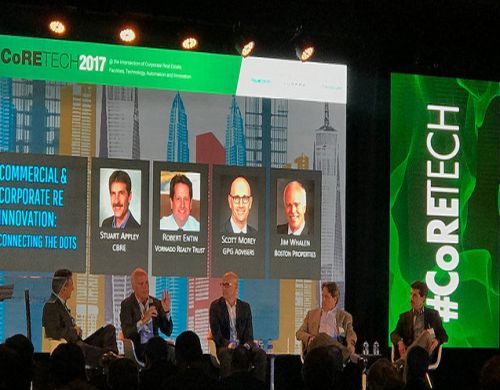 CoRE Tech 2018 Program Topics:
Creating a 21st Century EXPERIENCE for Employees & Visitors – What Does That Mean?
Managing Corporate Real Estate Information – Approaches to the NextGen DATA ARCHITECTURE
REtech, CREtech, PROPtech Investments Expand – Navigating Hype vs. Reality
Buildings and NETWORK COMMUNICATIONS – Keeping all People and Things Connected!
The Next Chapter in the Smart Connected Building Journey – WELLNESS & PRODUCTIVITY
...and more!
View Complete PROGRAM DETAILS