ADVISORY NEWSLETTERS

Vol. 17 No. 47 – 11/21/2017
RealcommEDGE Preview: Google & McKesson Weigh-In on CRE Tech Innovation
Nancy Stone, Managing Partner, Realcomm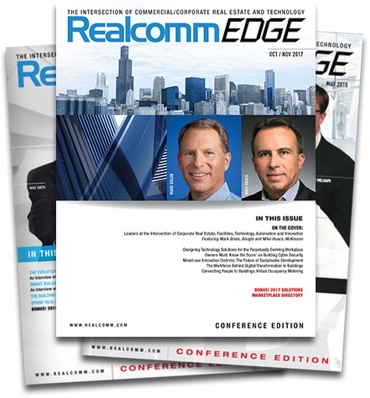 In the current issue, RealcommEDGE asked our CoRE Tech 2017 Advisory Council Co-Chairmen Mark Golan of Google and Mike Huaco of McKesson, two corporate powerhouses, for their perspective on the rapidly changing technology landscape and how they're managing the twin challenges of adoption and change management in their respective organizations.
VIEW the Digital Edition

The RealcommEDGE magazine is the only publication focused exclusively on technology, automation and innovation for the Commercial and Corporate Real Estate and Facilities industry. It provides readers with astute analysis and world-class case studies demonstrating the best use of technology for the industry.



COVER STORY:

Leaders at the Intersection of Corporate Real Estate, Facilities, Technology, Automation and Innovation
Featuring Mark Golan, Google and Mike Huaco, McKesson

INSIDE THIS ISSUE:
From the Publisher: CRE Tech 5.0 – How Does It Impact Corporate Real Estate and Facilities?

Designing Technology Solutions for the Perpetually Evolving Workplace

A New Era in Transportation: Q&A with Max Crowley, Strategic Initiatives, Uber for Business

Preparing for the New Era of Mergers and Acquisitions

Becoming Data Driven: The Case for Real Estate Portfolio Owners & Managers

Smart Buildings and Their Digital Twins

Owners Must 'Know the Score' on Building Cybersecurity

The Workforce Behind Digital Transformation in Buildings

Data Governance and Standards – The Key to Intelligent Buildings

Connecting People to Buildings: Virtual Occupancy Metering

Enhancing Your Office Space: Five Ways to Improve Your Workplace & Bottom Line

Mixed-use Innovation Districts: The Future of Sustainable Development

Building Power Plants - Property Owners Begin to Embrace Microgrid Strategies

Tech Perspective @ the EDGE - Featuring Sandy Jacolow, Shorenstein Properties and Robb Napolitano, Rose Associates

Five Reasons Your Building Isn't as Secure as You Think

Early Adopters of Smart Building Technology Will Have the Advantage

VIEW the Digital Edition
Subscribe to RealcommEDGE
This Week's Sponsor
From a basic cell phone through BlackBerry ®, iOS and Android ™ devices and tablets, the Angus AnyWhere ® Mobility platform keeps property and facility management teams, and tenants and building occupants connected, informed and efficient. Visit our website to find out more and why we're working for over 2 billion SF of commercial real estate.
Realcomm News
UPCOMING REALCOMM WEBINARS
The Need for Speed – 5G, CBRS and The Potential Impact on Commercial Real Estate - 12/13/2018
There are nearly 5B mobile phone users in the world today. We've recently surpassed the 50% mark and now over half are smartphone users who are gobbling up bandwidth with live media and immersive content faster than the carriers can supply it. And with so many IoT devices coming online, from video security to automobiles, the demand is increasing exponentially. Although still a couple of years away, 5G and CBRS have not only become hot topics for carriers, telecom equipment manufacturers and end-users, but also building owners and tenants. Despite the high level of interest, there are still numerous questions on how building owners will actually connect with these technologies, and how they'll impact tenants and visitor's consumption of data. In this webinar we'll explore how CRE stakeholders can best prepare to take advantage of these groundbreaking new technologies.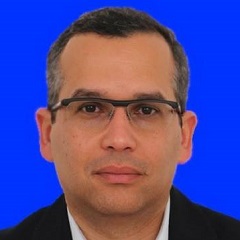 Ahmed Hmimy
Director of Product Line Management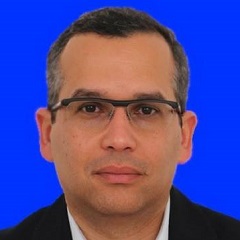 Ahmed Hmimy
Director of Product Line Management
Commscope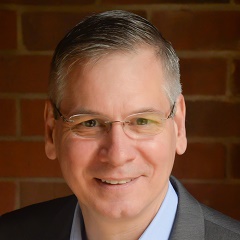 Mark Horinko
Airwavz Solutions
Mark Horinko
President
Mark Horinko is a successful telecom executive with more than 30 years of experience in wireless network strategy, network architecture and design, pr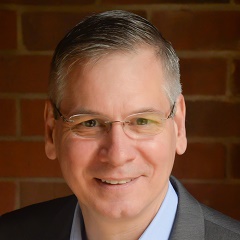 Mark Horinko
President
Airwavz Solutions
Mark Horinko is a successful telecom executive with more than 30 years of experience in wireless network strategy, network architecture and design, product development and large –scale network operations. As President of Airwavz, Mark is responsible for multiple, large-scale wireless and telecommunications network deployment projects totaling more than $1billion as well as development of five new industry-changing business and operational models.