Print this article
There is currently tremendous investment and activity in the CRE Tech marketplace. For younger professionals or those new to CRE Tech, it may seem like this is the first epic attempt to transform the Corporate Real Estate and Facilities industry through technology, automation and innovation. To make some sense of this movement, we decided to review the technology timeline in our industry to create the following infographic.
Phase 1 was the beginning of automation in our industry and began the journey of trying to improve business processes and introduce building automation. The next time we saw major interest in automating commercial and corporate real estate was the dotcom era. Phase 3 occurred in the aftermath of dot com, where the strongest companies survived and thrived. Phase 4 began after the 'great recession' where we saw $7-10 billion invested in new technologies, and lasted until 2016. That same year introduced Phase 5, and included new technology platforms such as AI, machine learning, autonomous vehicles, immersive reality, Blockchain and others.


Given the pace of new technology being introduced to the industry, many of us must assess just how fast the traditional Corporate Real Estate and Facilities organizations can absorb all this change. We've barely begun to realize the benefits from Phase 4 and are now expected to consider all the new concepts and solutions of Phase 5. Change of this magnitude is hard, especially when you consider the complexity of the real estate and facilities role and the traditional slower moving, long term view of the real estate industry. In other words: can we really go from spreadsheets to artificial intelligence in one easy step?
One important aspect that these organizations must deal with in respect to technology, automation and innovation is the 'shiny new thing' syndrome. This occurs when new types of technology are introduced and offer exciting opportunities but then fall short when considering a strategic approach. Having a firm understanding of business objectives, a comprehensive technology roadmap in place and understanding the challenges of integration and cybersecurity – these are all fundamental pillars of a strategic technology plan. Only after all of these are in place can the process of identifying, vetting and implementing 'new shiny' technology solutions become easier and less risky to do.
Corporate Real Estate and Facilities professionals face daunting challenges for implementing technology. After all, this is not a skill they have developed throughout their career as they focused on real estate. They are now expected to understand and utilize all these new ideas and concepts based around technology, and the race to proficiency is not an easy one. Additionally, IT departments have not traditionally been engaged with Real Estate departments to help them with their process improvement.
The key to making good technology decisions is accelerated collaboration with peers and thought leaders. Learning quickly from others' mistakes and identifying good solutions with strong management teams that can meet both tactical and strategic objectives is the goal. The task is too much for one person (or even one Real Estate department) to deal with. Given the velocity of the change we are experiencing, collaboration is one of the most effective weapons.
Now in its eighth year, CoRE Tech is one of the best environments to experience this type of thoughtful, authentic peer collaboration when it comes to technology, automation and innovation in the Corporate Real Estate and Facilities industry. At this event, you will find a concentration of experienced thought leaders moving the industry forward, sharing their successes and challenges in this arena. If you are interested or involved with Corporate Real Estate and technology, you will not want to miss CoRE Tech 2017 in Silicon Valley on November 14-15. For more info or to register, visit
www.realcomm.com/coretech-2017
.
---
This Week's Sponsor:
Corning® Optical Network Evolution (ONE™) solutions provide fiber optic infrastructure to satisfy the application and bandwidth requirements in demand today, and tomorrow. Be it multi-family, commercial, retail, or mixed use, the real estate market requires connectivity to support the "live, work, and play" lifestyle embraced by tenants and buyers. www.corning.com.
Next Week: Business Solutions
Realcomm News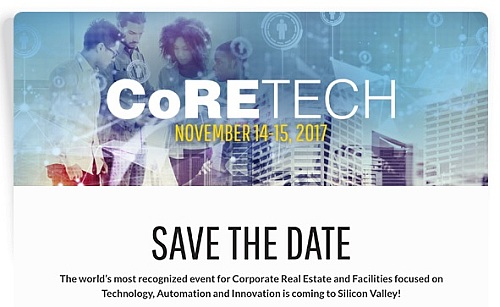 CoRE Tech 2017 will be held on
Nov. 14 & 15
at the Santa Clara Convention Center in Silicon Valley, CA. The event is a unique gathering of the most proactive, visionary Corporate Real Estate and Facilities executives who come together to focus on tehcnology, automation and innovation strategies to help achieve their organizations' real estate goals.
Global Speakers and True Thought Leaders
Leading-Edge Education Program
Executive Briefings and Tours in Silicon Valley
Tech Showcase Featuring the Industry's Most Innovative Tech Solutions
For more information or to register, visit
www.realcomm.com/coretech-2017
.
RE DATA ANALYTICS - Uncovering a Treasure Trove of Insight - 9/19/2017
The conversation involving data analytics has been going on for at least five to seven years. Initially the cost and risk was high, but over the years the market has matured and the successful implementations have increased. This webinar will showcase the case studies of those organizations in our industry that are at the forefront of data analytics. Register now!
---